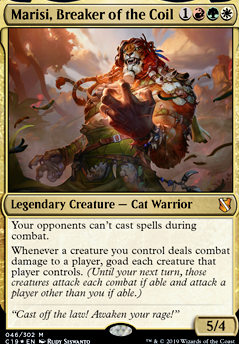 Legality
| | |
| --- | --- |
| Format | Legality |
| Tiny Leaders | Legal |
| 1v1 Commander | Legal |
| Magic Duels | Legal |
| Leviathan | Legal |
| Duel Commander | Legal |
| Oathbreaker | Legal |
| Commander / EDH | Legal |
Marisi, Breaker of the Coil
Legendary Creature — Cat Warrior
Your opponents can't cast spells during combat.
Whenever a creature you control deals combat damage to a player, goad each creature that player controls (Until your next turn, those creatures attack each combat if able and attack a player other than you if able.)
Marisi, Breaker of the Coil Discussion
2 weeks ago
Hello all! Here's our update for C19.
Competitive
High
Mid
Explanations:
Anje Falkenrath
Anje is a value-generating commander that is an outlet for Worldgorger Dragon. She stands as a sidegrade to Xantcha, Sleeper Agent.
Atla Palani, Nest Tender
Atla has some decent potential to cheat in creatures, some interesting Mirror Entity combos, and built in boardwipe protection in colors that need it. She's limited by her color identity, but is powerful enough to compel competitive exploration and play.
Elsha of the Infinite
A strong value engine and a third of the Elsha/Helm/Top style combo.
K'rrik, Son of Yawgmoth
A very powerful cost reducer, albeit in colors that struggle for interaction. Tentatively placing him in Competitive.
Chainer, Nightmare Adept
His "reanimation" ability is a little too fairly costed between the discard and having to cast the creature. Rakdos limits interactivity and reanimator bombs. No obvious combos discovered yet.
Greven, Predator Captain
A relatively powerful draw engine could fuel some hybrid fair/unfair strategies.
Grismold, the Dread Sower
Fairly substantial token producer at a cheap cost.
Slimefoot, the Stowaway
In similarity to Grismold, we've re-evaluated Slimefoot as High Power.
Volrath, the Shapestealer
No obvious combos, but is in a powerful color combination and lends to a lot of synergies.
Kadena, Slinking Sorcerer
Very narrow ability on top of a small pool of morphs.
Gerrard, Weatherlight Hero
Difficult to abuse ability, an unfortunate 'dies' trigger, and in lackluster colors.
Ghired, Conclave Exile
Reasonably strong combat threat with Populate shenanigans, but solidly fair and slow to build up.
Marisi, Breaker of the Coil
Combat slience is hard to abuse in these colors. Goading creatures can be quite disruptive.
Pramikon, Sky Rampart
Can support turtling strategies in combat-oriented metas.
Rayami, First of the Fallen
Very specific hate and a difficult to amass set of keywords.
Sevinne, the Chronoclasm
One copy per turn on a narrow flashback interaction is difficult to abuse effectively.
Tahngarth, First Mate
SMASH
2 weeks ago
Those are two good choices, but if I had to pick one I would pick Merciless Rage.
I think Merciless Rage has more value and overall upgrade potential power. Anje Falkenrath , Chainer, Nightmare Adept , Magus of the Wheel , Bone Miser , Key to the City are good to start an upgrade to a reanimation theme. Sanctum of Eternity and K'rrik, Son of Yawgmoth are rares that will keep the precon expensive in the future.
Primal Genesis is better of the two out of box with Angel of Sanctions and Giant Adephage as the all-stars to populate and Song of the Worldsoul is a great populate source. The precon has good upgrade potential with two of the legendary creatures Atla Palani, Nest Tender and Marisi, Breaker of the Coil . However, I don't think it's worth it overall compared to Merciless Rage.
3 weeks ago
Marisi, Breaker of the Coil doesn't just lock opponenent's spells during YOUR combat. It locks opponents casting during ANY combat. So instants, global combat tricks, any use of flash or vedalken become more interesting. I'm not a spellslinger style, but there probably is an opportunity to splash new things like Feather with that for kicks.
3 weeks ago
Massacar Definitely! I would have tossed it in there if it weren't for the fact that I already had a Doubling Season . Though looking through everything, Primal Vigor is probably the better option considering I don't have any cards that provide +1/+1 counters. That might be an interesting thing to look into though. Maybe Shalai, Voice of Plenty is a decent pickup with both of those in mind?
I actually have to agree! I got to use Marisi, Breaker of the Coil the other day and I actually quite enjoyed it. Really helps with clearing out some defenses. I also just purchased an Omnath, Locus of Rage yesterday, for the exact reasons you stated! I'm really excited to try it out
3 weeks ago
Consider Primal Vigor as a $ cheaper substitute or supplement for Doubling Season . I do think that Marisi, Breaker of the Coil is a pretty cool card. It not only locks down your opponents from casting during your combat, but it also creates some interesting chaos with the Goad effect.
If you're determined to swap it out though, I would slot in Omnath, Locus of Rage over the Godsire . I think you get more utility for one fewer cmc and only two colors of mana to worry about.
1 month ago
hello mr. durtee i just wanted too say hey cool nice deck but your playing too many creatures like what if you get field swiped dude?? haha wouldnt that be crazy any way you should make it a landless stacks control prison combo storm deck with blue i herd those were good okay thanks you john bye
I'm going to try to order these from my most to least recommended.
Mirror March: I get making token copies, even if it's only nontoken creatures. What I can't get behind is costing 6 and STILL HAVING A 50% CHANCE OF DOING NOTHING.
Spirit Bonds: Ignoring the weak payoff of the spirit token (at least by edh standards), paying five mana and sacrificing a specific creature to protect one guy for one turn is pretty lame. You can't even protect your seance tokens because they're spirits.
Mercy Killing: If you choose an opponent's creature, they get the tokens. If you choose your own guys, you're going wide at the cost of two cards.
Eyes of the Wisent:
Emrakul's Evangel: I can't see what he does other than act like a one-time sac outlet that you have to wait for. 3/2 is going to be pretty close to what you're usually sacrificing anyway.
Huatli, Warrior Poet: Her token is cool, but her other abilities are really weak for the cost. Also she got a tiny booty.
Caller of the Claw: He'd be like a backup Fresh Meat if he counted the tokens too. 1 less mana for 1 less p/t would have been alright. Too bad.
Summoner's Pact: Kind of a weak creature tutor since you aren't playing toolbox or gunning for combo. Only green too.
Hornet Nest: Deathtouch flyers are good, but you don't have a way to damage it yourself and you probably have bigger threats than getting hit by birds.
Hoofprints of the Stag: Unless you add a lot more draw, these stags take forever to come out.
Godsire: Nice token, but he's got no haste or protection, which means you have to wait for the token while this dumbass sits there waiting to see if anyone around the table wants to remove him. Could be alright if you cheat him out reliably.
Regisaur Alpha: Neat to make a token copy of, but just under the bar on his own.
This is all in no particular order.
Assemble the Legion : So I heard you run doubling season. But really, you know what this does to games.
Kiki-Jiki, Mirror Breaker : Splinter Twin backup. Makes infinite tapped kikis with helm, in case you needed that.
Huatli, Radiant Champion : Easy to gun for the emblem, with an alright mid ability
Nacatl War-Pride : Forcing blocks means the rest of your creatures get through, or that you can divvy up the copies to other players. Gets really crazy the next turn when you populate one of the tokens. Absolutely insane if you get an additional combat.
Heroic Intervention : Boring, but necessary
Teferi's Protection : Extra boring, but even more necessary since it's the only answer to biff out there that isn't countering it.
Selfless Spirit : Not as boring since you can make a token copy of it for repeat use.
Baloth Cage Trap : Wow, when does anyone play an artifact in edh?!?! stupid card
Sneak Attack : Cheats creatures out with haste at instant speed for one mana and puts them in the grave to seance afterwards.
Gate to the Afterlife / God-Pharaoh's Gift : Kind of an investment, but a permanent Seance with haste is no joke.
Survival of the Fittest : Puts big boys in grave, and any creature you want in hand.
ok thanks for coming to my ted talk bye
1 month ago
With the release of C19 we are getting an AMAZING goad commander: Marisi, Breaker of the Coil . I definitely think he deserves a spot in this list as well as the new equipment: Bloodthirsty Blade . Do you think he could even take the spot at the helm of the deck? Or would you build a more 'all out attack' style list for him and forgo the politics and pillow fort. Interesting to think about...
Load more
No data for this card yet.