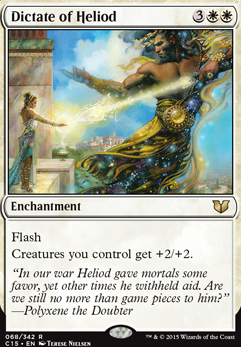 Dictate of Heliod
Enchantment
Flash 
Creatures you control get +2/+2.
Browse Alters
Trade
Legality
| | |
| --- | --- |
| Format | Legality |
| 1v1 Commander | Legal |
| Block Constructed | Legal |
| Canadian Highlander | Legal |
| Commander / EDH | Legal |
| Duel Commander | Legal |
| Highlander | Legal |
| Legacy | Legal |
| Leviathan | Legal |
| Limited | Legal |
| Modern | Legal |
| Oathbreaker | Legal |
| Pioneer | Legal |
| Unformat | Legal |
| Vintage | Legal |
| Casual | Legal |
| Custom | Legal |
| Quest Magic | Legal |
Latest Decks as Commander
Dictate of Heliod Discussion
1 month ago
Took the deck for its first couple of runs tonight, unfortunately only 1v1 since only one member of my playgroup was available. I was up against Lathril, Blade of the Elves , and he had a lot of life, tons of tokens, and had knocked me down pretty low during the first game until I played Doomskar and saved and blinked all of my non-token creatures with Eerie Interlude . Prior to this I had done some damage and recovered some life with Sephara, Sky's Blade , and while he was successfully able to remove her, I was able to wipe him out pretty quick with my army. In the second game I resolved Coastal Piracy early and was able to draw cards like nobody's business. As a result, the game wasn't particularly close, and I was able to flash out Dictate of Heliod on his end step, and then lock down his many tokens with Lavinia of the Tenth to finish him off with my pumped army.
I really do like the relaxed, controlling pace of this deck. I had plenty of answers to various threats and didn't need to be stingy with them, which was nice. I'm definitely a fan, and don't feel like I need the splashy combos for now, though I will probably add Coat of Arms soon as a wincon and target for Whir of Invention .
4 months ago
I'm glad I could help! I have some other suggestions if it's no longer budget (I won't include Mana Crypt an stuff though haha) and you want to improve it some more: I see that you also have Ohran Frostfang , which is a great deterrent for your opponents deciding to block. Another good source of Deathtouch could be Bow of Nylea , which also does some other cool abilities on top of giving deathtouch. Some other good drawing enchantments include Garruk's Uprising , Elemental Bond , and Colossal Majesty . Since you run anthems, these guys can trigger on your weenies too. If you want something more consistent, Beast Whisperer and Mentor of the Meek are also good draw power. A fun card that puts creatures onto your opponent's side of the board is Hungry Lynx , especially because it gives your commander protection from the creatures it makes! Legion Loyalist seems perfect in this deck since he gives all your creatures first strike, trample, and evasion from tokens, and all of those things make it easier to get the goad trigger. Dragonmaster Outcast and Emeria Angel can make even more flying tokens to get that sweet goading trigger. Feldon of the Third Path seems good for when things are inevitably in the graveyard and you want to use them. Blade of Selves lets you use a creature you already have even more! Some other ramp that you haven't included is Selesnya Signet , Sol Ring , Rampant Growth , and Sword of the Animist . Anthems that you might consider are War Horn , Spear of Heliod , and Glory of Warfare .
The cards I would cut include: The small creatures with only a landwalk ability, like Dwarven Grunt and Treetop Scout ( Dryad Sophisticate is good, though). They are limited in their ability to get in for damage, and don't do much else beyond that, which makes them your more weak cards. I agree with your decision to try to cut the Hunted Troll , but the Hunted Dragon seems good since you can swing immediately and goad the tokens it makes. Although the Soltari creatures with shadow are good, I think you may have too many of them--they are intensive, and only Soltari Champion and Soltari Visionary really do anything when you use them. The Healer's Hawk and Segovian Angel are basically really bad Serra Ascendant s. If you want the 1-drop, maybe consider Figure of Destiny (gets bigger) or even Rhys the Redeemed (makes tokens). Citadel Siege and Dictate of Heliod are too slow and/or costly to make an impact, in my opinion. You know your meta better though.
5 months ago
You might like these: Angel of Invention , Kongming, "Sleeping Dragon" , Hall of Triumph , Spear of Heliod , Glorious Anthem , Path of Bravery , Marshal's Anthem , Commander's Insignia , Force of Virtue , Eldrazi Monument , Call for Unity , Dictate of Heliod , Divine Visitation , Armored Skyhunter , Coveted Jewel , Fireshrieker
9 months ago
Okay, more changes... Relatively large ones this time. Keeping track of them here in the comments in case I want to take any of it back.
Removed more mana-intensive buffs (Force of Virtue, Dictate of Heliod, Soulblade Djinn, Strongarm Monk), some token generators (Goblinslide, Launch the Fleet, Battle Screech, Docent of Perfection  Flip, Finale of Glory) and and some other cards (Sphinx's Revelation, Firemind's Research, Fumigate) to make room for new ones.
Removed a land for Wayfarer's Bauble and Mind Stone.
Added Path to Exile, Swords to Plowshares and Muddle the Mixture.
Added Divine Visitation because it's really good on its own and makes Bishop of Wings better (I was wary of keeping Bishop of Wings with so little that synergized with it and without having tutors, at least now there's one more chance of drawing something that's good with it).
Added Purphoros, God of the Forge, Impact Tremors, Isochron Scepter, Dramatic Reversal, Retraction Helix and Spellbook because after giving it some consideration, infinite combos are fair-ish and fun if I'm not using tutors.
Added Fireball and Comet Storm to make use of infinite mana, since there's now a couple ways to do that.
I'll probably temporarily proxy some of the more expensive cards, but it's gonna be so long before I'm playing games in person again that I might even be able to buy all of them before that happens, lol.
11 months ago
Your switch to modern did in fact get you more attention since I normally pass by vintage and legacy lists XD Kor Duelist seems like a natural inclusion that'd be better than Auriok Edgewright a lot of the time. I recently reviewed another deck making use of Duelist, Colossus Hammer, and Kor Outfitter, and Sigarda's Aid seems like a natural fit with that package so maybe more copies of Hammer could be viable. If you want to focus more on Kemba, I've had a lot of success with Konda's Banner as a sort of cheap Dictate of Heliod, at least in commander. Infiltration Lens and Sword of the Animist are some other equipment options that I think are underrated and can work on a budget.
11 months ago
DeinoStinkus - I didn't know full board wipes still triggered Atla Palani's second ability, a quick google search confirms such for me. I will definitely be looking to add in a board wipe or two, probably among those you suggested, but do you have any suggestions on what to remove? I'm thinking Collective Blessing, Dictate of Heliod, and Soul Foundry would all be candidates. The first two were just for buffs and the latter was a precon staple, but having to pay the full CMC makes it far less useful than I hoped. Thoughts?
Load more