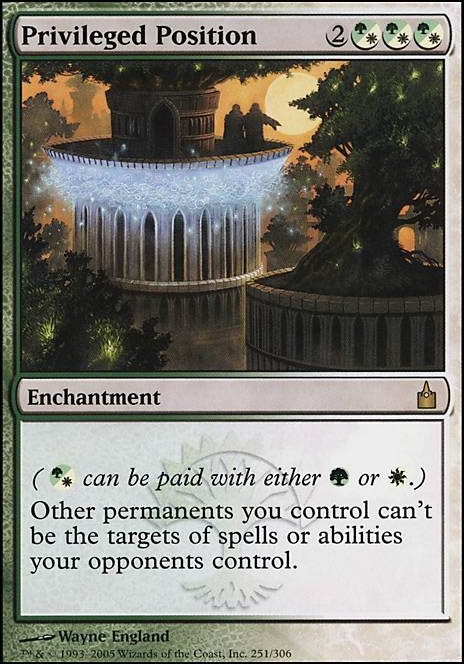 Legality
| | |
| --- | --- |
| Format | Legality |
| Noble | Legal |
| 1v1 Commander | Legal |
| Vintage | Legal |
| Modern | Legal |
| Vanguard | Legal |
| Legacy | Legal |
| Archenemy | Legal |
| Planechase | Legal |
| Duel Commander | Legal |
| Unformat | Legal |
| Commander / EDH | Legal |
Privileged Position
Enchantment
( can be paid with either or .)
Other permanents you control can't be the targets of spells or abilities your opponents control.
Privileged Position Discussion
5 days ago
Since you run such a large amount of enchantments I recommend
Sterling Grove (If you have Privileged Position in play, nothing you control can be targeted)And in case your enchantments get destroyed
or you could try
I'd replace Nissa with Elspeth.
2 weeks ago
Nice, that's a lot to go over!
I don't really want to go down the lifegain route, simply because my playgroup will decide that I am the main threat as soon as I pull out this deck at the table, and they will kill me before I even manage to gather enough mana for the commander. Sadly, they lack proper threat assessment - it's a real issue that has surfaced a few times now. I was already contemplating True Conviction, so I will keep that in mind and see if I can add it into the deck at some later point.
Nacatl War-Pride is indeed amazing, insane when the coat of arms would be in play.. I just, I can't stand the border! It's terrible.. ugh. as soon as they reprint this I will put it in, but till then, I can't. I will however get that Pride of Lions, and Prowling Serpopard, they add heaps of power and utility.
Cathars' Crusade is nice but works better in a token deck, will put it in the maybeboard for now. Gavony Township is a bit expensive to use, but the counters do stay.. and I think I'd rather use the mana for Arahbo or Jazal. It is a land though so like you said it's negligible.. will also maybeboard. I was already thinking of Asceticism and Privileged Position slipped my mind, it's slightly cheaper and covers more ground so I'll find a way to put this in.
Thanks a lot for the suggestions!
2 weeks ago
Selesnya naturally makes for a solid lifegain deck, and there are enough Cats that can take advantage of that to make it something I think you'd want more of in this deck. A few Cats that would help to further this end include Ajani's Pridemate, Arctic Nishoba, Felidar Sovereign, Phantom Nishoba and Sacred Cat.
Next, there are some interesting combat opportunities you can open up with a few particular Cats. Nacatl War-Pride is like Stalking Tiger but with even crazier implications. Pride of Lions can just go in on your opponent if you find yourself facing a formidable defensive line. Skyhunter Skirmisher is a cheap and effective flier with double strike that will definitely serve you well with even moderate pumps.
Other than that, two utility Cats you might consider are Prowling Serpopard, an excellent way to ensure your bodies hit the board, and Spirit of the Hearth, which is not only a sizable force but also a good way to cover your own ass.
Besides actual Cats, I have to recommend a few other good cards. True Conviction serves the lifegain goal, but also grants your board double strike, which will quickly become terrifying with your commander's natural abilities! Cathars' Crusade gradually buffs your guys as you cast more of them, which can and will add up over time. Gavony Township can join in on the +1/+1 fun without taking a real card slot. Dueling Grounds will certainly swing combat in your favor once your Commander gets rolling. Finally, Privileged Position is simply one of the quintessential pieces of Selesnya tech.
3 weeks ago
Why not go the janky route and get every counter-based wincon out there, mixed with planeswalker chaos? Your opponents won't know where to try to put out fires! Maximum proliferation!
Celestial Convergence (keep feeding it counters until you have the highest life total)
And while at it, make sure they CAN'T win by not being able to lose!
And for added protection, via enchantments :
Privileged Position, Ghostly Prison, Propaganda, Sphere of Safety, Sterling Grove, No Mercy, Enchanted Evening, Leyline of Sanctity and all other Leylines, too ...
Hope you find fun in those!
Cheers!
Load more