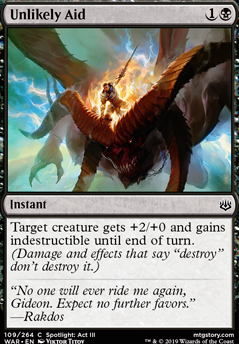 Legality
| | |
| --- | --- |
| Format | Legality |
| Pre-release | Legal |
| Tiny Leaders | Legal |
| Custom | Legal |
| Magic Duels | Legal |
| Canadian Highlander | Legal |
| Vintage | Legal |
| Oathbreaker | Legal |
| Modern | Legal |
| Arena | Legal |
| Penny Dreadful | Legal |
| Standard | Legal |
| Pauper EDH | Legal |
| Leviathan | Legal |
| Legacy | Legal |
| Brawl | Legal |
| 1v1 Commander | Legal |
| Duel Commander | Legal |
| Casual | Legal |
| Unformat | Legal |
| Pauper | Legal |
| Commander / EDH | Legal |
Unlikely Aid
Instant
Target creature gets +2/+0 and gains indestructible until end of turn. (Damage and effects that say "destroy" don't destroy it.)
Unlikely Aid Discussion
2 weeks ago
Steal Life
Sorcery
Target creature gets -X/-X until end of turn. If that creature would die, you gain X life.
In Dack's final moments, he saw his soul leave his body and his spark rend out from his heart. The cunning thief could have stolen only one, but the fool chose the latter.
---
With the card Unlikely Aid , we have Gideon and Rakdos working together. My challenge is a two-card one. Make Rakdos and Gideon into two Legendary Creatures that Partners With each other.
3 months ago
Seems like a fun idea. If opponents don't play creatures to prevent the win-con, swing for commander damage.
Ninjutsu isn't going to help you much since Etrata triggers on damaging a player, but the return to hand effects are smart. IMO, for this deck to work you need better evasion and better protection. Whispersilk Cloak is a 2-for-1 and should definitely be in your deck.
Evasion: I don't flying is sufficient, you need unblockable. Amphin Pathmage , Artful Dodge , Deepchannel Mentor , Distortion Strike , Glaring Spotlight , Key to the City , etc etc.
Protection: Since Etrata is a potentially fast win condition (from any one opponent's perspective), they'll gun hard for her. Swiftfoot boots is not enough. You have access to cheap 1-shot spells like Unlikely Aid and Without Weakness , or equipment ( Darksteel Plate , Hammer of Nazahn , Shield of Kaldra , etc.)
No data for this card yet.