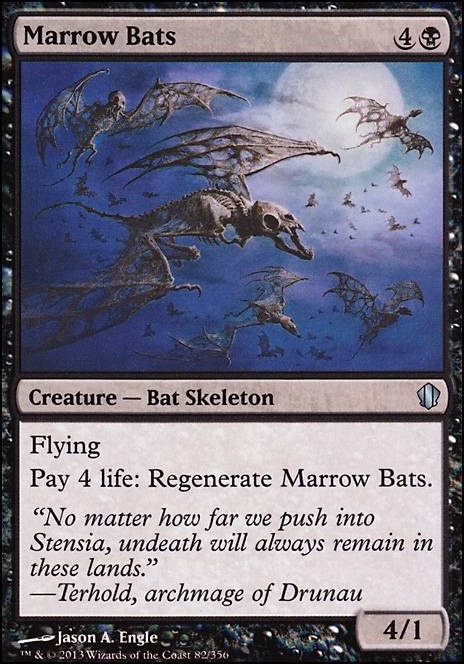 Legality
| | |
| --- | --- |
| Format | Legality |
| Tiny Leaders | Legal |
| 1v1 Commander | Legal |
| Magic Duels | Legal |
| Canadian Highlander | Legal |
| Vintage | Legal |
| Modern | Legal |
| Penny Dreadful | Legal |
| Leviathan | Legal |
| Legacy | Legal |
| Duel Commander | Legal |
| Unformat | Legal |
| Casual | Legal |
| Commander / EDH | Legal |
Marrow Bats
Creature — Bat Skeleton
Flying Pay 4 life: Regenerate Marrow Bats
Marrow Bats Discussion
7 months ago
Ich schreibe dir morgen (oder vielleicht heute Abend, welche Karten ich rausnehmen wrde und warum.
Jetzt scheie ich dich erstmal mit Karten zu, die mir noch dazu einfallen :D
Kram, der mit deiner Strategie zu tun hat (beinhaltet sowohl shit, als auch geile Sachen):Deepwood Ghoul, Ethereal Champion, Glorifier of Dusk, Greed, Hatred, Lurking Evil, Marrow Bats, Martyrs' Tomb, Mischievous Poltergeist, Necrologia, Plague of Vermin, Souldrinker, Tymna the Weaver, Underworld Connections, Yawgmoth's Bargain, Tree of Perdition, Ajani Goldmane, Ajani, Caller of the Pride, Arbiter of Knollridge, Beacon of Immortality, Celestial Mantle, Oketra's Last Mercy, Invincible Hymn, Serra Avatar, Storm Herd, Chalice of Life Flip, Nightmare Lash, Phyrexian Processor, Well of Lost Dreams
Kram, der unabhngig von deiner Strategie gut ist:Soul of Innistrad, Grave Betrayal, Ogre Slumlord, Vengeful Pharaoh, Sudden Spoiling, Painful Quandary, Ophiomancer, Necropolis Regent, Dread, Murder, Royal Assassin, Silence the Believers, Ever After, Ghastly Conscription, Oblivion Ring, Banishing Light, Journey to Nowhere, Stasis Snare, Windborn Muse, Blind Obedience, Prison Term, Aura of Silence, Profound Journey, Comeuppance, Settle the Wreckage , Stalking Leonin, Swiftfoot Boots, Lightning Greaves
Bedenke auerdem, dass du nur 5 Karten haben darfst, die ber 2 Euro kosten und achte besonders beim Basteln auf deine Mana-Kurve (nicht zu viele teure Sachen).
2 years ago
Oh...this brings back memories.... I remember this deck so damn well, and the first thing I did when I got it was cut Marrow Bats for Daxos of Meletis because I had like 4 copies of him lying around.
Eventually it became this monstrosity of a deck:
---

Commander / EDH JA14732
SCORE: 21 | 9 COMMENTS | 4060 VIEWS | IN 8 FOLDERS
---
I will give you any help you want on this simply because I LOVE Oloro and this deck reminds me so much of when I first started EDH.