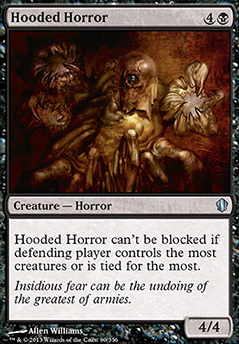 Hooded Horror
Creature — Horror
Hooded Horror can't be blocked if defending player controls the most creatures or is tied for the most.
Browse Alters
View at Gatherer
Legality
| | |
| --- | --- |
| Format | Legality |
| Leviathan | Legal |
| Legacy | Legal |
| Casual | Legal |
| Commander / EDH | Legal |
| Vintage | Legal |
| Canadian Highlander | Legal |
| Oathbreaker | Legal |
| Duel Commander | Legal |
| 1v1 Commander | Legal |
| Limited | Legal |
| 2019-10-04 | Legal |
| Tiny Leaders | Legal |
| Highlander | Legal |
Latest Decks as Commander
Hooded Horror Discussion
3 years ago
Alright, first thing is first. You have this deck tagged as "Modern", but there are a few cards that are not Modern legal in your deck - Curse of Shallow Graves, Fell Shepherd, Hooded Horror and Stronghold Assassin. Those are all from the Commander 2013 set, and therefore not allowed in the format you have chosen.
Now, to be more constructive, I would like you to ask yourself this: "I am playing . How would I like to win?" Do you want to reduce the opponent's life to 0, or perhaps Mill them out? Or do you have some combo in mind to win the game? The next step is to look at each of your cards and ask yourself "Does this card directly help my win condition?" If it's yes, then keep it in the deck. If it's "No", then remove it. Once you've trimmed out everything that isn't working for you, start adding more cards in that do directly help you out.
From there, we can start to refine the deck more, and help you with what you're doing.