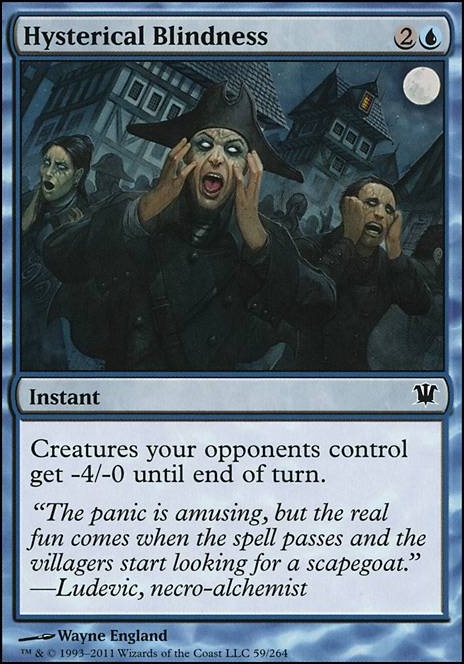 Hysterical Blindness
Instant
Creatures your opponents control get -4/-0 until end of turn.
Browse Alters
View at Gatherer
Legality
| | |
| --- | --- |
| Format | Legality |
| Vintage | Legal |
| 2019-10-04 | Legal |
| Highlander | Legal |
| Duel Commander | Legal |
| Leviathan | Legal |
| Oathbreaker | Legal |
| Canadian Highlander | Legal |
| Unformat | Legal |
| Tiny Leaders | Legal |
| Legacy | Legal |
| Commander / EDH | Legal |
| Modern | Legal |
| 1v1 Commander | Legal |
| Pauper EDH | Legal |
| Custom | Legal |
| Limited | Legal |
| Block Constructed | Legal |
| Pauper | Legal |
| Casual | Legal |
Latest Decks as Commander
Hysterical Blindness Discussion
4 years ago
Going to try and keep suggestions fairly budget.
For the Zombie crazytimes stuff... Undead Warchief is rad. Nuff said. Diregraf Colossus will give you zombies forever, just like Grave Titan, Liliana's Reaver and Noosegraf Mob. Soulless One and Raving Dead could be huge. Scourge of Nel Toth and Gray Merchant of Asphodel also make some interesting plays.
In terms of some sick creature related utility... Fleshbag Marauder on repeat stops anyone else from getting creatures out. You play marauder, sack it to his own trigger, then cast it again with your commander. Hella awesome. Sidisi, Undead Vizier is either a 4/6 deathtouch, or can exploit herself to tutor for Rooftop Storm. Since she is a zombie too, you get to do this again and again...Corpse Harvester makes sure you're still in the game. Noxious Ghoul can be a board wipe if you play a few zombies in a turn. Corpse Connoisseur is another good zombie/tutor. Graveborn Muse might be dangerous, but if you also play something like Whip of Erebos you should be good. Possessed Skaab is also some nice recursion for more than creatures. Havengul Runebinder is good at pumping the team. Stronghold Assassin is good at turning tokens into Doom Blade. Advanced Stitchwing will bring some folks back.
You will definitely need some more token generators as well... Army of the Damned wins games. Empty the Pits is a great late game closer. Dark Salvation can net you a bunch of zombies while killing something huge. Dread Summons is also a powerful generator. Necromancer's Stockpile gets you a card, token, and a Gisa Geralf yard target.
Some nasty stuff... Grave Betrayal. Dictate of Erebos. Rise of the Dark Realms. Sudden Spoiling. Cyclonic Rift. Buried Alive. Endless Ranks of the Dead is wonderful but maybe getting too pricey. Rite of Replication.
More general stuff:
Draw Spells: Ancient Excavation fixes mana or draws and fills the yard with zombies. Read the Runes is similar. Fact or Fiction, Brainstorm, and Ponder are just value. Forbidden Alchemy is neat.Phyrexian Arena, Rhystic Study, and Underworld Connections. Commander's Sphere, Mind Stone, Hedron Archive, and Dimir Cluestone.
Recursion: Victimize, Dread Return, Cemetery Recruitment, Puppeteer Clique, Animate Dead, and Beacon of Unrest.
Board Wipes: Life's Finale, Necromantic Selection, Decree of Pain, and Living Death.
Removal/Protection: Undermine, Countersquall, Counterspell, Dismiss, and Dissipate. Hero's Downfall, Tragic Slip, and Murder. Capsize teehee.
A good mix is maybe close to 30~ creatures, with 38~ lands and then another 8~ spells that help ramp mana. This leaves you with 25 cards other than creatures to ramp this deck up.
Some things you probably don't need: Aspect of Gorgon. Engulf the Shore since you will probably only have 3-4 islands in play. Hysterical Blindness is okay, but really only buys you a turn. Launch Party is neat, but on the lower end of your removal options due to the overall cost. Talent of the Telepath is cool, but a little off from your game plan. Shamble Back might just be too small to be worth a whole card slot.
As for creatures, Zombies with enter or exit the battlefield effects are strong. Also ones that can replace instants and sorceries with their effects are also strong. The best ones will be zombies that get bigger, or make other zombies bigger.
Your deck will always have creatures at its disposal, so you should be able to simply drown opponents in sheer creature advantage. You aren't as susceptible to board wipes or counters either, since you have so much interaction with your graveyard. The main weakness will just be Blue and Black's lack of consistent ramp. For that reason, you may want to add a little more artifact ramp into the deck.
Some last thoughts: Keeping your commander around is super important, so Lightning Greaves, Swiftfoot Boots, Whispersilk Cloak, and Darksteel Plate are all helpful.
ANY Liliana card would also work wonders in this deck: Liliana Vess, Liliana, Heretical Healer Flip, and Liliana of the Dark Realms.
Non budget powerhouse combo - Urborg, Tomb of Yawgmoth and Cabal Coffers.
Sorry for rambling on. Let me know if you want to chat more :)
4 years ago
Grab the Reins is solid. Crumbling Necropolis if you need another 3 color source. Bribery seems perfect for your theme, Call the Bloodline might be fun, Blade of the Bloodchief cuz duh, Vampiric Tutor also cuz duh. Things I would cut would be Scrap Mastery, I don't really see why you run it, you only have one artifact in the deck, and if you wanted an artifact wipe, you could use Vandalblast or Shattering Spree. Other cuts could be Dampening Pulse, Ego Erasure and Hysterical Blindness. I know why you run them, I just feel there has to be better ways to make your opponents creatures worse, like Curse of Death's Hold. Also consider running Swiftfoot Boots and/or Lightning Greaves to protect your commander. She's super expensive as it is, these might help to keep her alive longer so you don't have to keep recasting her for 2 more a turn. Other than that, this is a cool deck. It looks fun, and I like the theme and the commander is pretty cool too. :)