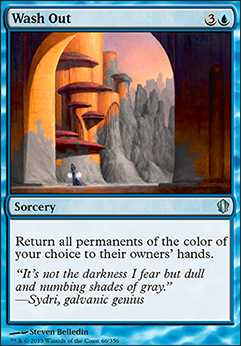 Wash Out
Sorcery
Return all permanents of the color of your choice to their owners' hands.
Have (11)
Metia ,

c

h

r

i

s

t

y

d

u

d

e

,

a

t

t

a

k

, PrecintSix6Six ,

B

r

a

x

l

y

o

n

, StevenPJobs ,

P

T

s

m

i

t

t

y

,

H

a

v

o

k

X

,

e

k

a

c

z

m

a

r

, Icarus79 ,

C

o

m

i

c

a

l

f

l

o

p

Want (1)
jonspearwillski
Wash Out Discussion
3 days ago
Chaos Warp, Fact or Fiction, Impulse, Increasing Vengeance, Fork, Reverberate, Wash Out, Twincast, Dualcaster Mage, Bribery, Temporal Mastery, Past in Flames, Pull from the Deep, Rhystic Study, Future Sight, Plea for Power, Spellweaver Volute, Turnabout, Insurrection, Call the Skybreaker, Cloven Casting, Djinn Illuminatus, Epic Experiment, Invoke the Firemind, Ponder, Arcane Denial, Preordain, Serum Visions, Hinder, Spell Crumple, Tunnel Vision.
6 days ago
I'd cut Divination for Rhystic Study. It's amazing in multiplayer and will almost always draw you more than 2 cards (at the same cost of divination).
I'd also cut Banishing Light and Oblivion Ring for other stuff. Why? Because while they're decent in 1v1, in multiplayer there's a very good chance that they will be broken by wipes/creatures/etc. Then you're down a card and whatever you exiled comes back. Bad news if you exile a creature with an ETB ability.
Think about cantrips, cards with in-built 2-for-1s, and flashback. Hindering Light is great, as is Ray of Distortion. You don't need to have a ton of cards entirely devoted to drawing (like Stroke of Genius) in order to always have spells to play or win the card-advantage contest.
I'd cut cards that don't trade with other cards. Things like Lyev Decree and Wash Out will almost always result in you losing a card and your opponents losing nothing (just tempo).
Your general will always be a target in a multiplayer game. You must protect him with hexproof-granting things and lots of counter-magic. To be perfectly honest I don't like your general in multiplayer for this reason... you'll notice how often he dies once you stop playing 1v1. You really have to get savvy about when to summon him.
3 weeks ago
Thoughts:

Draw/deck tech

Rhystic Study - either massive card draw or you put the breaks on the game for your opponents
Recurring Insight - 10-12 cards in my experience
Mystical Tutor - nice as an instant
Descendant of Soramaro - hidden gem status given how little play he sees
Tomorrow, Azami's Familiar - gets more broken as you draw more cards

Misc

Leyline of Anticipation - I can't think of a single other card that has increased my win percentages more
Tolaria West - get the land you need
Academy Ruins - value
Phyrexian Metamorph - great clone
Control
Inundate - Wash Out - add to your bounce suite
Spell Crumple - hard counter, brutal on commanders
Time Stop - when it all just has to stop
Dismiss into Dream - shuts off a ton of stuff (Auras, Equipment, Pump Spells, Arcum Dagsson, Kiki-Jiki, Mirror Breaker, etc.. etc..)
Vodalian Illusionist - great rattlesnake card, can save one of your own guys if need be, and kills tokens
Proteus Staff - as close to an auto-include in blue as I get - serves as rattlesnake (especially for commanders), can get rid of the worst threats, can upgrade your creatures, etc...
1 month ago
Wash Out tends to have a big impact when I've seen it played and it seems like it could be on theme.
| | |
| --- | --- |
| Color(s) | Blue |
| Cost | 3U |
| Converted cost | 4 |
| Avg. draft pick | 3.78 |
| Avg. cube pick | 9.89 |
Legality
| | |
| --- | --- |
| Format | Legality |
| Casual | Legal |
| Legacy | Legal |
| Vintage | Legal |
| Commander / EDH | Legal |
| Duel Commander | Legal |