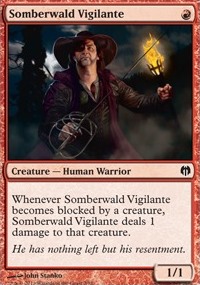 Legality
| | |
| --- | --- |
| Format | Legality |
| Modern | Legal |
| Legacy | Legal |
| Vintage | Legal |
| Commander / EDH | Legal |
| Duel Commander | Legal |
| Tiny Leaders | Legal |
| Pauper | Legal |
Somberwald Vigilante
Creature — Human Warrior
Whenever Somberwald Vigilante becomes blocked by a creature, Somberwald Vigilante deals 1 damage to that creature.
Somberwald Vigilante Discussion
1 week ago
Raging Goblin, Barrage of Expendables, Firebreathing, Akroan Crusader, Kolaghan Stormsinger, Somberwald Vigilante, Bold Impaler, Otherworldly Outburst, Hammerhand, Renegade Tactics, Mugging, Outnumber, Fiery Impulse, Magma Spray, Epiphany Storm.
that all I got for now.
3 months ago
Fireshrieker, Sanguinary Mage, Midnight Scavengers, Akroan Jailer, Subterranean Scout, Tuktuk the Explorer, Xenagos, God of Revels, Satyr Firedancer, Xenagos, the Reveler, Ordeal of Erebos, Burn at the Stake, Somberwald Vigilante, Midnight Guard, Flayer of the Hatebound, Lost in the Woods, Thraben Sentry Flip
All non-blue cards from original Innistrad - Kaladesh expansions that depict torches. I excluded some cards like Unruly Mob and Village Bell-Ringer in which the torch is not really noticeable at first glance. Also Fireshrieker because I remembered it off-hand.