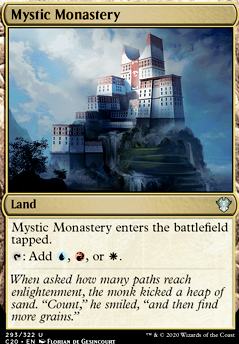 Mystic Monastery
Land
Mystic Monastery enters the battlefield tapped.
: Gain , , or .
Browse Alters
Trade
Legality
| | |
| --- | --- |
| Format | Legality |
| Block Constructed | Legal |
| Frontier | Legal |
| Pioneer | Legal |
| Duel Commander | Legal |
| Canadian Highlander | Legal |
| Vintage | Legal |
| Casual | Legal |
| Highlander | Legal |
| 1v1 Commander | Legal |
| Oathbreaker | Legal |
| Modern | Legal |
| 2019-10-04 | Legal |
| Unformat | Legal |
| Magic Duels | Legal |
| Commander / EDH | Legal |
| Legacy | Legal |
| Tiny Leaders | Legal |
| Leviathan | Legal |
Mystic Monastery occurrence in decks from the last year
Commander / EDH:
All decks: 0.05%
RUW (Jeskai, America): 14.69%
Mystic Monastery Discussion
1 month ago
Dear Kronhamilton
Golos, Tireless Pilgrim is my favorite commander, and I've been brewing around him ever since he was teased. Let me just say you've chosen an excellent commander.
(I've written quite a lot in an attempt to make a sort of guide for you, so if you want the short version, check out the Suggestions panel)
Golos can be tricky to build around since he can do literally anything pretty well. The easiest way to make an effective Golos deck is to lean into Golos's 7 Mana Rainbow Wheel Of Death. Before getting into that though, we need to cover some EDH deckbuilding basics.
I think the most useful advice I can give someone who is just beginning to explore the deck-building territory of EDH is to structure your deck and mind your Ratios. By this I mean it is useful to categorize the cards in your deck according to the role they fulfill.
We'll begin by looking at some core categories that you'll want to make your deck function effectively. Then I'll present the Ratios (how many of each category of card) you will want to make a generic Golos deck function effectively. Next, I'll include a detailed (but not totally complete, because I'd be here all day) catalogue of cards within some of those categories. I'll also offer up some suggestions and input about some of your specific card choices. Lastly, since I'm about to unpack a lot of information, I will include a brief list of suggestions (see the bottom) for a generically good Golos 'Shell' that should be able to support most Golos strategies.
Categories
Draw

Ramp

Removal

Sweepers

Threats

Support

Land
The art of Ratios is all about determining what combination of cards from each category makes your deck run the most smoothly.
Please note that these Ratios will not total to 99 cards. This is because you will invariably have extra flexibility to choose how your deck behaves even after establishing functional Ratios. Also keep in mind that although these Ratios do recommend you adhere to the minimum number of cards in each category, you still can choose which cards will fill those slots. The point is not to restrict your options, but instead to create a 'Shell' that is reliable enough to power your Threats cards, Support cards, and other cards. Whatever you do, make sure you have at least the minimum number of Draw and Ramp cards. THE MOST IMPORTANT CARDS IN THE DECK ARE DRAW AND RAMP!!!
While I ultimately suggest Ratios resembling the Basic Golos Shell, I will lay out the Ratios for several different Shells;
Template: a sort of baseline beginner's guide which is commonly promoted as a place to start.

Basic Golos: a modified version of the Template that suites most Golos decks.

Control: a version tailored for a slower game with many Sweepers.

Aggro: a version designed to act quickly and deploy Threats before the opponents are prepared.

Big Mana: a version invested heavily into Ramp with the goal of deploying many end-game Threats.

Mega Mana: an even more extreme version of Big Mana with extremely expensive Threats.
Please remember that any suggestions I make are because I am trying to help. Ultimately, the choices you make with your deck are up to you, and I can only provide constructive criticism based on my own experience and opinions.
Good luck :)
Ratio Fixing
The most effective change to your deck would probably be adjusting the Ratios, especially with regard to your Draw cards. Applying the most basic Template Shell, you want to have at least these three quantities nailed down for a smoother and reasonably powerful deck;
Lands – 36 --> You have 40 Lands (Cut 4 Lands)

Ramp – 10 --> You have 5 true Ramp cards (Add 5 to 8 Ramp cards)

Draw – 10 --> You have 3 true Draw cards (Add 7 to 10 Draw cards)
Ramp & Draw Additions Show
What I counted in your deck Show
Mutate
Depending on how strong your Mutate subtheme is, some of your Mutate inclusions may act as engines. However, I must state that Mutate is a VERY risky and even fragile strategy since your Mutate 'Pile' of creatures will all be destroyed at once if your opponent uses a Removal spell or a Sweeper. For that reason, I recommend leaning out of the Mutate theme (unless the Mutate card is just straight-up insane, as in the example of Nethroi, Apex of Death).
With that said, playing a Mutate theme is your decision and I totally respect that and if you want to stick to a Mutate theme then by all means do so. I just want to be sure you know that Mutate is a risky strategy that you cannot depend on to fulfill your Ramp and Draw slots (so you'll just need to supplement it with other cards).
Cut or Include?
At a glance your deck seems like something you have created using just your collection – and that's great! However, if you want to incrementally upgrade your deck, then I recommend replacing most of the cards in your deck with more powerful options over time.
Here is a list of cards you should probably keep playing: - Barrier Breach (Removal, because exiling 3 enchantments is helpful in some situations)
In my opinion, there are other, better options for all of the other nonland cards in the deck, however it is up to you to decide on how you would like to proceed so I won't intrude.
I strongly recommend cutting the Planeswalkers though – Calix, Destiny's Hand doesn't seem to synergize much with the deck and I feel that Lukka, Coppercoat Outcast is not very potent.
Lands
Just as a recommendation, I would suggest the following spread of Basic Lands;
8 Basic Forests

3 of each other Basic Land
The remainder of your lands could be either more basics (which is really, really, risky if you don't have tons of Ramp – think like 15 Ramp cards and about 12 Basic Forests) or Color Fixing Lands (see the Catalogue for more options). It is rough to have your lands enter the battlefield tapped, but unless you want to either lean into Green or spend a lot of money on lands, you will just have to live with it (I play around 5-10 tapped lands in a normal Golos deck and it isn't really that bad).
In this section, I will list out an example of the Basic Golos Shell complete with the necessary Ratios and some examples of good/fun cards in each category. I'll try to keep it relatively Budget sensitive and most of these cards will be relatively random – this won't be based on any particular theme so don't expect it to be optimal.
As a reminder:
The Shell
Ramp – 12
Draw – 13
Removal – 7
Sweepers – 2
Threats – 12
Support – 7
Land – 36
Good Luck :)
-Slashdotdash
2 months ago
Is Bumping allowed Again? I seriously have to reanimate this from the Rotting Dead of the Apocalypse.
So much time has passed, but no real effort has been done for this in so long. Ironically, if I'm not of Grixis Shard Standard, What could my 3rd Mana Color be aside from that? Jeskai Way/ Raugrin (/) could imply this; Azorius/Ojutai / shows I don't want any problems, & I'd rather show compassion, & even am bad at change. Where Boros / wants to Maintain the Peace, is a judge of idea that I can spot some minor things. But am I Violent? I'm quasi-Vigilante, but I'm more of a Passive individual than a Post-Adam West BATMAN.
But what about Temur Frontier/Ketria (//)?
Welp, it's a NO by default. Gruul/Atarka / shows many Traits I don't. They really sound a lot like literal Savages, & Simic /: even altering what we're not even ready to Prepare might be curtains for those that are like Momir Vig, Simic Visionary, even if the Combine is more prepared & less villain-like.
I wonder what your opinion of me having a Tertiary Mana Color would be; any idea otherwise? Or should I shut up about all my personal Tertiary stuff forever?
I hope you guys can at least help this time please; I can't believe I'm the only one to bring this thread back for use... XP
2 months ago
Hey, nice start and this is obviously a budget deck therefore my suggestions will be $2 or less each, most are less than $1.
Lands
Draw
Other
Ramp
---
Cards to consider cutting:
2x Island
2x Plains
2x Mountain
Enigma Drake
Rage Thrower
Boros Locket
Izzet Locket
Winged Words
Hallowed Spiritkeeper
Monastery Siege
Not Forgotten
Blaze
Radical Idea
Shock
Dramatic Reversal
Hissing Iguanar
I offer more advice if you would like. Good luck with your deck.
5 months ago
I mean, the easiest way to improve the deck as I see it is to improve the mana situation, both in the lands and in the rocks. For the lands, I suggest cutting one or two, since if you play more rocks (see below) you'll play faster and still have all the mana you need. Fetch lands (like Scalding Tarn or Windswept Heath ) are the easiest way to improve your mana consistency, but unfortunately they tend to be prohibitively expensive. I suggest running more duals like Shivan Reef , Battlefield Forge , Sea of Clouds , etc. instead of your ETB tapped lands like Mystic Monastery .
With regards to rocks, you're already running two of the best ones ( Sol Ring and Arcane Signet ). However, I've never liked 3-mana mana-rocks like Chromatic Lantern or Jeskai Banner , since in my experience things like Talisman of Progress , Talisman of Creativity , Fellwar Stone etc. are simply better. I'd advise increasing the number of cheap (CMC<=2) mana rocks in your deck, as well as cutting one or two basic lands for the same number of cheap rocks. This'll both speed up your deck in the first few turns AND increase the number of hits you get from your general's attack trigger.
Speaking of the attack trigger, consider Strionic Resonator . I play it in my Ulamog, the Ceaseless Hunger deck, and I've found it to be a pretty good way to press an advantage. Being able to see 8 cards rather than 4 with Narset, Enlightened Master 's trigger seems pretty good.
Depending on your personal theory of ethics, you may wish to consider mass land destruction (MLD) as another method of winning. I personally have no problem with it, but some people might not like it. Anyway, if you want to go that route you should run Armageddon , Cataclysm and (potentially since it's about $100) Ravages of War . Note that Jokulhaups doesn't really work, since it'll kill your general, too.
Wear / Tear is, I think, an auto-include in any deck including Boros colors. It's an extremely efficient method of spot removal.
Reconnaissance is a card you may wish to include, depending on your meta. It'll allow you to attack and trigger Narset even if all your opponents have profitable blockers. Same goes for Maze of Ith .
I've always loved Dack Fayden in EDH. He steals rocks, loots you to where you need to be, and only costs three mana... If you have access to him, I highly advise including him.
Preordain is a good cantrip on par with your Brainstorm and Ponder . While it is admittedly less powerful when it comes to leaving a card you want to cast with Narset on top of your library (since you'd have to scry both to the top), it is a powerful enough turn 1 play that I think you should run it anyway. I have frequently found one-land hands keepable on account of cantrips, and running Preordain will make it that much more likely for you to hit a good opening 7.
The last card I want to mention is Proteus Staff . If you cut all the creatures in your deck except your general (which I honestly think you should strongly consider doing), you can use Proteus Staff to reorder your entire deck. The way it works is this: second main phase, after you've attacked with Narset, Enlightened Master and (hopefully) gotten an extra turn coming to you, you target Narset with the staff's ability. That tucks her to the bottom of your deck, but then immediately finds her again and puts her into play (since she's the only creature in your deck). Because Proteus Staff says to put the other revealed cards on the bottom of your library IN ANY ORDER, you can then put all the other cards in your deck in any order you wish (since your whole deck has been revealed). That means you can stick 4 extra turn spells on top, cast them during your extra turn, rinse and repeat.
Good luck! Hope this helps.
8 months ago
Hey, looks good for your first Commander deck. You haven't finished the manabase? Nice Ugin, the Spirit Dragon :)
What's the max budget for your deck? I ask because you haven't allocated yet for lands in the manabase. 35x basic lands is not going to work when you want to pay for spells. When playing five colors the manabase and the amount of color fixing you have in your deck is very important. If you don't make these things priority to focus on getting right then your deck will have a difficult time functioning when playing so many colors.
You have a good start by including the budget land ramp spells ( Cultivate , Sakura-Tribe Elder ), but you're going to want a lot more than just these spells for both ramp and more importantly for color fixing. You can build a five color manabase on a budget with basic lands using some dual lands that have interaction with basic lands, Tri lands and other budget lands.
Here's an example:
8x Forest
2x Island
2x Plains
2x Mountain
2x Swamp
---
This example manabase is not ideal by any means, but it's low budget and a starting point for future upgrades. Sunken, Glade or Stream are dual lands that Farseek can search for since they're two different land types. Being able to land ramp with a dual land with Farseek makes Farseek better and helps with color fixing.
A budget manabase like this example can use color fixing from other nonland sources. Signets and other budget mana rocks that can make colored mana and ramp are options.
With Signets you can pay for the colorless mana cost with mana from any source such as a land. That mana then turns into two different colors of mana. For example if you have two Signets on the battlefield and two lands then that mana can be four different colors of mana. In this manabase example there's more green sources than others that's because green is the enabler color to help to get all the other colors with land ramp and mana dorks. There's more green than the rest because you consistently want to have green mana in the early game.
Joiner Adept lets you tap lands for any color of mana which is great color fixing when playing five colors. Chromatic Lantern is a more expensive price card that does the same thing and it's better because it also ramps. Faeburrow Elder and Paradise Druid are called mana dorks and either one can tap to make different colors of mana. Faeburrow by itself can tap to make two mana . With Jodah, Archmage Eternal on the battlefield it can make four mana . If you have Jodah and have a permanent on the battlefield that's black then Faeburrow can tap to make all five colors of mana.
Fertile Ground is an example of another source of color fixing/ramp that's different than the rest. It's an aura that enchants a land you control. When the enchanted land is tapped it makes two colors of mana; one mana that the land could produce and another mana of any color you choose.
---
Color fixing sources that also ramp are better than ones that don't. If you can as the saying goes "kill two birds with one stone" then it can help your deck. Including most cards that can do two different things you want are better than cards that can only do one thing you want. For example Cultivate ramps and color fixes since it can find two different basic lands. Izzet Signet taps to ramp and color fix two different colors of mana. Renegade Map only color fixes, it doesn't ramp because it only puts the land you search for into your hand not onto the battlefield and it can't tap to make mana.
Sylvan Scrying is one exception since it can tutor (search your library) for any one land and put it into your hand. That's powerful and helpful to have when you can get a land that can make any color of mana such as Command Tower or better yet Cascading Cataracts which can tap along with five other sources of mana of any colors to make all five different colors of mana. This land makes it easy to be able to make five different colors to cast spells with Jodah. Cataracts is good with ramp from mana rocks.
I have suggested a lot of cards which means if you want to include them then you'll have to make many cuts. I'm not going to give you suggestions of cuts now, but if you're interested in any of these suggestions then I offer to help to make cuts. This is the nature of building budget many colored decks in Commander; have to allocate a lot of deck spots to cards to help the manabase and to make sure your deck can function, so you can reliably cast cards. Good luck with your deck.
9 months ago
I thought about the possibilities of Mystic Monastery in this deck, and concluded that the deck doesn't want to get to 4 lands practically ever. To be fair, a 17-land count is a bit low for the synergy to be more consistent. Maybe in a deck running 20+ lands this would be a game winning combo, but in this deck it just isn't viable enough. The land will end up being a tap land more often than not.
Load more