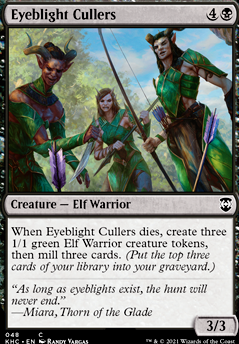 Eyeblight Cullers
Creature — Elf Warrior
When this dies (is put into the graveyard from the battlefield), create three 1/1 green Elf Warrior creature tokens, then mill three cards. (Put the top three cards of your library into your graveyard.)
Browse Alters
Tokens
Legality
| | |
| --- | --- |
| Format | Legality |
| 1v1 Commander | Legal |
| Canadian Highlander | Legal |
| Commander / EDH | Legal |
| Duel Commander | Legal |
| Highlander | Legal |
| Legacy | Legal |
| Leviathan | Legal |
| Oathbreaker | Legal |
| Pauper | Legal |
| Pauper EDH | Legal |
| Vintage | Legal |
| Casual | Legal |
| Custom | Legal |
| Quest Magic | Legal |
Latest Decks as Commander
Eyeblight Cullers Discussion
3 months ago
They're not triggers, they're replacement effects. This is important because triggers have to go on the stack and resolve, but replacement effects just change the existing effect. Both will apply when you attempt to create three tokens, and since you control the effect that they're applying to you choose the order. In this case they do the same thing, so it doesn't matter which order you put them first; either way Eyeblight Cullers will attempt to put three tokens into play. Before any tokens are created, Doubling Season will double it to six, Parallel Lives will double it to twelve, and then you'll put twelve tokens into play (at the same time).
4 months ago
I've been trying to find the right balance in my Lathril build as well.
Cards I think are cuttable here: Just Beaters - You are looking to flood the board with elves and pump up Lathril to make more elves. Traditional beater type creatures don't do much for you here so you can probably lose cards like Heedless One, Abomination of Llanowar and Elvish Vanguard. These cards don't do anything for you other than get big and swing which is counter productive to you strat.
Big Mana Producers - You want to flood the board early and elves in general don't have high CMC so you can probably lose some of the higher cmc mana dorks like Wirewood Channeler, Selvala, Heart of the Wilds, Joraga Treespeaker and Incubation Druid.
Other - Unless you plan on a lifegain subtheme you can cut Nissa Revane. I can't run Coat of Arms in my group because there are a lot of other tribal decks that also benefit from it. Higher mana elves like Eyeblight Cullers and Exquisite Huntmaster and Nath of the Gilt-Leaf are all cards I would consider cutting to bring down the average CMC.
Obviously just my opinions, I don't know if you have pet cards or what your plaugroup looks like just thought I could share my line of thinking!