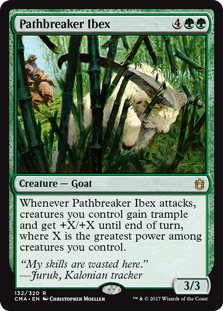 Legality
| | |
| --- | --- |
| Format | Legality |
| Tiny Leaders | Legal |
| 1v1 Commander | Legal |
| Magic Duels | Legal |
| Canadian Highlander | Legal |
| Vintage | Legal |
| Leviathan | Legal |
| Legacy | Legal |
| Duel Commander | Legal |
| Casual | Legal |
| Commander / EDH | Legal |
Pathbreaker Ibex
Creature — Goat
Whenever Pathbreaker Ibex attacks, creatures you control gain trample and get +X/+X until end of turn, where X is the greatest power among creatures you control.
Have (22)
Dr.Jackel , frederiklw , Vergil_Redgrail , bakunet , sombrevivo ,

V

a

s

b

e

a

r

1

, Zhorus_The_Bauqret , killstars , Reliva , AlucardZain , Archegos ,

S

p

i

n

a

l

r

i

p

p

e

r

, AllDayTayTay ,

D

i

m

a

r

x

, bakeraj4 ,

A

z

d

r

a

n

a

x

, Mortiferus_Rosa , rikertchu , Skydra2 , NCN946 , mziter501 ,

j

h

T

h

e

M

a

n

9

9

Want (18)
frederiklw , linejumpr , Puzzlemayor , AlphaSp , Gryffix ,

S

a

n

i

T

h

e

C

a

t

,

D

i

l

l

s

D

e

l

l

s

, Geerie , Bluewolf_Sun , psoliver , brutusq13 , LePtitNabot , ferretgr , notsaying , shoebox , ztanos , jtaddeo ,

r

o

c

k

l

e

e

m

y

h

e

r

o
Pathbreaker Ibex Discussion
1 day ago
Biggest issue I see here is a lack of focus and not enough creatures for a creatures only matter deck.
Animar, Soul of Elements wants two main things: Cast creatures and get +1/+1 counters to cast larger creatures. Everything in the deck should be focused on those two goals.
Setting up the deck to achieve this purpose will make it efficient and powerful. All cards should therefore do one of the following:
Ramp up to Animar.
Protect Animar.
Place counters on Animar.
Cast game ending creatures for cheap or free.
Draw cards to allow us to do 1 through 4.
Priority should be given to cards that does something now > does something before your next turn > does something on your next turn > does something eventually.
Because Animar offers a discount based on creatures played, the deck shouldn't be filled with only high cmc game enders, but creatures from low to high cmc, preferably with as little colored mana symbols as possible, to give the deck a natural progression to casting free or cheap high cmc game ending creatures.
Let's split the deck into 3 parts. Pre-Animar setup, Post-Animar setup, Finale.
Note that $: (0 to 0.99), $$: (1.00 to 4.99), $$$: (5.00 to 9.99), $$$$: (10.00 to 19.99), !$!: (20.00+)
Unnecessary on a computer, very helpful on a phone.
This section will be all ramp, and protection to get Animar out quickly and make sure he is secure.
- The land base should be arranged to where there is more emphasis on , then , then since can color fix and can offer protection.
- Exotic Orchard is pretty good and cheap and can usually offer every color in multiplayer, especially if an opponent has a Command Tower out or even a Vivid Grove without even needing charge counters. - Kazoo lands such as Simic Growth Chamber, Izzet Boilerworks, and Gruul Turf are good in casual EDH where there is lack of land destruction and they artifically increase your deck ammount by posing as two lands in one. Though overall you do not want too many tap lands as you'll constantly be a entire turn behind.
This section will be about setting up our board state to win. All cards from this point onwards will be casted after Animar has been casted.
This section will be about ending the game with giant behemoths.
2 days ago
Ok, big update. 6 cards in, 6 out.
In: Azusa, Lost but Seeking, Nylea, God of the Hunt, Sakura-Tribe Elder, Pir, Imaginative Rascal, Tidespout Tyrant, and Spellseeker.
Out: Prime Speaker Zegana, Shrieking Drake, Teferi, Mage of Zhalfir, Pathbreaker Ibex, Temur Sabertooth, and Rhonas the Indomitable
1 week ago
So I'm creating a Commander deck for the Naya Elder dragon in M19. I decided to go the Massive power increase route through cards like Xenagos, God of Revels and Pathbreaker Ibex to make the 6/6 dragon a much scarier hexproof OHKO monster. But I'm finding that I'm having a hard time finding more cards that have a marginally large power jump ability on permanents. I already know about Craterhoof Behemoth and I have Overwhelming Stampede in it, I just want to know if there are any more creatures, enchantments, or artifacts that could make Pallaida-Mors, the Ruiner the scariest thing on the battlefield.
1 week ago
Last Update: Out: Eater of Hope, Gonti, Lord of Luxury, Pathbreaker Ibex, Vulturous Zombie, Viridian Emissary, Viridian Zealot, Wall of Blossoms and Mindslaver
In: Bramble Sovereign, Viscera Seer, Carrion Feeder, razaketh, the foulblooded , Sakura-Tribe Elder, Caustic Caterpillar, Journey to Eternety and Demon of Dark Schemes
2 weeks ago
Removal suggestions:
Heritage Druid: your other elf mana dorks are far more viable and are useful by themselves; with how many dorks you have you would likely have to tap one of them to use her effect anyways
Joraga Treespeaker:He's a mana sinkhole; he'll either die before you can max his level or you'll only max him because you have nothing better to spend the mana on at which point he's useless. He's only actually uniquely useful if you can play him turn one, and that's a long shot
Realm Seekers: A neat card, but would be better replaced with a more lethal creature or at least one with more utility
Sages of the Anima: this one is iffy, but in the end it's a relatively slow effect on a vulnerable stick. I would advise replacing it with something like an enchantment with a similar effect if you're dead set on having something like this, but otherwise just replace it with something else altogether.
Replacement notes:
I would also advise finding some creatures that are decently lethal quickly on their own. Ezuri can make the little guys dangerous as it is, so the big fellas get real nasty when he can buff them up. You may want to put in a few heavy hitters that can get you lethal, as it decreases your build up time and stops you from having to give a mana dork 2 or 3 turns of +1/+1 tokens and trample to be dangerous. I'll always suggest Pathbreaker Ibex as he can turn one decent creature and some shrimps into an overwhelming force. Giant Adephage would also work great as Ezuri's buff(s) will make it nearly impossible to stop you from getting a token with him, or go with Plated Crusher for a decent mix of durability and damage and to keep budget low. You may also want to look at X drop creatures and see if anything fits your build, as with the number of mana dorks you have and the amount of man you will likely need to keep around to keep Ezuri on the board, they could easily get out of hand. I'll still suggest Scute Mob despite him not being an elf simply because he really fits the theme. There are probably some blue or blue/green creatures that will fit this bill too, but this is a start anyways.
Other notes:
Make sure you have a strong mana base. Your dorks are good and all but you're going to lose them and Ezuri more than once, and you need to be able to replace him without their help. Ensure you have some mana doubling cards to help to this end. Also ensure you have several equipment to give creatures haste; Ezuri's ability triggers at the beginning of combat so you can throw out something nasty and go nuclear at the drop of a hat, catching players off guard with some impressive damage.
2 weeks ago
http://tappedout.net/mtg-decks/25-06-18-Sgj-meren/
http://tappedout.net/mtg-decks/meren-self-mill-1/
Il y a d'autres changements que je vais apporter plus tard cette nuit pour le premier deck. Il reste notamment à rajouter Kokusho, Pathbreaker Ibex et Scuttling Doom Engine. Question de te donner plus de wincon. J'aimerais aussi faire une place pour un Berserk et un Overwhelming Stampede. Avenger of Zendikar va sûrement se faire couper. Il est le fun, mais il y a mieux (à mon avis). Pour 7 mana, je préfère justement Protean Hulk, un combo piece. Ça se peut même que je remette Mikaeus maintenant.
Load more