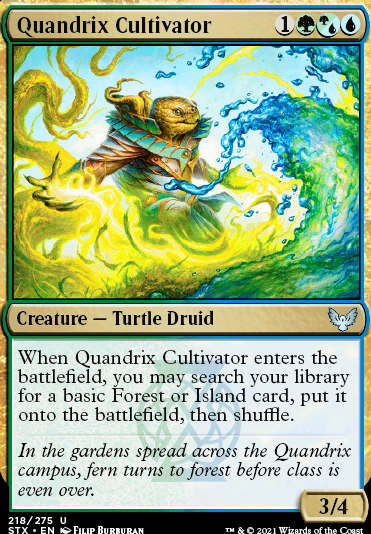 Quandrix Cultivator
Creature — Turtle Druid
When this enters the battlefield, you may search your library for a basic Forest or Island card, put it onto the battlefield, then shuffle your library.
Latest Decks as Commander
Quandrix Cultivator Discussion
5 months ago
I would swap some of the ramp cards higher on the mana curve to more 2-mana ramp. With your commander being 4 CMC, the more 2 mana ramp you have the more likely you'll get them out one turn early. So I'm looking at things like Quandrix Cultivator (cool card regardless) and Nissa's Expedition . Maybe switch them for a Mind Stone , or Three Visits , or Farseek (this last one with an added inclusion of lands like Breeding Pool if it's within your budget, or more budget cards like Rimewood Falls or Mystic Sanctuary )
If you want to play with planeswalkers, Jace, Mirror Mage might be a cool addition.
Orvar, the All-Form is a sweet card, but I don't think this deck has enough instants and sorceries that could trigger his ability for the inclusion to be worth it. Either cut Orvar, or make sure you start adding more spells that can take advantage of it (maybe more clone token making spells).