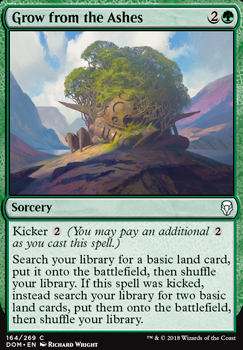 Grow from the Ashes
Sorcery
Kicker _(You may pay an additional as you cast this spell.) _
Search your library for a basic land card, put it into the battlefield, then shuffle your library. If this spell was kicked, instead search your library for two basic land cards, put them onto the the battlefield, then shuffle your library.
Latest Decks as Commander
Grow from the Ashes Discussion
1 month ago
Part 2
Other Cards that you could consider cutting
Other Cards that you could consider adding
This is where the fun begins and your wallet cries
That is all I can think of at the moment. I'm sure I'll have more la
1 month ago
Hey, there's a new Commander product that just released called Adventures in the Forgotten Realms Commander and Draconic Rage is one of the four precons. It's two color Gruul with Dragon theme and in the precon are several cards that are upgrades for your deck.
---
If you want to be more competitive than the number one area for improvements to consider is the manabase. Due to budget I don't expect to see Shock lands and Fetch lands, but you could improve the manabase a lot even without them. On a budget rely more on basic lands, more Forests than others and some dual lands that have interaction with basic lands. The reason for this is basic lands always ETB untapped to make mana.
Play more Forests than others because green mana helps the most to get the other colors with land ramp spells. Mountains should be next because red is the most important color to cast Dragons. Those two colors are overall the two most important with Dragons.
Currently there's 26 of the 37 lands that always ETB tapped which makes the manabase really slow. In my opinion you're better off having the land ETB untapped and make less colors then ETB tapped and make more colors. On a budget a don't expect you to play all lands that always ETB untapped, but limit the amount of lands that don't to much less than 26. If you're going to play lands that always ETB tapped then choose Rainbow lands ( Path of Ancestry ) or the Tri lands ( Savage Lands ) since these lands can make one of five colors or one of three colors which on a budget is worth it ETB tapped.
---
Example of a budget five color manabase:
15 basic lands: more Forests and Mountains than others.
Command Tower, Exotic Orchard, Unclaimed Territory , Haven of the Spirit Dragon , Path of Ancestry
Ash Barrens, Evolving Wilds, Terramorphic Expanse
4 Tri lands: Jungle Shrine, Savage Lands , Frontier Bivouac , Opulent Palace
5 Tango lands: Cinder Glade, Canopy Vista , Sunken Hollow , Prairie Stream , Smoldering Marsh
3 Pain lands: Murmuring Bosk , Yavimaya Coast , Llanowar Wastes
Tango lands can ETB tapped, but more basic lands help for them not to. By adding more Tango lands then Farseek could also be added as a land upgrade for Grow from the Ashes since Farseek can search for a Tango land.
If interested I offer more advice. Would you like more advice? Good luck with your deck.
4 months ago
It's Koma Cute Snek! The World Serpent danger noodle! I think this deck might need one more ramp spell, though, especially since Koma has quite an expensive mana cost. I suugest Grow from the Ashes and Explosive Vegetation . Cultivate is a classic. Other than that, I also suggest a few token doublers. Maybe one or two of the new Quandrix commanders.
4 months ago
Heya Doombeard1984! I love the new look of your username! You're spot on. I almost have Crystalline Sliver , and will swap those immediately when I do. I was considering switching to some sort of reverse curve for slivers to cascade into more specific lines, which is initially why I reduced my 1-MV spells to so few. If I pop a sliver for 1 cost, at this point it would always be Galerider Sliver . Though it's probably nuts to try to do that with the deck so I'm likely going to make that switch as well. 100% on the Grow from the Ashes to either Nature's Lore or Skyshroud Claim . I'll switch to Skyshroud Claim!
And for Realmwalker I haven't gotten them in my hand or on my battlefield yet to see their effect, but I really like it for seeing the top card. I have plenty of fetches, so I can see the top to plan a cascade, and shuffle if I don't like it.
5 months ago
Hi B0NGUS,
Your deck came up in the feed so thought I would drop in and see how its going. Seeing a few alterations. Here is a bit of food for thought though:
Just some ideas. Also a question for you. How are you getting on using the Sliver in disguise in the deck. You finding it is helping your plays? I have considered it, as it gives access to the top of my library as well as being a Sliver in most ways. I probably run a load less slivers and so would be a bit less effective, but I am curious about the results.
10 months ago
Hey, nice first budget version of Gishath. Good job on the win.
Some budget cards to consider adding:
Several of these cards are in Commander Legends, the new Magic set just released. The prices of these cards will be decreasing.
Cards to consider cutting:
Good luck with your deck.
Load more