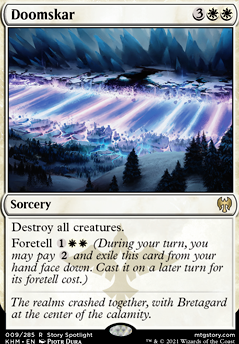 Doomskar
Sorcery
Destroy all creatures.
Foretell [[symbol:1] (During your turn, you may pay and exile this card from your hand face down. Cast it on a later turn for its foretell cost.)
Browse Alters
Trade
Legality
| | |
| --- | --- |
| Format | Legality |
| 1v1 Commander | Legal |
| Arena | Legal |
| Block Constructed | Legal |
| Brawl | Legal |
| Canadian Highlander | Legal |
| Commander / EDH | Legal |
| Duel Commander | Legal |
| Gladiator | Legal |
| Highlander | Legal |
| Historic | Legal |
| Legacy | Legal |
| Leviathan | Legal |
| Modern | Legal |
| Oathbreaker | Legal |
| Pioneer | Legal |
| Pre-release | Legal |
| Standard | Legal |
| Unformat | Legal |
| Vintage | Legal |
| Casual | Legal |
| Custom | Legal |
| Quest Magic | Legal |
Latest Decks as Commander
Doomskar Discussion
3 days ago
Took the deck for its first couple of runs tonight, unfortunately only 1v1 since only one member of my playgroup was available. I was up against Lathril, Blade of the Elves , and he had a lot of life, tons of tokens, and had knocked me down pretty low during the first game until I played Doomskar and saved and blinked all of my non-token creatures with Eerie Interlude . Prior to this I had done some damage and recovered some life with Sephara, Sky's Blade , and while he was successfully able to remove her, I was able to wipe him out pretty quick with my army. In the second game I resolved Coastal Piracy early and was able to draw cards like nobody's business. As a result, the game wasn't particularly close, and I was able to flash out Dictate of Heliod on his end step, and then lock down his many tokens with Lavinia of the Tenth to finish him off with my pumped army.
I really do like the relaxed, controlling pace of this deck. I had plenty of answers to various threats and didn't need to be stingy with them, which was nice. I'm definitely a fan, and don't feel like I need the splashy combos for now, though I will probably add Coat of Arms soon as a wincon and target for Whir of Invention .
6 days ago
Had a Bo1 with Amulet Titan. Good lord that was one hell of a slog. It's hard to keep track of what all they were doing but they got out an early Urza's Saga to follow up my Stoneforge Mystic . I took turn three to pop Saga with Field of Ruin . They quickly follow with another with some Arboreal Grazer action. I got out my Batterskull on an end step and deployed Gideon Blackblade to give the germ double lifelink. I pulled up ahead on line enough to take a hit for 18 from a Primeval Titan . I followed with Gideon of the Trials to pin the Titan. They managed to get another Titan off of Azusa, Lost but Seeking land drops and they had to eat a Gideon. They took out GotT with some Golems and got a second Titan on board to go at me. I deployed Kaldra Compleat with my Stoneforge sitting on the side to block it and take it down. My Batterskull was giving me big life at that point with a Sword of Fire and Ice attached so I could sponge some blows. Some more trading with another Blackblade sponging blows off the emblem and giving Batterskull big boy lifegain. I eventually foretold a Doomskar and that sealed the deal with my planeswalker beats and germ.
That was a real brawl. There was big work done by all contributors. Gideon of the Trials emblem made magnets of our Gideons taking a lot of pressure off our life total while Batterskull with double lifelink with Gideon Blackblade sent our life soaring. We were sitting at around 48-50 by the end? Blacksmith's Skill gave us clutch as a 'block' for one of our Gideons getting threatened by a Titan. That bought a turn for another GotT to come in and nullify it. Doomskar has been an all star coming in clutch to close out games. With a log of our threats being resilient to the sweep we could easily follow with a big swing. I was stunned we were able to hold the fight without a single Path to Exile or Solitude . Wow. Those would have been fantastic pulls. The one flaw in my play that I could identify was getting Batterskull instead of Sword of Hearth and Home . That would have been great for blanking Titan hits. So what we pulled performed wonderfully and and we had a lot of live draws that would have helped. This is a real confidence booster for this deck's viability. I never even bothered attacking with Blackblade and I could have. xD
6 days ago
Played a quick game against W/B Pox Reanimator. I don't even know if the deck was going heavier on Pox but it had Liliana of the Veil , probably as discard outlets.
They led on a pair of Inquisition of Kozilek and Liliana of the Veil to strip me. I was able to hold out long enough to get Gideon, Ally of Zendikar to threaten Lili. They continued stripping me down to top deck mode. I managed to pull Gideon of the Trials to to get an emblem before being taken down. Middle Gideon held down the fort for a couple turns and the opponent ate up their Lingering Souls . I got out Castle Ardenvale to help with the Smallpox . They got out a Priest of Fell Rites and I followed up fortelling Doomskar . We went a couple turns with a Knight Ally token and Priest trading blows with Castle providing blocks for Priest. They got a Smallpox to eat some board and eternalized Priest to get Archon of Cruelty to kill my token. I stupidly forgot about my Doomskar for a turn but was kinda hoping for a Path to Exile or Solitude but I ended up blowing it up on the next hit. They followed up with a Persist and I pulled a useless Stoneforge Mystic .
That was a slug fest as they stripped my hand, I deployed threats, they are my threats and got out a big boi with me blanking on removal. I should note that I had a Path earlier in the game but between double Inquisition, several Liliana activations, and Smallpox , I had lost it before it was relevant. We'll played, opponent.
2 months ago
I think this deck lacks identity. From what you've said, you're trying to be an Orzhov lifegain deck, but there are so many cards that don't fit with that plan and/or don't bring a lot of value to the table. We should also probably just make this a Clerics deck (with Angel of Destiny), as that fits the lifegain build and packs extra synergy.
First, I think Vito, Thorn of the Dusk Rose should be a four-of in the deck. He's just so good in a lifegain deck. Righteous Valkyrie should probably be in here as well, as it helps gain life and provides a buff when you do. Speaker of the Heavens should also be a four-of, as it gains some small life and when you hit 27 starts really giving value! If we're going Clerics, Orah, Skyclave Hierophant is a good idea.
As for cards that don't give a lot of value, Dream Devourer , Firja, Judge of Valor , Giant Killer , Skemfar Shadowsage , Invoke the Divine , Light of Hope , Revitalize , Poison the Cup , and Pacifism all probably need to go. There are better options for what most of them do, and the rest you don't need the effects of. Doomskar too, because you're a deck that likes a full boardstate (lots of creatures) so you don't want to be wiping the board almost ever.
There were several removal options in what I pointed out. Bloodchief's Thirst and Heartless Act are good replacements, but you don't want too much removal, you should be focused on your own board most of the time.
Don't forget as well that having a list of mainly 1-2x cards won't make for a consistent deck. Ideally, you have as many of your good cards as possible.
Those are my initial thoughts. There's some value lost in the list even after those edits, but it's a good start, I think.
2 months ago
Several of these cards aren't in Standard or are only legal in bo1. You don't really need an alternate win-con with shrines. Stone Fangs will give you that. What you need are boardwipes like Shatter the Sky , Doomskar , or Extinction Event . You also need to get this deck down to 60 cards, because this is just peak inefficiency.
Load more