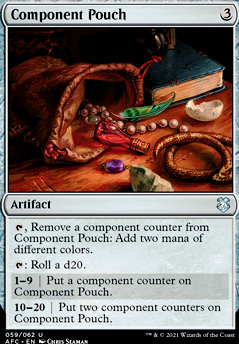 Legality
Component Pouch
Artifact
, Remove a component counter from Component Pouch: Add two mana of different colours.
: Roll a twenty sided die. (Remember that MTG spindowns are not well weight balanced, so please roll a die that isn't an MTG spindown.)
If you roll a 1-9 | Put a component counter on Component Pouch.
If you roll 10-20 | Put two component counters on Component Pouch.