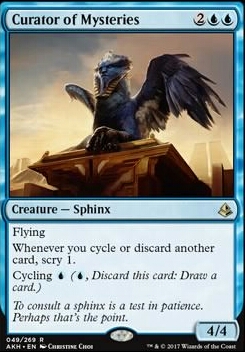 Legality
| | |
| --- | --- |
| Format | Legality |
| Modern | Legal |
| Legacy | Legal |
| Vintage | Legal |
| Commander / EDH | Legal |
| Duel Commander | Legal |
Curator of Mysteries
Creature — Sphinx
Flying
Whenever you cycle or discard another card, scry 1.
Cycling (, Discard this card: Draw a card.)
Curator of Mysteries Discussion
4 days ago
After playtesting a similiar brew, I'm not sold on Drake haven or Faith of the Devoted in this deck... I think Archfiend of Ifnir and Curator of Mysteries actually want more cheap cyclers to enable their payoffs more than the deck wants another payoff in the form of the enchantments. Removing them for more versatile and cheap cyclers also allows you to reduce the land count by on or two.
In place of the enchantments, I'd suggest trying a few Hieroglyphic Illuminations as both another source of card draw and cheap () cycling. I'd also recommend a couple copies of Grasp of Darkness and Essence Scatter for more ways to deal with Gods, other big creatures, and Felidar Guardian. You may even be able to cut a copy of Anguished Unmaking at that point. Lastly I think I'd recommend a couple Negates.
Just my thoughts! Maybe you've found your shell to be better at utilizing the enchantments but I've found Archfiend and Curator can beat down well enough on their own backed up by more spells!