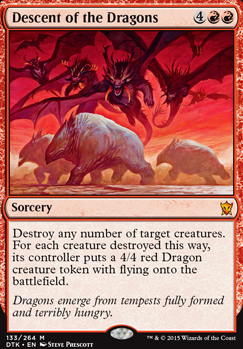 Legality
| | |
| --- | --- |
| Format | Legality |
| Tiny Leaders | Legal |
| 1v1 Commander | Legal |
| Magic Duels | Legal |
| Canadian Highlander | Legal |
| Vintage | Legal |
| Modern | Legal |
| Penny Dreadful | Legal |
| Pioneer | Legal |
| Leviathan | Legal |
| Legacy | Legal |
| Frontier | Legal |
| Duel Commander | Legal |
| Oathbreaker | Legal |
| Unformat | Legal |
| Casual | Legal |
| Commander / EDH | Legal |
Tokens
Descent of the Dragons
Sorcery
Destroy any number of target creatures. For each creature destroyed this way, its controller puts a 4/4 red Dragon creature token with flying onto the battlefield.
Descent of the Dragons Discussion
1 month ago
I'm less of a "combo" player and more of a "synergy" player.
My problem with combos is that, while they can generate infinite and unbreakable locks on the game, if just one piece if removed the entire thing falls apart.
With synergy, even if half of your boardstate is gone, the half that remains can still function.
I recently "discovered" a combo / synergy between Myr Matrix and Mana Echoes that I want to experiment with in my next deck. I'm thinking Izzet, running Brudiclad, Telchor Engineer in semi-Myr tribal.
Basically the combo doesn't work unless you have at least 4 Myr on the field. If you have Mana Echoes already on the field with Myr Matrix sitting there and have literally nothing else, you can drop a Myr Battlesphere and immediately generate , pay into Matrix and get right back out of it.
I'm not entirely sure what to do with the deck or which direction to go, but I'm thinking spell-slinger / storm. The potential is there for an immense amount of mana. There is also Saheeli, the Gifted , Urza, Lord High Artificer , Tolarian Academy .
And I'd be remiss if I didn't shoe-horn in Day of the Dragons and Descent of the Dragons .
So yeah, it's not exactly a "game-winning" combo, and it does take a few cards to set up, but the possibility of generating BOTH infinite mana AND infinite tokens is just too good to not build.
---
Also, my Oathbreaker deck that runs Kiora, Master of the Depths with Karn's Temporal Sundering as the Signature Spell. In a ramp deck, you can literally go infinite turns.
Also in that deck I have Argothian Elder with Wirewood Lodge . If you have one other land that can add at least two mana, such as Nykthos, Shrine to Nyx , Gaea's Cradle , Simic Growth Chamber , Itlimoc, Cradle of the Sun , or even just a basic Forest with Vorinclex, Voice of Hunger on the field then you can also generate infinite mana.
Yes, I can generate both infinite turns and infinite mana in the same deck.
Shameless self plug. Sorry, I rambled on. I'll hide in an accordion as to not be rude with a dissertation on my hobby, lol.
4 months ago
Bitte ändere den Decktyp mal von Standard zu Commander. Ansonsten bekomme ich immer eine Warnung für jede Karte, die ich empfehlen will, die aber in dem Format nicht legal ist
Hier noch einmal ein paar Kreaturen, die ich eigentlich sehr geil und günstig finde - besonders, wenn dein Commander sie noch mit Trample ausstattet: Altered Ego , , Zameck Guildmage Gruul Ragebeast (nette Kombo mit Foe-Razer Regent ) , Ravager Wurm , Stonebrow, Krosan Hero (die Kombo ist wohl offensichtlich)
Progenitor Mimic , Simic Sky Swallower sind sehr solide. Gerade Hexproof/Shroud finde ich unglaublich wichtig.
Vessel of Endless Rest warum willst du das spielen? Wenn du Mana-Ramp willst, gehe am besten gleich zu den Signets: Gruul Signet Simic Signet Izzet Signet . Dann gibt es auch noch die Cluestones: Gruul Cluestone Simic Cluestone Izzet Cluestone
Deine Kreaturen sind teilweise recht teuer. Du musst natürlich austesten, wie das Deck läuft, aber ich würde zumindest zu Anfang die Daumenregel nutzen, dass man 38 Länder und 6 - 8 Mana-Artefakte spielt. Ich würde bei den teuren Kreaturen lieber mehr Mana als weniger spielen und dann vielleicht noch Karten spielen, in die du überschüssiges Mana pumpen kannst, wie River Hoopoe (nur als Beispiel, dass mir gerade einfällt). Ansonsten finde ich Hydras recht cool. Die kann man mit viel oder weniger Mana spielen und viele freuen sich sehr über das Trample, dass Surrak ihnen gibt. Außerdem kann man in viele Hydras auch später noch Mana pumpen. Schau mal hier: https://scryfall.com/search?as=grid&order=name&q=type%3Ahydra+commander%3AURG
Wenn du mit Paleoloth ein wenig in die "Power Matters" Schiene möchtest, wären vielleicht folgende Karten eine Sichtung wert: Drumhunter , Exuberant Firestoker , Mossbridge Troll (Wenn du Kreaturen mit Wachsamkeit nutzt, wird der völlig absurd), Mouth , Shamanic Revelation , Spearbreaker Behemoth , Where Ancients Tread .
Was mir auch aufgefallen ist: Du hast kein Removal. Ja, im Mehrspieler ist es immer besser, wenn man die anderen Spieler dazu überredet, ihr Removal zu nutzen, aber du wirst selber was brauchen um Bedrohungen die nur dich angehen zu beseitigen - oder einfach, um etwas zu tun wenn keiner der anderen Removal auf der Hand hat: Klassische Karten: Acidic Slime , Artifact Mutation , Beast Within , Blue Elemental Blast , Decimate , Krosan Grip , Manglehorn , Meteor Golem , Natural State , Nature's Claim , Pongify , Thrashing Brontodon Meine Geheimtipps: Bramblecrush , Broken Bond , Cindervines , Hull Breach , Hoard-Smelter Dragon , Descent of the Dragons (Damit kannst du auch deine eigenen kleinen Kreaturen zu Drachen machen), Unstable Obelisk (völlig unterbewertet), Storm the Citadel (deine Kreaturen haben Trampel, was ziemlich vernichtend sein kann)
5 months ago
Some board wipes in red to look at:
Outside of red:
6 months ago
maybe one Descent of the Dragons incase polymorph gets surgicalled.
turn your goblins into dragons
7 months ago
But... where's the Descent of the Dragons and Sword of the Paruns ?
Krinko has always been a favorite of mine. I got a budget version and a somewhat optimized version. I linked both below and hopefully, they can give some inspiration. Likewise, if you have a recommendation, I'm all ears.
Budget
---

---
Somewhat Optimized
---

---
8 months ago
so there's a card called Descent of the Dragons that, although expensive, would combo greatly with Karrthus. Imagine turning all your opponents creatures into dragons, then taking them all, giving them haste, and smashing their faces in?
8 months ago
as I'm experimenting with Dragons as well, I'll offer some tips.
first off its too top heavy. I would take out all cards you have with Hellkite in the name as they cost too much to be of use. Moonveil Dragon doesn't do enough for costing 6 mana. the only 6 drop dragon you'd want to consider is Lathliss, and then only as a 1 of, and that's because she makes free tokens when you cast a dragon. I have 1 Descent of the Dragons instead because my deck banks on Dragon Tempest and Scourge of Valkas so I want to get as many dragons entering as possible, and if I can blow up my entire board to get 4 or 5 dragon tokens, that's usually game.
speaking of Scourge of Valkas, that is a good win con if you're on the "get a lot of dragons" plan, so you want 4 of those guys, and that's the only 5 drop you should have, but you can consider Glorybringer , Stormbreath Dragon or Thundermaw Hellkite as alternate options. Mirrorwing is pretty terrible.
in my 4 drops, I only have Avaricious and Thunderbreak Regent. Avaricious is pretty good for extra draw if you're ok discarding at end of turn and Regent simply makes it hard for opponents to spot remove your stuff. Crucible is not very good at all in modern and is a card you only want in EDH dragons.
Sarkhan Fireblood is your goto card for dragons and you want 2-3 of him ideally. not 4 cause extra copies are useless. Dragon Egg is decent as a 1 of, but I actually have been liking Dragon's Hoard at 3-4 because of how helpful it is. the turn you play it you can use it for mana, or if you play a dragon after it, you can immediately draw off of it and its easy to build up multiple counters on it and then its a constant extra card every turn.
at 2 mana I like 3-4 Dragon Tempest because that's one of the main win cons, but I don't wanna see a bunch early on in lieu of creatures. I have 3 of the goblins that makes the dragons cost 1 less, but I also have Generator Servant as it gives you 2 mana plus haste to the dragon incase you don't have a Tempest. I don't think much else in mono red makes sense.
you need some 1 drops for consistency. I like Slumbering Dragon because if played early and left unchecked, he can grow large by himself, but more importantly he's a 1 drop dragon to trigger your Tempest effects late game. 4 Faithless Looting is the main thing you want. its the best draw spell red has, letting you trade extra lands for spells or extra Sarkhans or whatever. also I recommend a couple Bolts just cause its Bolt.
I'm still play testing and figuring this deck out, and trying to see whether I should splash in some green for ramp or not, but that's what I've found works best so far. if you want all the big expensive dragons, those are best for EDH.
Load more
Descent of the Dragons occurrence in decks from the last year
Commander / EDH:
All decks: 0.01%