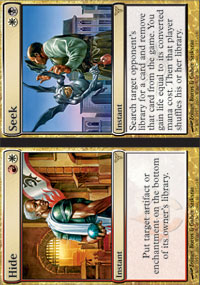 Legality
| | |
| --- | --- |
| Format | Legality |
| Tiny Leaders | Legal |
| Noble | Legal |
| Leviathan | Legal |
| Magic Duels | Legal |
| Canadian Highlander | Legal |
| Vintage | Legal |
| Modern | Legal |
| Vanguard | Legal |
| Legacy | Legal |
| Archenemy | Legal |
| Planechase | Legal |
| 1v1 Commander | Legal |
| Duel Commander | Legal |
| Unformat | Legal |
| Casual | Legal |
| Commander / EDH | Legal |
Hide / Seek
Instant
Hide:
Put target artifact or enchantment on the bottom of its owner's library.
---
Seek:
Search target opponent's library for a card and remove that card from the game. You gain life equal to its converted mana cost. Then that player shuffles his or her library.
Recent Decks
Hide / Seek Discussion
1 month ago
Quick update with some evolution of the deck, even though I need to update my decklist. I went to a LGS that I had never been to today. Was in a 4 player pod and over two games I faced Sidisi BUG Dredge Zombies, Food Chain Prossh, the same Jhoira Paradox Storm, the same Kambal Combo Control, and a janky Azusa Lanndfall deck. I had made a few changes before going, knowing that I would face storm combo and likely other combo in a competitive environment. I won both games I played. It took some serious threat assessment, some serious surgical excision of specific threats, and some changes in my deck list to log both wins.
Highlights of Game 1 were:
Exiling Aetherflux Reservoir on turn two from Jhoira's deck with Hide // Seek because Jhoira already had Paradox Engine in hand. She subsequently cast it as soon as possible on turn 3 to avoid my other ways to dismantle her deck. She would have stormed off the next turn, but I Anguished Unmaking'd it. Jhoira was hamstrung for the moment.
I beat Sidisi shortly after this with a Merit Lage token created with a Vesuva. Bring the Aggro when you can.
Kambal was taken down when I Backlash'd his 68/68 Serra Avatar. Turn their strengths against them.
Highlights of Game 2 were:
I dropped a Rule of Law that basically killed the game plan of both Prossh and Jhoira, delaying the game as I assembled an unbreakable fortress.
Prossh's face when I Burning Wish'd for Slaughter Games and exiled the Food Chain from his hand before he could assemble a winning combo.
Prossh's comment about my deck playing so many silver bullets against their decks.
Riding an unblockable Master of Cruelties to beatdowns of both Prossh and Jhoira, despite both going off and going through most of their decks before they fizzled without finding an answer.
Both Prossh's and Jhoira's faces when I offered to draw with the super janky Azusa deck who had played about 30 lands and not much else that game. Azusa took the draw, leaving both the combo players feeling totally ripped off. Golden.
I will update the decklist with some changes, but suffice it to say that I swung slightly stax against combo. Seemed to work pretty well.
2 months ago
Quick update from the weekend. I am still punishing myself by going against the Jhoira Paradox Storm and Kambal Lifegain Control.
First game I lost to Jhoira going off on turn two with a pile of Rocks and a Paradox Engine. I had only played a tapped Godless Shrine by that time. She shrugged and we shuffled up and played again. Not sure what to say.
Second game, Jhoira dropped an Ancient Tomb, an Island, and 6 Rocks on turn 2. I figured I needed to be super aggressive, and I had a fantastic hand for not losing turn 2 this time. I played Hide // Seek -> Seek, planning to exile the Paradox Engine. Jhoira Pact of Negationed it. Crap. At least I sort of Time Walked her. I ramped through turn 4 and held a Word of Seizing as Kambal played his commander and Path to Exiled Jhoira for another Time Walk. Finally Jhoira plays a Tezzeret the Seeker and upticks it to 5. I figured it was a perfect time. I wait for my turn, then Word of Seizing the Tezzeret the Seeker , -X for 5 to send it to the graveyard, delaying the tutor for Paradox Engine and I tutor up my Sunforger. Jhoira durdles for a turn, Kambal beats on her for every artifact that she plays, and holds up mana for responses. I play Queen Marchesa, and hold mana up for a Monarch top decked Anguished Unmaking and a Sunforger response. At this point, I can't remember the details, but Kambal seems to control the board, keeping Jhoira in check with single target removal until she starts taking an uncomfortable amount of damage to Kambal tax and a couple of Sunforger equipped Queen Marchesa attacks. Kambal takes her out with an Exsanguinate she can't respond to, and now it is me and Kambal. I pillow in, play an Erebos, God of the Dead, then Kambal plays a series of spells and hits some Extort triggers, and eventually I end up Forking a Debt to the Deathless played against me while holding a Mana Tithe, Reverberate, and Teferi's Protection in hand.
Jhoira Paradox Storm is a beast. If there are more competitive decks than her, I am not sure I want to play them. Still, Jhoira Paradox Storm isn't a guaranteed loss for Queen Marchesa, it is just probably a loss.
3 months ago
Hey, I was wondering if you used Sunforger to cast Hide // Seek would you have to choose one side? could you pay additional to cast the other side of it? Thank you in advance!