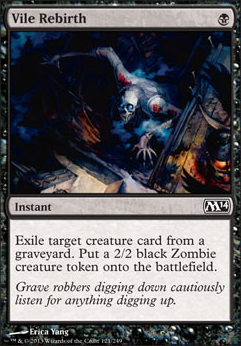 Vile Rebirth
Instant
Exile target creature card from a graveyard. Put a 2/2 black Zombie creature token onto the battlefield.
Vile Rebirth Discussion
1 month ago
K I feel really guilty about the help you've given me, so I'm going to try to suggest things on something of yours. ;)
So I was looking through your (non-creature) spells and i noticed that you didn't have any populating effects (like Wake the Reflections). It might just slow you down, but could be a nice 1 white mana to +1/+1 counter trade for Carrion Feeder.
Beckon Apparition could be another Vile Rebirth (which could count toward both of Teysa's abilities, btw), Spirit Bonds could work depending on whether or not you have spirits (but you could still make them with all the zombies that you will be summoning), and Crypt Ghast seems like he could fit in if you are having mana problems.
But if the deck is fine, just disregard all of this. I just felt like I should do this after what you did to my deck. Thanks again! +1
3 months ago
:P Well, we all were novices at one point.
Endless Ranks of the Dead is amazing. I would also look into:
If you splash in blue:
These are some casual, non competitive suggestions:)
3 months ago
I ran Sedris tribal zombies at one point, it doesn't run counters.
If it's budget avoid Damnation; it's not budget. On the cheaper side of boardwipes, you have Crux of Fate, Decree of Pain, Plague Wind, and you also have your technical boardwipes (ones that don't specifically say destroy): Cyclonic Rift, Living Death, Living End.
Zombiewise, I think you covered most. You're missing Mikaeus, the Unhallowed, Grave Titan, and Lim-Dul the Necromancer if you can find them. I'm not a fan of these as they're pretty bland for EDH:
And from your noncreatures, remove these:
Lands, for Grixis zombies, I'd recommend these (the other dude who posted here mentioned some):
Some other stuff for consideration:
3 months ago
I personally would ditch all of the Scroll of Griselbrands because most of the time, you will have better things to waste 2 mana on and you can't guarantee that you have a daemon out when you want to use the ability.
Also I would get rid at least one of the Fireshriekers because in a more control-y deck, like this one, you should be drawing cards or killing something with that five mana you need to make the equipment work.
And you may want to take out Bojuka Bog becuase it works against your Crypt of Agadeem and Vile Rebirth. And at most you usually have 24 lands in a 60 card deck.
If you want to look at any mono-black ramp cards, my deck Hardcast Emrakul, or Exsanguinate for 35? You pick has some, though I know you want to cut cards.
| | |
| --- | --- |
| Color(s) | Black |
| Cost | B |
| Converted cost | 1 |
Legality
| | |
| --- | --- |
| Format | Legality |
| Legacy | Legal |
| Vintage | Legal |
| Commander / EDH | Legal |
| Modern | Legal |
| Duel Commander | Legal |