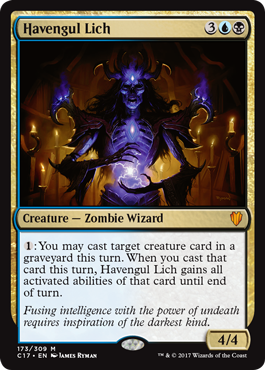 Havengul Lich
Creature — Zombie Wizard
: You may cast target creature from a graveyard this turn. When you cast that card this turn, Havengul Lich gains all activated abilities of that card until end of turn.
Browse Alters
View at Gatherer
Trade
Legality
| | |
| --- | --- |
| Format | Legality |
| Tiny Leaders | Legal |
| Noble | Legal |
| Magic Duels | Legal |
| Canadian Highlander | Legal |
| Vintage | Legal |
| Modern | Legal |
| Highlander | Legal |
| 2019-10-04 | Legal |
| Block Constructed | Legal |
| Leviathan | Legal |
| Legacy | Legal |
| 1v1 Commander | Legal |
| Duel Commander | Legal |
| Oathbreaker | Legal |
| Unformat | Legal |
| Casual | Legal |
| Commander / EDH | Legal |
Havengul Lich occurrence in decks from the last year
Commander / EDH:
All decks: 0.02%
Havengul Lich Discussion
5 days ago
@ dichia
By the way, I have appreciated your help and recommendations. I like the idea of Alchemist's Refuge.
I did consider looking into the food sub-theme before. Now that I got a better feel for how the deck runs, I may just make that into another deck of it's own. But I'm definitely open to seeing how the cards you mentioned can work in this deck.
I'm also a long time edh player, so I assumed Prophet of Kruphix was banned in modern too, thankfully it's not. I love the idea of this card.
To be honest, I don't know. At the multiplayer table, I found that
Bubbling Cauldron
is a huge target for removal. So I could only imagine how a single player would use their resources to stop that particular card. In multiplayer, it's easier to let someone else be a threat, wait till a lot of counter spells were used, then feel safer to play key cards.
2 weeks ago
Good build, lots of synergies. I really like the theme of this deck.
Unfortunately, Havengul Lich doesn't work the way you've suggested in your description. None of your creatures have flash, so unless you otherwise enable them to have it you would not be permitted to cast them during your opponent's turns. Bogbrew Witch's activated ability, on the other hand, would be possible during the opponent's turn. "Cast" is technically different than "put it onto the battlefield".
Also, Lifeline is not Modern legal. If you switched formats to Legacy or perhaps Vintage, then you're good.
3 weeks ago
First things first, good choice! The Scarab God is an extremely fun and powerful commander, so I believe you're gonna do well in the tournament. Your decklist seems pretty solid, especially considering the budget restrictions. A couple of general advices would be to include as much mana ramp as possible as your commander's ability is very mana intensive, and as many instants as you can considering you can use the Scarab's ability at any time. This way, you'll be able to play a very interactive game. Here are a few specific considerations:
I'm not a huge fan of Bontu's Last Reckoning. I don't know if you have tested it enough, but having to basically skip two turns to have the board cleared is a terrible deal. If the better boardwipes are out of budget, you can consider Crux of Fate, Decree of Pain, Languish and Life's Finale (which has nice synergy with your commander, although it costs a bit too much mana).
Walk the Plank is also a little suboptimal, as it's sorcery speed (which is a nonbo with your commander). There are plenty of instant speed removal spells to choose from, like Cast Down, Dismember, Go for the Throat and Victim of Night.
I'm also not a fan of symmetrical draw effects like Howling Mine, because giving extra cards to your opponents is very dangerous. Maybe a more traditional draw spell would be more appropriate.
I think you are aware, but Yawgmoth's Bargain is unfortunately banned in our format.
Personally, I would include a slightly more prominent token subtheme to get the most value out of your commander's first ability. You can consider cards like Dread Summons (good for milling your opponents' creatures AND create some tokens), From Under the Floorboards (even when you are unable to cast it for its madness cost, three 2/2s for five mana is an ok deal) and Open the Graves.
Awaken the Erstwhile is amazing in this deck, as it fills every graveyard with -hopefully- creatures to copy as well as provide some 2/2s.
Every graveyard-based deck should have a decent number of free sacrifice outlets, and while I see you included some, I think you are still missing the best one for this kind of deck: Altar of Dementia. Apart from the amazing utility of being able to sacrifice a creature in response to an exile removal spell, it has the huge benefit of fueling your (or your opponents') graveyard for your commander. At some point during the game, depending on your board state, it can even become a win condition. Ashnod's Altar is another one I would include.
Considering your commander's ability is at instant speed, I would include Vedalken Orrery (if it's not our of budget) and Leyline of Anticipation to be able to play your spells on your opponents end steps, in case you didn't use the Scarab's ability.
A couple of auto includes, I think, should be Living Death and Havengul Lich for when you don't have the God available.
Rooftop Storm is rather expensive at six mana, but is basically an Omniscience for all your zombies.
Good luck for your tournament and keep updating this list!
1 month ago
Hey, there's two Zombie combos here. One is with Gravecrawler and the other is with Havengul Lich. Both use Rooftop Storm to free cast Zombies from my graveyard.
This combo can use any sac outlet as it's needed to get Gravecrawler into my graveyard to free cast him with Rooftop. Gravecrawler infinite dying triggering Captain is a win condition. Phyrexian Altar is the nonbuget expensive sac outlet that goes infinite with Gravecrawler. It's not in this deck, but is a good upgrade if looking to make upgrades. It would allow you to cut Rooftop completely from the combo.
Ashnod makes infinite colorless mana when I sac a Zombie and I use one colorless each time to activate Havengul. I can activate Havengul and then cast a Zombie in any graveyard for free. Merchant is the best win condition with his combo because I can infinite cast him and trigger his ETB infinite times. With Diregraf Captain or Plague Belcher in my graveyard and only one other Zombie in any graveyard I can use Captain/Belcher as a win condition by infinite sacing and casting that one another Zombie.
Bontu's Monument can also be a win condition since I'm casting a Zombie each time with Havengul. Mire Triton can be the only Zombie in my graveyard since she can assemble the rest of the Zombies for this combo. I can keep sacing/casting her from my graveyard to self-mill myself to get Zombies for the combo into my graveyard and then cast them with Havengul.
Other than the two combos the other strategy is attacking with a Zombie horde with Lords and Wonder as support. Accumulate Zombies and Zombie tokens which allows Scarab to make opponents lose a lot of life and also scry a lot which helps to find combo pieces. Flying is very powerful with attacking Zombies and Scarab. The combos are using my graveyard thus I want to get Zombies into my graveyard especially Gravecrawler. Wonder also wants to be in my graveyard therefore it's a great fit.
1 month ago
Hey, I don't want you to feel like you're being ganged up in the comments of your deck. I am and Arcaia also are simply trying to get you to better understand card quality. When you have such a high budget then card quality becomes an excellent way to improve your deck because you don't have to worry as much about the cost of a deck which lets you play the best cards and cut the subpar ones.
First let me start by saying I've been wrong saying to cut Havengul Lich. Not for reasons you're describing, but because it's a combo piece. Overall for five mana Havengul is not a good card, but with Zombies it's a combo with Rooftop Storm + Phyrexian Altar/Ashnod's Altar to cast all the Zombies on your turn from all graveyards. Add any other card that cares about casting spells, creatures dying or creatures ETB for lots of value. Use Sidisi, Undead Vizier with this combo to tutor for Gravecrawler and then Diregraf Captain as the win condition. Or simply loop cast/sac Vengeful Dead/Gray Merchant of Asphodel as a win condition.
---
Arcaia explained Havengul, activated abilities have a colon ( : ) in the text. The ability on the card has a cost first, then a : and last an effect ( [Cost]: [Effect] ). Sometimes the cost requires tapping the creature which will show a on the left side of the colon. If there isn't a colon then it's not an activated ability.
Arcaia left out one thing when explaining Havengul, you can't use an activated ability for a creature for only one mana without support. Instead it's one mana to activate Havengul, then you have to pay additional mana to cast the creature. Overall Havengul for a five drop requires a lot of additional mana to get anything meaningful from it which lowers the quality of the card a lot. That's why Havengul has good interaction with Rooftop Storm and Zombies since Rooftop takes away needing to pay mana to cast the Zombie after you activate Havengul.
With Rooftop and Havengul you can indeed for one mana cast a Zombie from a graveyard. And each Zombie you cast for the turn from a graveyard only costs one mana. This lets you cast as many Zombies in graveyards equal to as much mana you have available. Havengul is good with Rooftop, but only with Rooftop, that makes it less good as a five drop overall, less quality than some other fives drops that are also in the deck.
Good job winning with Gravecrawler, it's most likely the best Zombie in Magic. This will be my last comment here.
1 month ago
Hi there,
Just going to jump in here to point out that Havengul Lich doesn't gain static abilities (like those of Nyxbloom Ancient), only activated abilities (such as both abilities on Cryptbreaker).
There are 3 reasons why someone would consider including Havengul Lich in their 99: 1) They want to be able to use activated abilities from graveyards for 1 mana. This requires a dedicated decklist. 2) They want to be able to cast creatures from graveyards at instant speed (creatures with Flash, or with Vedalken Orrery/Leyline of Anticipation/etc). This also requires a dedicated decklist 3) They want to be able to cast creatures from their opponent's graveyards. This also requires a dedicated decklist. I don't think your deck wants to do any of those things or enough of those things, so it doesn't really make sense to include it.
multimedia is also absolutely correct that your deck wants fetchlands, assuming that money is no concern (which is reasonable, considering you have all of the original duals), as not only will these cards get your duals, they can also be replayed by Muldrotha, the Gravetide and will thin your deck. In fact, all of his suggestions for improving the manabase are correct: lands that can enter untapped are generally better than those that don't. That doesn't mean don't use untapped lands, only that you should only use a few and that you should pick them wisely (such as Bojuka Bog, or cycling lands such as Forgotten Cave).
Furthermore, consider using Animate Dead, Necromancy and Dance of the Dead. These are enchantments that recur creatures, which lets you get around the limitations on Muldrotha of only being able to recur 1 card of the each type. On top of that, if the creature dies, the enchantment goes to the graveyard, which can then be recurred once more. On top of that, each can recur cards from another player's graveyard, which is useful in a pinch.
Finally, since you are in green you really shouldn't use ramp spells that A) don't put permanents directly into play or B) cost more than 3 mana. Realms Uncharted violates the first, and Hour of Promise violates the second. On top that, your deck contains no Desert Lands (such as Desert of the Glorified or Ifnir Deadlands), so you will never get the second part of Hour of Promise, effectively making it a more expensive Explosive Vegetation that isn't limited to basic lands. As multimedia suggested, Crop Rotation and the more costly-but-powerful Harrow are good replacements as Muldrotha can replay the sacrificed land afterwards, which gets around the cost of sacrificing land. Furthermore, Sakura-Tribe Elder is a must-include in Muldrotha decks, as it can become a Rampant Growth on every turn.
multimedia is also correct about cutting the Curse enchantments and Amulet of Vigor. The Curses are situational and limited in power, and Amulet of Vigor does not have enough synergies in the deck to be worth the slot.
Finally, here's a non-exhaustive list of zombies which are (in my opinion) some of the best options in EDH for your colors and why
1 month ago
hey multimedia,
Again, appreciate the feedback. There are things I did change after reading your suggestions and after seeing this last set will make some more. however there are things I disagree with (respectfully). So Havengul Lich has helped me when I want to grab more than one creature from the graveyard and then whatever said creatures abilities are, it doubles them until EOT. such as Nyxbloom Ancient now rather than a land tapping for 1 or even 3 its now 6 until end of turn. or on a smaller scale, Diregraf Colossus now any further zombies cast on turn i get 2 2/2 zombie creature tokens. As far as Amulet of Vigor you seem very opposed to that card almost jaded by it even, so I will strongly consider swapping it out but I don't think it will be for Arcane Signet. Check out the couple of small things I did, one being Gravecrawler (which paired with Jarad, Golgari Lich Lord and Rooftop Storm just won me a game that i was so far on the ropes you wouldn't believe it), and another one i thought was incredibly helpful although it didn't even get to trigger was Sheoldred, Whispering One. Some of the lands i probably will swap out. keep your eyes peeled to see where this deck goes.
1 month ago
Hey, you're welcome. Good job with the update, but you can still do a lot more upgrading with such a high budget.
In my opinion Amulet of Vigor is not worth playing just for the few interactions that it has. Making Zombies that will ETB tapped not be tapped is fine, but if you have to use a card spot in the deck just to be able to do this interaction then it's not worth it. With such a high budget you shouldn't need to play the Bounce lands since there's many other more playable dual lands to use instead such as the three Shock lands. I feel you're playing the Bounce lands and other lands that ETB tapped only because of Vigor which is hindering your deck. Arcane Signet, two drop mana rock ramp would do a lot more than Vigor.
Temple of the False God is not a good land here because you don't have land ramp to accelerate the amount of lands you have on the battlefield. Without Urborg, you're relying too much on making a land drop on your turns. Temple can't tap for mana until turn five, more likely after which is not worth it.
---
To continue with upgrades my advice is to cut Molderhulk, Vulturous Zombie, Eternal Skylord, Soulless One, Havengul Lich. These Zombies are some of the least good of the rest; they're all outclassed by other creatures. You don't need Skylord because you have Wonder which is a much better card, giving flying to all your creatures including Muldrotha not just tokens.
To make Wonder more consistent consider adding more Island dual lands? Especially Watery Grave, but also Sunken Hollow. Fetch lands that can search for a Island are also helpful, Flooded Strand, Polluted Delta, etc. It's kind of a annoying to have Underground Sea and not be able to fetch it with a Fetch land. Crop Rotation can be helpful since it can tutor for an Island or Urborg or Coffers and put it onto the battlefield.
Consider adding more reanimation? Buried Alive is powerful enabler for reanimation tutoring for three creatures one of which can be Wonder. Cryptbreaker is a good one drop Zombie who's an enabler for reanimation or putting other permanents into your graveyard for Muldrotha. It can fuel it's own draw ability by creating Zombie tokens. Animate Dead for reanimation has interaction with Muldrotha since it's a permanent and it can also reanimate an opponents creature. Reanimate, reanimate any creature in your graveyard or an opponents paying life.
---
Upgrades to consider:
Load more