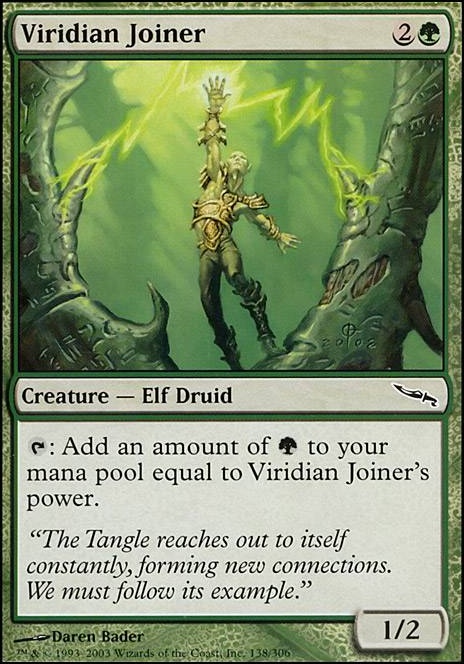 Viridian Joiner
Creature — Elf Druid
Tap: Add an amount of (Green) to your mana pool equal to Viridian Joiner's power.
Latest Decks as Commander
Viridian Joiner Discussion
4 months ago
Hey Walrighti, +1!
Congrats on your first deck! You have a lot of fun cards in here and it looks great! I imagine you want to tune and make it even more efficient so here are some ideas...
Add 3 categories: #Combo, #Lifegain, and #Evasion; and then sort your maybeboard the same way you've done your mainboard to easily rank your choices within a category (By "combo" I mean all your "if-then" cards like Trudge Garden that are slower and don't work by themselves). Remove #Creatures (most of them are #Combo).
Avoid most cards above 4 cmc... Willowdusk is fast and fragile, so play into that... Also, prioritize cards that can do 2 or more things or that give value on ETB... If you have pet cards that don't really fit and that hurt to cut, put them in a "I'll build that theme later" list.
...Always play at least 10 ramp spells under 3 cmc.
...Playtest and make sure Willowbark consistently makes a fatty (with evasion) before turn 6-7.
Here's another Willowdusk thread.
Happy building :)
7 months ago
Hey, I'm impressed, well done building your deck on a budget with like 90% cards from Commander Legends.
Commander Legends was an amazing set for Elves especially Miara. Unfortunately, to make any real impact from upgrades you're going to want to add more cards from other sets, but most cards you add could be $1 or less each and still make a huge impact.
An advantage of Elves as a tribe is ramp, more specifically one drop mana Elves and Elves who can tap to make a lot of mana. No other tribe has as many one drop mana creatures or creatures who can make a ton of mana. By adding more mana Elves you can reduce the amount of lands while increasing the amount of Elves. More ramp from Elves is wanted by both your Commanders to cast Nadier quicker and to pay more into X with Numa. Both of your Commanders don't do much without lots of ramp.
Archdruid is the budget Elf who defines the tribe since he's an anthem for Elves and can make as much green mana as Elves you control. Marwyn and Joiner are good with Numa, Joraga Chieftain since they want counters put on them, they care about how much power they have. Marwyn is also good with Elf tokens since each token that's created puts a counter on her. Guidance has excellent interaction with Arbor Elf if you enchant a Forest or Woodland Chasm .
Other mana rocks are more sources of ramp. Sol Ring and Arcane Signet are two budget staple cards in Commander. Golgari Signet is another two drop ramp source upgrade.
---
These cards would expand on the Elf token theme and Prowess is unique since it's an Elf that's not a creature. Expanding on the token strategy makes Nadier better. Warmaster is another mana sink to pump and give Elves deathtouch. Elderfang doesn't create tokens like the other cards, but it has good interaction with them. Letting you swing with your Elves and opponents have to make difficult decisions about what to do.
I offer more advice including cuts to make. Would you like more advice?
Good luck with your deck.
7 months ago
This is a really neat partner combo. You might like these: Good-Fortune Unicorn , Cathars' Crusade , Juniper Order Ranger , Bloodspore Thrinax , Cauldron of Souls , Crystalline Crawler , Conclave Mentor , Pir, Imaginative Rascal , Fertilid , Lathril, Blade of the Elves , Spike Feeder , Unspeakable Symbol , Sadistic Glee , Marwyn, the Nurturer , Viridian Joiner , Hamza, Guardian of Arashin
10 months ago
Hello friends!!!
Way back when, I built a mono-green storm deck, based around Jugan, the Rising Star - the deck required Paradox Engine to go off, and so was broken when the Engine was banned.
But guess what? Now, with the printing of Kodama of the East Tree, I think mono-green storm can be reborn!! Will it be good? Probably not! But will it be hilarious when it goes off? Absolutely!!
So here's what I've got:
I need a mana dork that taps for at least seven (I'm thinking Selvala, Heart of the Wilds, Gyre Sage, Viridian Joiner, or Marwyn, the Nurturer) in play.
I need Quirion Ranger/Scryb Ranger in play.
I need Ambush Krotiq in hand.
I need Invasive Species in hand.
I need Paleoloth in play.
I need a sacrifice outlet in play.
And I need Kodama of the East Tree in play.
Tap the Mana dork, pick up a forest with the Ranger to untap, tap the Dork. 14 mana.
Use six to cast the Krotiq, putting the Invasive Species into play with the East Tree. Krotiq bounces the Quirion Ranger, Species bounces the Krotiq. Pick up something random with the Paleoloth.
Sacrifice the Species.
Recast the Quirion Ranger, put the forest into play with the East Tree. Untap the Mana dork, tap for seven, recast Krotiq.
With East Tree trigger on the stack, pick up Species with Paleoloth, then put Species into play off the trigger, bounce Quirion ranger and Krotiq.
Repeat for infinite mana (if the dork taps for more than seven), infinite storm, and infinite (whatever my sacrifice outlet does).
What I need from you all: 1) Praise. 2) Help. What other things can help refine this combo? What could serve as replacements for parts of it, in case of enemy removal?
I'm also tagging ThinkJank, as the originator of the Jugan combo, hoping they can help me out here.
1 year ago
Interesting topic Ramble, I've been meaning to respond for the last day or two but have just been super busy, but let me provide a mana base formula I stumbled on a few years back after noticing a pattern in my deck building - might be something to try out and see if you find similar results, as I find it's very rare to get either flooded or mana screwed using this formula. I'll provide a couple of examples as well - more for the casual-competitive decks, as my cEDH decks don't always follow the formula as rigorously.
The basic formula for mana-producing lands is: Starting base of 30 mana-producing lands, plus additional lands equal to the CMC of your commander, plus additional lands equal to the average CMC of the deck, minus designated values for each mana rock, mana dork, mana spell and draw spell equal to or less than the CMC of the commander.
The first example is for my Zada, Hedron Grinder deck: Yada...Yada...Zada. In this case, the formula is 30 + 4CMC (commander) + 2.28 average CMC, or 36.28. I then subtract designated values for the following cards in the deck: -1.0 for Mana Crypt, -0.5 for Sol Ring (or any other 0 or 1 CMC rock), -0.25 for Thought Vessel (or any other 2 or 3 CMC rock), Battle Hymn, Brightstone Ritual, Traitorous Greed and Dockside Extortionist, and finally -0.10 for each of the draw spells in the deck: Accelerate, Boiling Blood, Crimson Wisps, Expedite, Fists of Flame, Stun and Renegade Tactics for a total reduction of 3.45 and a final value of 32.83 (rounded up to 33).
The second example includes a more aggressive reduction in mana-producing lands based on my Elf tribal Marwyn, the Nurturer deck: Elves Tap and Slap (Marwyn Tribal Counters). The formula here is 30 + 3CMC (commander) + 2.64 average CMC, or 35.64. I then subtract for the following cards: -0.50 for Sol Ring, -0.25 for Elvish Archdruid, Elvish Mystic, Fyndhorn Elves, Gyre Sage, Incubation Druid, Llanowar Elves, Llanowar Visionary, Priest of Titania, Rishkar, Peema Renegade, Selvala, Heart of the Wilds, Viridian Joiner, Wood Elves, Cultivate, Kodama's Reach, Nissa's Pilgrimage, Rhonas's Monument, Gaea's Touch and Growing Rites of Itlimoc  Flip. Finally, I subtract -0.10 for Elvish Visionary, Llanowar Visionary and Inspiring Call for a total reduction of 5.30 and a final value of 30.34 (rounded down to 30).
Although the reduction values could be considered a little arbitrary in certain deck concepts, this formula has held pretty accurate since I started keeping track of it. I hope you find this useful in the future, and happy brewing.
1 year ago
Cool deck! Nothing beats smashing face. You might like these: Wild Beastmaster, Overwhelming Stampede, Syr Faren, the Hengehammer, Knollspine Dragon, Unleash Fury, Rabble-Rouser, Cultivator of Blades, Berserkers' Onslaught, Gratuitous Violence, Angrath's Marauders, Ilysian Caryatid, Viridian Joiner, Invigorate, Strionic Resonator, Polyraptor, Druid's Call
1 year ago
Glimpse of Nature is a classic elf combo card and could be good here. Here are some others you might like: Chord of Calling, Wirewood Channeler, Viridian Joiner, Elvish Guidance, Skyshroud Poacher, Vanquisher's Banner, Solidarity of Heroes, Wren's Run Packmaster, Genesis Wave, Tooth and Nail, Woodland Bellower, Elvish Spirit Guide, Wild Growth, Shamanic Revelation, Elvish Promenade, Coat of Arms, Hardened Scales
Load more