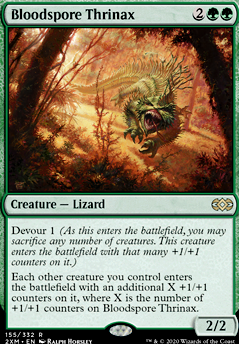 Bloodspore Thrinax
Creature — Lizard
Devour 1 (As this enters the battlefield, you may sacrifice any number of creatures. This creature enters the battlefield with that many +1/+1 counters on it.)
Each other creature you control enters the battlefield with an additional X +1/+1 counters on it, where X is the number of +1/+1 counters on Bloodspore Thrinax.
Browse Alters
Trade
Legality
| | |
| --- | --- |
| Format | Legality |
| 1v1 Commander | Legal |
| Canadian Highlander | Legal |
| Commander / EDH | Legal |
| Duel Commander | Legal |
| Highlander | Legal |
| Legacy | Legal |
| Leviathan | Legal |
| Oathbreaker | Legal |
| Vintage | Legal |
| Casual | Legal |
| Custom | Legal |
| Quest Magic | Legal |
Latest Decks as Commander
Bloodspore Thrinax Discussion
3 days ago
Hey Walrighti, +1!
Congrats on your first deck! You have a lot of fun cards in here and it looks great! I imagine you want to tune and make it even more efficient so here are some ideas...
Add 3 categories: #Combo, #Lifegain, and #Evasion; and then sort your maybeboard the same way you've done your mainboard to easily rank your choices within a category (By "combo" I mean all your "if-then" cards like Trudge Garden that are slower and don't work by themselves). Remove #Creatures (most of them are #Combo).
Avoid most cards above 4 cmc... Willowdusk is fast and fragile, so play into that... Also, prioritize cards that can do 2 or more things or that give value on ETB... If you have pet cards that don't really fit and that hurt to cut, put them in a "I'll build that theme later" list.
...Always play at least 10 ramp spells under 3 cmc.
...Playtest and make sure Willowbark consistently makes a fatty (with evasion) before turn 6-7.
Here's another Willowdusk thread.
Happy building :)
2 months ago
This is a really neat partner combo. You might like these: Good-Fortune Unicorn , Cathars' Crusade , Juniper Order Ranger , Bloodspore Thrinax , Cauldron of Souls , Crystalline Crawler , Conclave Mentor , Pir, Imaginative Rascal , Fertilid , Lathril, Blade of the Elves , Spike Feeder , Unspeakable Symbol , Sadistic Glee , Marwyn, the Nurturer , Viridian Joiner , Hamza, Guardian of Arashin
3 months ago
Hi! Thanks for the upvote.
A few suggestions:
Overwhelming Stampede rather than Overcome ; Sure your deck has many weenies, but by the time you're gonna want a 5 cmc mass trample for the win, you'll probably have something with larger than 2 power out.
Rule of Law is great for multiplayer, but Curse of Exhaustion might fit if you're gearing the deck for 1v1. If you are going for multiplayer, then Kismet works great at slowing opponents down without impacting yourself.
With the amount of PWs in the deck, Ignite the Beacon and Oath of Ajani might be worthwhile.
Phyrexian Rebirth could be a good board wipe, especially if you have crazy token amounts. Especially funny if you can combo it with Fresh Meat . Also funny with Requiem Angel out - a card worth including on its own, especially if you end up juggling your own tokens for other things.
Hardened Scales , Gavony Township , and Bloodspore Thrinax , could play nice with the +1/+1 subtheme.
Ashnod's Altar is great for utilizing creature tokens to get more things out.
Tireless Tracker might help with card draw later and gets some counters on its own.
The deck comp is pretty balanced, so Traverse the Ulvenwald might be effective. Congregation at Dawn and Chord of Calling are other tutor options if you find that the deck is more successful with particular creatures out.
I love swapping weaker tokens with Emrakul's Evangel (another fun fresh meat combo play). Of course, there is always Divine Visitation as well. It's easy to go overboard on doublers, but I figured I'd give a shout out to Primal Vigor and Second Harvest .
Swords to Plowshares for Pacifism ; might be better in some scenarios and always allows you to target your own creature to get some life out of it if you need to or if you go for the lifegain route.
Speaking of the lifegain route, if you want to go for it, here's some things that could work well: Phantom Nishoba , Wall of Reverence , Cradle of Vitality , Fumigate , Congregate , Blighted Steppe , Blossoming Sands , Gingerbread Cabin , Radiant Fountain , Graypelt Refuge , Kabira Crossroads , High Market , and Phyrexian Processor . The land balance will need to be played with if you want to swap the basics for some of those. Also, most Ajani PWs will work well for a more lifegain focused deck.
Now, when I think token generation, I think artifacts for many things. Thopter Assembly , Genesis Chamber , and Summoning Station come to mind. If you end up with more artifact tokens, you can use them with things like Krark-Clan Ironworks and Kuldotha Forgemaster . Also help with things like Dispatch .
Annnnnd one more suggestion if I haven't overstayed my welcome. Funny things can happen in token decks that put out a lot of creatures when you play The Great Aurora . Usually gives you a much stronger board state than opponents - might want to have a safety Reliquary Tower in for that hand size though!
Sorry if I doubled up on anything you had already considered!
3 months ago
+1 my dude! @your reddit post,
More lands imo. Also more big ramp... seems like Vorinclex is a big target for removal, so ramping up to 15+ mana a turn seems like the way to go.
I think the biggest problem is that you're splitting themes and trying to jam infect. A lot of seemingly powerful cards don't have synergy with the rest of the deck. Only ~12 cards directly create +1/+1 counters. So (eg.) Hardened Scales really does nothing.
...Cut incidental Infect:
-1Viridian Corrupter, -1Spinebiter
-1Phyrexian Swarmlord... I love this card but, even when you're all in on infect it isn't that good...
(I think the other infect cards with 5+ power as soft, 2-card combos with your commmander are viable).
...Cut fatties with no evasion:
-1Renata, Called to the Hunt... if you're interested in playing "go-wide + pump" this could be good, but not better than Bloodspore Thrinax
-1Rampaging Baloths... incidental 4/4s aren't worthwhile
-1Crowned Ceratok... +1Champion of Lambholt
-1Ulvenwald Hydra... no synergy
-1Primordial Hydra... +1Managorger Hydra
When choosing cards ask yourself: (1) Does it work with my commander? (2) Does it work with my theme? (3) Is it strong enough with no synergy to play 1v3? (eg. Rampant Growth, Sylvan Library, etc.)
Happy brewing!
5 months ago
Hey Bobs_Army & Elasar99 (great name btw!), thanks a lot for your input! I really appreciate it.
As for The Great Henge, The Ozolith, Heroic Intervention, Hardened Scales, Doubling Season, Branching Evolution and so many other spicey - yet pricey - cards, please keep the description of the deck in mind. This deck is going to be a budget build to be an entry in a Secret Santa type thing. My playgroups' gentleman's agreement is ~30,00€/$40.00 maximum - plus cards that sit in our binders which we don't mind giving away.
Also, the deck's supposed to be played in a low powered pod, which we would score 3-4/10 by our metrics. The easiest way to do that is have most cards either fit the counters theme or one of the subthemes such as fighting instead of being generically good. Meaning, cards like Inspiring Call and Sporeback Troll fit a lot better than Heroic Intervention, Wrap in Vigor, Lightning Greaves, Swiftfoot Boots and the likes.
I still have Tuskguard Captain and Bramblewood Paragon in a box somewhere. I might add them as extras. For the moment i think Champion of Lambholt, Gnarlid Colony and Pridemalkin should be plenty to enable hits.
I'm quite sure Longshot Squad is one of those boxes, too. It'll have to be an extra for now, since i won't know if the deck's even facing flyers until all Secret Santas are revealed. Nice catch though!
Hydra's Growth and Increasing Savagery have been on my mind as well, yet they fit Mowu, Loyal Companion so much better than the other interchangable commanders. Going wide and wild with counters is a lot more entertaining than just going big. Same goes for Managorger Hydra. Sure it's straight forward, but something like Forgotten Ancient can enable a variety of things - at half the price.
As for Yorvo, Lord of Garenbrig, there are only so few creatures that would trigger his second ability reliably at the moment: Bloodspore Thrinax, Renata, Called to the Hunt, Verdurous Gearhulk and Vigor. If i would be looking for creatures that do something similar to his first ability i'd propably consider Ivy Lane Denizen for its flexibility instead.
Anyhow, thanks again for your kind words and suggestions!
ps. MapPsycho thanks for your flattering words as well! :)
5 months ago
Now that I added Bloodspore Thrinax I want to put Kessig Cagebreakers in this deck to maximize the synergies (wipe my non-token creatures board, have a lot of tokens on Bloodspore Thrinax and a cemetery full, for Kessig Cagebreaker, it Works the other way around too, but slightly slower, but it can be repeated with basic reanimation for more chaos)
Load more