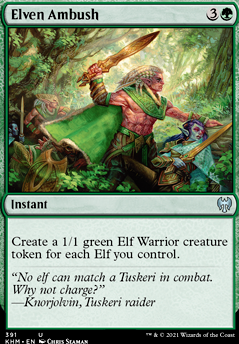 Elven Ambush
Instant
Create a 1/1 green Elf Warrior creature token for each Elf you control.
Latest Decks as Commander
Elven Ambush Discussion
5 months ago
Due to some fabulous new elves that have been released over the past few sets as well as the printing of Commander Collection: Green, I've aquired a few more cards and have updated my list.
Forest OUT Fyndhorn Elves IN
I'm not sure why Fyndhorn wasn't initially in here, but its as a good as a land in this deck.
Forest OUT Worldly Tutor IN
While we already have most of the best tutoring green has to offer here, we added the last missing piece. One often overlooked aspect of Elves is that they have incredible toolbox properties, so being able to grab what we need cheaply is great. By cutting two forests we are down to 30 % land, which is what we would run in modern and is a great benchmark for lands. We've got lots of ways to grab our lands in the deck, so we shouldn't miss them too much.
Praetor's Counsel OUT Ezuri's Predation IN
One thing that is really hard to come by in mono-green is board wipes, so I'm really pleased that they reprinted this recently. In theory Praetor's Counsel is good because board wipes are the bane of our existence and this gives us a way to recover, but in reality if we get wiped we'll never be able to pay the mana cost. Its better to just play conservative and use Ezuri's 2nd ability to protect out pieces, and cards like Eladamri to protect him.
Drove of Elves OUT Canopy Tactician IN
Yet another Elf Lord that pumps our whole team and gives us more ramp to boot? Give me more. As for Drove, we have other ways to make one thing big, and while this card has never been bad its never been exciting either. Jagged-Scar Archers gives us crucial anti-flying tech when we need it for one less mana, and while it lacks hexproof, we'll be happy of our opponents waste removal on archers and not one of our more important cards. Timberwatch Elf and Immaculate Magistrate give us flexibility in combat that is far better than the obvious threat drove represents.
Nylea's Presence OUT Elvish Warmaster IN
While giving non-green decks a forest to enable a forest-walk kill is cute, this is somewhat situational, and we have lots of other ways to get through with the damage we need. Warmaster just such incredible value for the same mana that this change seems to be a no-brainer.
Sylvan Offering OUT Elven Ambush IN
While offering is a good card, giving our opponents blockers just doesn't suit us in this deck. Ambush helps only us at instant speed with the creature type we want. Its an improvement on Elvish Promenade that absolutely deserves a spot.
8 months ago
Hey, I'm impressed, well done building your deck on a budget with like 90% cards from Commander Legends.
Commander Legends was an amazing set for Elves especially Miara. Unfortunately, to make any real impact from upgrades you're going to want to add more cards from other sets, but most cards you add could be $1 or less each and still make a huge impact.
An advantage of Elves as a tribe is ramp, more specifically one drop mana Elves and Elves who can tap to make a lot of mana. No other tribe has as many one drop mana creatures or creatures who can make a ton of mana. By adding more mana Elves you can reduce the amount of lands while increasing the amount of Elves. More ramp from Elves is wanted by both your Commanders to cast Nadier quicker and to pay more into X with Numa. Both of your Commanders don't do much without lots of ramp.
Archdruid is the budget Elf who defines the tribe since he's an anthem for Elves and can make as much green mana as Elves you control. Marwyn and Joiner are good with Numa, Joraga Chieftain since they want counters put on them, they care about how much power they have. Marwyn is also good with Elf tokens since each token that's created puts a counter on her. Guidance has excellent interaction with Arbor Elf if you enchant a Forest or Woodland Chasm .
Other mana rocks are more sources of ramp. Sol Ring and Arcane Signet are two budget staple cards in Commander. Golgari Signet is another two drop ramp source upgrade.
---
These cards would expand on the Elf token theme and Prowess is unique since it's an Elf that's not a creature. Expanding on the token strategy makes Nadier better. Warmaster is another mana sink to pump and give Elves deathtouch. Elderfang doesn't create tokens like the other cards, but it has good interaction with them. Letting you swing with your Elves and opponents have to make difficult decisions about what to do.
I offer more advice including cuts to make. Would you like more advice?
Good luck with your deck.
8 months ago
That's a uh.. interesting deck name. You might like these: Elderfang Venom , Skemfar Avenger , Elves of Deep Shadow , Elvish Lyrist , Elvish Scrapper , Viridian Zealot , Elf Replica , Heart Warden , Ruthless Winnower , Yavimaya Granger , Bloodline Shaman , Pact of the Serpent , Elvish Guidance , Species Specialist , Elvish Promenade , Elven Ambush