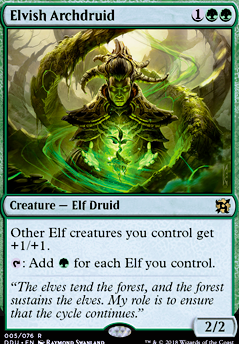 Elvish Archdruid
Creature — Elf Druid
Other Elf creatures you control get +1/+1.
: Add to your mana pool for each Elf you control.
Browse Alters
View at Gatherer
Trade
Legality
| | |
| --- | --- |
| Format | Legality |
| Tiny Leaders | Legal |
| Noble | Legal |
| Leviathan | Legal |
| Magic Duels | Legal |
| Canadian Highlander | Legal |
| Vintage | Legal |
| Modern | Legal |
| 2019-10-04 | Legal |
| Block Constructed | Legal |
| Vanguard | Legal |
| Legacy | Legal |
| Archenemy | Legal |
| Planechase | Legal |
| 1v1 Commander | Legal |
| Duel Commander | Legal |
| Oathbreaker | Legal |
| Unformat | Legal |
| Casual | Legal |
| Commander / EDH | Legal |
Elvish Archdruid occurrence in decks from the last year
Modern:
All decks: 0.13%
Green: 3.08%
Golgari: 2.62%
Commander / EDH:
All decks: 0.03%
Green: 0.65%
Golgari: 0.09%
Elvish Archdruid Discussion
2 days ago
Getting rid of Gigantiform is a wise idea! Usually an Elf-deck's strength lies in the 'Power by numbers': Lots and lots of tiny pointy eared creatures with great synergy. But that's not the case for your deck I believe. Right now I think it's somewhere inbetween 'Power by numbers' and 'Power by power'. For example, the Allosaurus Rider is straight forward power depending on the number of forests in play whereas Lys Alana Huntmaster and Elvish Archdruid depend on playing lots and lots of Elves. In my personal experience I tend to make "the choice" (meaning 'the concept' or 'the theme' or 'the strategie') before I start building the deck and, more importantly, from that point on, stick by that choice as if my life depended on it! Otherwise you'll end up switching things forever only to end up every time with "in between"-decks. So, before changing anything, I believe you first have to make your choice my friend ;). ONE concept, in ONE word or sentence. No more, no less...
Nevertheless, here are 3 suggestions I'd consider changing regardless your choice:
Ramp
Ramp = Speed! And since you're going Aggro, that's what you'll want. You've got 3 mana dorks so far:Arbor Elf To speed things up you'll want at least (!) 8. So I suggest you add some old-school Llanowar Elves or Elvish Mystic. In case it won't be "Power by numbers" at all or if you're afraid of WOG's, Arbor Elf + Wild Growth is a great combo! And don't forget Wood Elves! Nature's Lore and Skyshroud Claim ofcourse are also solid WOG-proof ;)
Removal
I saw this Japanese movie called 'The Immortal Blade' or something. Anyway, this warrior said: "80% of winning consists out of blocking your opponent's moves!" Now, 80% is a bit much in MtG, but 0% won't work either. You need removal spells and/or creatures. Lots of possibilities out there. Return to Nature, Reclamation Sage are a few good examples.
Other Shinanigans
This one's one of my favorites: Song of the Dryads + Elvish Champion PLUS it fits well with the need for Removal. Song of the Dryads is one of the best Removal-spells out there. Firest of all it's an enchantment, few colors in MTG have enchantment removal. And secondly, the creature your opponent controls just sits there as a forest. He can't get it back from his graveyard PLUS your creatures can now actually make use of that forestwalk! ;)
I'm just giving (possible) ingrediënts here. You're the chefcook! Let me know what you think :)
2 weeks ago
Guess I should of given more recommendations; so you're right the mantle is dead without priest. However, there are a few cards that offer a bit of redundancy making it much more worthwhile.
Marwyn, the Nurturer *with 4+ power
Viridian Joiner *after 1 activation
Bloom Tender *this one is still way out of budget but definitely works
Additionally, if you end up adding more of an elf package Leyline of Abundance is some epic tech that I've greatly enjoyed.
I was unaware that Dramatic Scepter had gone up that much it use to be like 5 dollars; I saw the 710-780 price tag on the deck and thought that it would be fine; but if it's not within the limitations that's understandable.
So, without the scepter the ceiling for Dramatic Reversal becomes much lower; now that there's no inevitable combo. However, I wouldn't say its actively bad. Decks like selvala and urza use cards like this in a pinch as a ritual; (not saying this is optimal but it's an applocation) though netting a positive requires you to already be relatively established on board but getting off a few extra tasigur activations in a turn could warrant some play testing at least.
Typically, Seasons Past is played in conjunction with cards like Wilderness Reclamation and Seedborn Muse to be able to interact on the following turns after recurring all the value. they're relatively budget right now and can definitely help in grinder games.
Lastly, Freed from the Reel is kinda a popular way to net infinite mana in pauper edh with Arbor Elf and Wild Growth on an island. Though almost any land enchantment could be used too for redundancy like Utopia Sprawl.
1 month ago
mcervato Spamming your own list on every single Wort list is just about the single worst way to get clicks. You haven't given any good feedback on the list, or the other lists you posted on. I would downvote your list if I could, and ban you from posting if I could. Eat shit and don't spam lists like that.
gvbarroso Very enjoyable list mate. Biggest problem I see is the lack of spells you would want to copy. Once you land Painter's Servant and can counter anything with REB, you aren't really getting value from copying it. Other downside is the high CMC of Wort. If I have Tormenting Voice or similar in my hand, am I supposed to sandbag until 6 cmc before drawing to improve card quality?
While I can understand not running Boreal Druid, I disagree with it. I also think you could find a slot for Elvish Archdruid, which is more expensive than Priest of Titania and less chance of landing it turn 2, but that mana is very helpful, especially if Wort is removed and you are paying commander tax on top of the already steep 6 CMC.
Have you considered a Bonus Round package? Especially with an addition of Past in Flames you could have quite the potent ability to dig thru your deck. Becomes more bonkers if you add rituals
Not a fan of Goblin Engineer here. I know you use it to find PS, but your artifact density is so low, how many uses are you getting out of it? Even if you tutor to GY its more likely than not you just won't have another artifact to perform the swap.
2 months ago
On to the creatures. Most things look pretty good. I actually really like the inclusion of Tendershoot Dryad and Verdant Force as a sneaky alternate win-con. Some things I don't think should really be included are your 0 drop artifact creatures. I don't see them doing much. I also don't really like the inclusion of Lovestruck Beast as he doesn't really fit theme and he can be pretty fragile when it comes to being able to attack. Satyr Wayfinder also could be replaced since you don't have much graveyard interaction. I could also throw out Goreclaw, Terror of Qal Sisma here since she doesn't reduce most of your hydras, but I think her attack bonus is enough to warrant her inclusion.
I think you've got your bases covered in terms of what effects you want to have in here so I think if you're adding cards it'd be good to look for redundancy. If you've got Nykthos, Shrine to Nyx in here you should probably run Voyaging Satyr. Llanowar Tribe works well with your Leyline of Abundance. Speaking of which, one or two mana dorks would probably be prudent. You could focus on more elves and do something like Priest of Titania or Elvish Archdruid or you could just do other dorks like Whisperer of the Wilds or Druid of the Cowl. Some more card draw creatures could be good like Soul of the Harvest. One card that doesn't really have anything like it in here is Temur Sabertooth. You've got a number of good creature ETB effects that you can repeat with the Sabertooth. Also, I think it would be good tech for resetting an X cost hydra that you played early in the game and making bigger late in the game once you land a big mana producer like Karametra's Acolyte. Some other creatures w/ good ETBs on them that you could consider are Acidic Slime, terastadon, Regal Force, Fierce Empath, Avenger of Zendikar, and Bane of Progress. Oh yeah. You don't have Genesis Hydra in here. It should be in here. Also, I really like your idea to get Seedborn Muse and Yeva, Nature's Herald in here. They are great.
2 months ago
Profet93: Crypt is honestly not necessary most of the time, given that the deck produces such fast opening turns anyway, and while a mana dork in the mid-to-late game is never a dead card (as it will pump Marwyn, draw a card or two, etc), Crypt absolutely is.
I can't afford a Cradle, is the simple answer to that one. Yavimaya Hollow just never seemed that necessary.
For Uncage, it really depends on what I need at that point. If I'm still looking to pump Marwyn and get mana, I'll generally go 2 or 3 for Priest of Titania/Elvish Archdruid etc. Sometimes 4 for a Beast Whisperer/Temur Sabertooth draw engine. There have been times when I've just used it as a tutor for Regal Force or Craterhoof Behemoth.
As for the win condition, it generally takes the form of Craterhoof Behemoth or pumping infinite mana into Ezuri, Renegade Leader and attacking for the win.
Load more