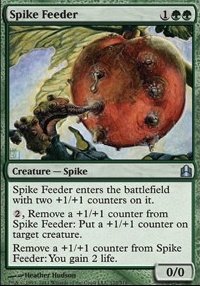 Legality
| | |
| --- | --- |
| Format | Legality |
| Tiny Leaders | Legal |
| Noble | Legal |
| Leviathan | Legal |
| Magic Duels | Legal |
| Canadian Highlander | Legal |
| Vintage | Legal |
| Modern | Legal |
| Vanguard | Legal |
| Legacy | Legal |
| Archenemy | Legal |
| Planechase | Legal |
| 1v1 Commander | Legal |
| Duel Commander | Legal |
| Unformat | Legal |
| Casual | Legal |
| Commander / EDH | Legal |
Spike Feeder
Creature — Spike
Spike Feeder enters the battlefield with two +1/+1 counters on it.
, Remove a +1/+1 counter from Spike Feeder: Put a +1/+1 counter on target creature.
Remove a +1/+1 counter from Spike Feeder: You gain 2 life.
Have (11)
CAPT.Shock , TehDelta , DarkMagician , Florg ,

S

p

i

n

a

l

r

i

p

p

e

r

, Joblaska ,

i

t

h

e

o

r

y

z

,

r

o

c

k

l

e

e

m

y

h

e

r

o

,

r

a

k

d

o

s

2

4

,

C

a

m

p

b

e

l

l

S

t

e

v

, Forge
Want (9)
holy_cow_2 , 1337_Nerd , Clones16 , Talistan , CrotchRocket , gamerhat ,

D

a

r

k

S

t

a

r

S

t

o

r

m

, swarlelion , Kaedom
Spike Feeder Discussion
5 days ago
Sterling Grove is a powerful card, but not just for Sylvan Library, if that is your best option, don't run it.
I understand Spike Feeder and Archangel of Thune combo perfectky well, simply in a competitive environment, either one will be countered, or they will be removed with something like Chain of Vaporing the Archangel, in response to the first activation of Spike Feeder. That is a blowout like a Time Walk since you can't activate it again without killing the Spike Weaver. Felidar Sovereign with Chord of Calling is your best actual wincon, but I mean... 9 mana/creatures? What turn are you on? If this deck consistently puts out creatures and mana like that by turn 3, since you need to win by turn 4 at the latest for this to be a combo/aggro cEDH deck, then run it, I just don't think that is plausible.
2/2 Cats aren't a real strategy on their own. They don't make mana, and so don't combo out and win, simply put, I could get into Commander theory and the 'Aggro Problem', but I will just copy and paste the work I already did for something else:
So, in EDH, there is a common dilemma called
The Aggro Problem
, in which is, what many believe to be the reason for the idea that EDH is so slow. Unlike Modern, Legacy, Standard, Pauper, or Vintage, EDH has each player's original life totals set to 40, or 50 for the
Oloro, Ageless Ascetic
player. This would be a bit difficult for normal aggro to exist, but because it is a four-player format, from the point of veiw of an aggro player, they need to dole out 120 life, which isn't something they can do nearly at all. Even if your opponents start killing each other, an aggro player would averagely have to deal 60 damage if they attack each other and not you, or averagely 80 damage under a normal circumstance of each player dealing out damage to each other.
---
This is too much for them. Generally there are a few way aggro compensates, one of which abuses the already built-in system of 'Commander Damage.' Building up a ton of auras and equipment on a commander to make it huge and swing in for 21 damage works in a lot of cases, and is called "Voltron." The main issue with this is a cheap and fast commander like Rafiq of the Many is too easily prone to removal like Swords to Plowshares, and more controlling commander like Sigarda, Host of Herons or Uril, the Miststalker are generally a bit too , slow to get around board wipes like Toxic Deluge, Wrath of God, Damnation, Day of Judgment and Supreme Verdict.
---
But there are other tricks aggro has up its sleeves, think infect. Really, infect is just as powerful in Modern or Legacy than in EDH, right? Well, not exactly, yes infect still only needs to deal 10 poison counters to kill a player, but you still have to deal at least 30 damage given your opponents can't kill faster than you, or if they are also playing infect. It's tracked differently, so if someone is at one life, they can take up to 9 poison counters and still live. Running Atraxa, Praetors' Voice can give some inevitability to your infect win, and stuff like Saskia the Unyielding can also be run to make you only have to deal 20 damage to win with infect.
The biggest issue with infect is that players generally frown upon it, and will target you, or player cards like Solemnity as a counter to it. Some playgroups set the poison counters needed to kill to 15 or 20, and some outright ban it. Also, since there are no commanders other than Skithiryx, the Blight Dragon directly support it, there is little consistency to infect decks, despite there explosive turns and wins.
---
Well, that is the aggro problem, it is what leads so many decks to be control, midrange, combo, or hybrid builds, and why the format is generally considered slow. This isn't to say decks can't win turn 1 or anything, tons of combo decks can, however, this is what leads to the final point. Combo is generally the best win condition, not to say a deck like Edric, Spymaster of Trest shouldn't beat face to win, but for most decks, combo with differing levels of disruption is the best strategy.
Many playgroups don't use combos, whether they are more casual, frown upon combo, outright ban it, or simply run more beatdown strategies and don't care for combo particularly. This is perfectly fine, and reasonable, but it is the work-around for the aggro problem, while not relying solely on control.
Okay, so now you see the problem with aggro, and why 2/2 cats in essence aren't a wincon, Archangel of Thune can be removed in response to the first Spike Weaver activation, and so aren't as instant win as you thought, and even so, unless you have enough creatures to kill each other player, it isn't going to win the game, as they will simply win on their turn, in a cEDH meta. Since Felidar Guardian combo is too slow generally, and you only run 4 tutors for the Thune-Weaver Combo, it isn't a fast combo deck.
That isn't to say it isn't competitive, you could make it stax, run the fast elf-ramp, and Armageddon until you win, but that still requires a different gameplan.
---
Again, all of this is meaningless if you don't want to make it stax or fast combo, but without blue, your card draw isn't their for permission control, and that means you aren't able to consistently make this cEDH competitive, but I won't claim it is bad or anything, it is simply a high-powered mid-level EDH deck, and I think that is fine.
You were very right on one of your points on that many other commanders would be better, I would suggest Selvala, Explorer Returned and do something like Explorey-Os! Selvala Combo/Stax.
---
On ramp, most of the options you mentioned were sub-par, Tithe, Cultivate, Kodama's Reach, Growing Rites of Itlimoc Flip, Mirari's Wake all are either too expensive or not impactful enough, 1 mana ramp is where you want to be, the fast rocks, Ancient Tomb/Gaea's Cradle/Gemstone Caverns, elves, etc.
---
Good luck!
5 days ago
Hi SynergyBuild,
Thanks for the suggestions, will take me a bit to go through it. Here's some additional followup questions.
Survival of the Fittest makes sense to me CMC3 to tutor a creature (if I have a creature).
Because I don't have haste, Fauna Shaman is less effective, but perhaps still required (just to get more consistency).
Instead of creatures, like Avacyn's Pilgrim because I don't have haste, I tried to go more low-cost spell based mana ramp. As well as having no real way to Counterspell mass removal, they are susceptible. Here is some examples:
Three Visits - playing a Savannah = Net ramp cost
Nature's Lore - playing a Savannah = Net ramp cost
Green Sun's Zenith - playing a Dryad Arbor = Net ramp cost . Also a modular tutor if I don't need the ramp.
Nissa, Vastwood Seer

Flip - in hand Forest (or if no other land drop that turn) = Net ramp cost or best case (Special note: I was testing to see if the slowness/poorness of the ramp, was offset her +1 Draw/Ramp once flipped. So far I haven't had her flip, so she hasn't worked yet.
Plus the standard: Chrome Mox, Mana Crypt, Sol Ring.
Is this strategy better than the 1/1 Elf route? To make Arahbo, Roar of the World work, I'll also need a concentration of 2/2 Cat otherwise better to choose an 1/1 Elf Commander?
I think the overall I get is, I don't have enough ramp? I'm thinking these would be good?
Tithe, Birds of Paradise, Harrow, Crop Rotation + Gaea's Cradle (I don't have this card yet though :/), Mox Diamond, Ancient Tomb.
What about less exciting options like: Cultivate or Kodama's Reach? Growing Rites of Itlimoc Flip? Mirari's Wake?
Or is it better to go 1/1 Elf, to get the Priest of Titania + Staff of Domination route? Will I be able to get enough 1/1 Elf into the deck without losing the 2/2 Cat Commander? My spouse will not play 1/1 Elf.
I should put Sterling Grove in to Tutor Sylvan Library, right?
I use/tutor Alms Collector all the time, Spirit of the Labyrinth worries me because it shuts down my draw Sylvan Library, Puresteel Paladin, Sword of Fire and Ice, Skullclamp, Hunter's Insight, etc. But I understand that Selsnya () isn't the same draw level as other commanders, so perhaps, slowing everyone including myself down would be ok.
Archangel of Thune and Spike Feeder can win the game on the same turn, even if both do not have haste. Remember that Archangel of Thune gives a +1 to each creature (not just the Spike Feeder), so any creature becomes "Weaponized", and with the Trample/Evasion built in, can usually strike 1 or more players. Also, usually I Chord of Calling in the Archangel of Thune to try and protect her and allow her to avoid summoning sickness, and attack on my turn. Yes, I can win next turn with a Felidar Sovereign or Chord of Calling > Felidar Sovereign. Once she resolves unless they can stop Activated or Triggered abilities, I get the Infinite Life.
I'll do a more indepth review later. I'll also share some of your $50 suggestions on KimJongman deck later as well.
Cheers!
6 days ago
Oh, I take back what I said, forget it, sorry about me white-knighting the competitive tag in the past (not far past, but still) and I love the list!
If you really want to make it competitive, I can't promise I can make Arahbo tier 1, but tier 2-3 I can do, as long as you are willing to drop some of the more fun cats, and are able to build up this deck to become a stax-beatdown hybrid.
Okay, so to start, consistency is key, more tutors should be the goal, think Fauna Shaman and Survival of the Fittest type cards, and you'd really want to slow the deck down, which is the opposite of what most people will say.
Running Vryn Wingmare, Thalia, Guardian of Thraben, Glowrider, and Thorn of Amethyst can stop many combo decks in their tracks, and shut off storm decks in general, while not slowing you down nearly as much. Avacyn's Pilgrim, Birds of Paradise, Llanowar Elves, Arbor Elf, Elvish Mystic, Fyndhorn Elves, and Boreal Druid are all fast mana ramp that gets you to dropping your commander + Lost Leonin combo (what I believe to be the simplest wincon) faster and also gets unaffected by non-creature hate.
Many decks cannot win through Spirit of the Labyrinth or Alms Collector type cards, running them allows you to obliterate some opponents from combo to control.
Effectively I am arguing for stax, but not just stax, also combo, running the combo you already have is fine, Archangel of Thune and Spike Feeder, however it doesn't win the game until your next turn unless you already have a large amount of mana, or an Aetherflux Reservoir type effect.
Consider Priest of Titania/Elvish Archdruid/Wirewood Channeler + Umbral Mantle/Sword of the Paruns/Staff of Domination as a powerful combo with cards that are individually useful. Emptying all of that infinite mana into a Genesis Wave or Walking Ballista can easily win games.
---
Okay, for the 50 bucks thing, Armageddon, Ramunap Excavator, Glowrider, Vryn Wingmare, Aven Mindcensor, Norn's Annex, Ghostly Prison, Spirit of the Labyrinth, Birds of Paradise, Llanowar Elves, Fyndhorn Elves, Arbor Elf, Elvish Mystic, Yisan, the Wanderer Bard, Boreal Druid, Avacyn's Pilgrim, Nature's Claim, Dryad Militant, Rest in Peace, Path to Exile, Suppression Field, Aura of Silence, Beast Within, Manglehorn, Mother of Runes, and Return to Dust add up to $49.95 on TCGplayer not including tax or shipping costs, and make up a core stax build, with other reasonably cheap cards that could help being Root Maze, Natural State.
6 days ago
Hi SynergyBuild,
Thanks for the feedback.
Basically my goal is, understandably starting with a Selesnya () Tier:4 Commander in Arahbo, Roar of the World
I am not trying to Aggro 40 damage faster than a cEDH can combo, I'll never beat a Kess, Dissident Mage or Teferi, Temporal Archmage as a couple examples.
What i've tried to construct, so far:
1) Tutor Lost Leonin, I'm tutor/consistency focused, and always looking for more Tutors (Still a work in progress)
2) Eliminate the threat cEDH Commander with Aggro Infect | Lost Leonin (+2) + Eminence (+3) Ajani, Caller of the Pride (+5) or Berserk (+5) or Duelist's Heritage (+5) or Silverblade Paladin (+5) = 10 Infect
3) Hit an Alternate Win-Con: Archangel of Thune + Spike Feeder or Triumph of the Hordes or Chord of Calling > Felidar Sovereign
I'm also not really Voltron, I'm not looking to just pump one cat into a 40 damage system, I try and have equipment that can answer some different threat/protection goals, and try and Flash/Instant/ equip cost to utilize.
I started this deck out of the Feline Ferocity C17 Deckboxes, mostly because my spouse likes 2/2 Cat Tribal so it's a way to encourage her to be engaged in playing when 2/2 Zombie (just an example) aren't of any interest. It's been tough, there are quite a few Arahbo, Roar of the World decks builds out there, but so many different strategies, I'm really trying to find/work a winning strategy.
So I guess, playing this deck in cEDH, it's been a developmental process and a learning experience, like the power of Alms Collector vs Grixis () Commanders.
As an experienced cEDH player, do you have any suggestions on how to bring Arahbo, Roar of the World into a cEDH build that you would be comfortable with the #tag?
Any recommendations would be greatly appreciated! How does Selesnya () without or ? How can I be faster or as fast with a win-con that has some synergy with a Cat Commander?
Cheers!
1 week ago
Hi KimJongman,
Leonin Shikari is quite good, the "Instant" speed equip means you can move your Infect Grafted Exoskeleton, or Protection Hammer of Nazahn, or Trample Loxodon Warhammer, or Card Advantage Bloodforged Battle-Axe around after blockers are declared to maximize / have favorable outcomes. Along with a Puresteel Paladin he becomes great. To get his Metalcraft working properly you need some other artifacts like Ancient Den, Tree of Tales, Inkmoth Nexus. Since you have Bloodforged Battle-Axe in your build, I would try and work him in, because the Draw ability he offers when you start multiplying the Bloodforged Battle-Axe could be a win-con.
Behemoth Sledge is good, I prefer the offense of the Loxodon Warhammer, the reason I don't run both is redundancy, since I tutor my artifacts, I would rather have more options than duplication/redundancy. However, in a less (equipment) tutor intense build, I like the redundancy as it increases my draw %. Coupled together with the Puresteel Paladin can get it's Equip cost down as well. You have Enlightened Tutor, but with no (creature) tutorable Stonehewer Giant or Stoneforge Mystic, I would run the redundancy since the Trample and Lifelink are both key to your success with Infect.
Taj-Nar Swordsmith is also not a terrible Equipment tutor in a budget scenario. I don't like his CMC but, he is a (Creature) tutorable, and gives an (Equipment) tutor for the Infect Grafted Exoskeleton. Depends how your finding your games going if he is relevant. If others are combo'ing on Turn3-Turn5 he wont have any impact.
Skullclamp is a nice way to avoid creature removal heavy decks, like , can turn your 1 creature that has been Go for the Throat into Card Advantage. It also allows you to turn tokens into Card Advantage, and it's a CMC1 Artifact for Puresteel Paladin Metalcraft and Draw.
If you don't have a budgetary restriction on decks, Lands is definitely where you'll get consistency, things like Temple Garden are pricey, but very good because they are searchable as Forest and Plains and enable other lands like Sunpetal Grove as an example.
Lifecrafter's Bestiary is also a decent budget Selesnya () card. I don't like its CMC3 cost, and it requires to activate, plus this isn't a creature deck. The Scry 1 combined with the Draw, can be effective though.
Sigarda's Aid is another low CMC1 solution, but I would recommend Puresteel Paladin instead, he has far more utility.
Kodama's Reach is also a good budget ramp tutor, it's another Cultivate. Perfect in draws where you get the Sol Ring.
I use Chord of Calling for my Felidar Sovereign and Archangel of Thune/Spike Feeder combo. It's fairly pricey, but if you have it already, I would run it! You can still use it to pull any other creature, like Lost Leonin too, but usually later in the game they are less effective, than the early tutor/double-strike like Worldly Tutor.
Krosan Vorine is in your mainboard, my mistake. Take him off your Maybeboard.
Fortified Village is still fairly inexpensive, I believe. Good for consistency.
Path to Exile is a little pricey, but it doubles as an Emergency tutor, and it's Exile so VERY powerful.
Rhonas the Indomitable I've found is an awesome tempo guy, ANY cat means that he can Attack, and is indestructible, and is Deathtouch, and can add Trample (or multi-pump an Infect/Trample Cat to win).
Sylvan Library is ridiculously expensive, however, If you aren't under budget constraints, and you can trade for one, it's the BEST card advantage you have in the arsenal.
I'm not a huge fan of Divine Reckoning, it's not going to get rid of the creature that is the REAL problem. It's only Destroy as well. I think, the creature that anyone else keeps is usually better than the creature you keep, except perhaps in an early Lost Leonin or something case.
I also really dislike Hunter's Prowess. If it was Instant, I could deal with it. It's just setting you up for a 2 for 1 situation. Sorcery Cast Hunter's Prowess onto a creature, creature is removed in response with a Swords to Plowshares. You lose #1 The creature (and the offense) #2 Hunter's Prowess is countered. Plus it's CMC5 is really high, He can enable a double-strike or Infect guy for sure, but too high CMC, and too risky for me. Something like Hunter's Insight I'll take the risk on because I know what Blockers look like, and I cast it JUST before the damage assignment step, so yes, he could still be removed in response, but usually at that point they've accepted/arranged the damage and now I get the draw. Personal preference. If it was an Enchantment as well, I would also be ok with it, as a Sorcery, no thanks. That beings said, if you do connect with it, very nice +3 and Trample and Draw, but why CMC5.
I like the Life's Legacy at CMC2. I've added to my Maybeboard, I think it needs to go into my deck as well. Eminence a Cat, Attack with Cat, Sacrifice Cat (As part of the cost, so no way to remove the creature in response to counter the spell), also no targeting. It's pretty good, CMC2 for 4+ card advantage. I like it. Without a creature it's not that great, but hopefully, have a Token cat or something to use. Excellent budget card.
Not the biggest fan of Myriad Landscape. i could live with it if it didn't enter the battlefield tapped. Because it enters tapped, it's going to hinder me more times that it's ramp will help me.
Oreskos Explorer is good, but I don't like that he is and only pulls more , and is conditional on ETB without Flash. I think he can, in multi-player pods, potentially pull you some Plains, but later in the game unless you're playing other ramp, you'll have more lands that everyone. Everyone else just using Mana Crypt and the sort to ramp without . I don't like that he doesn't mana fix and is useless late game. I wouldn't run him.
Rishkar's Expertise is also too high CMC and too conditional for my liking. To properly utilize it, I need 1) CMC6, 2) A decent size creature with Eminence 3) That creature in 2 isn't removed in response (I know it doesn't target, but if i have a 6/6 (eminence) and a 1/1 lifelink token, if they remove the 6/6 in response, I only draw 1 even though the spell isn't countered) 4) I have or draw into a card that is CMC5 that makes sense to cast right now. If any of these things aren't there, it's a dead draw to me.
Stalking Leonin is ok, he's 3/3 for CMC3. The selection process feels bizarre/strange/uncomfortable to me. His ability is an activated ability "reveal the player", so if he dies, then all you've gotten is a 3/3 for CMC3. He can only exile a creature that "attacking you", so he can't protect planeswalkers, and he can only remove attacking creatures. The creatures you really want to exile RARELY attack. I would rather have a different creature that provide immediate ETB or Static ability that is not conditional. But that's just me, not a fan of him, which I originally thought I would be when I saw him in the Spoilers.
I love Terminus one of my favorite cards. In Selesnya () there's no efficient way to put it back ontop of the deck, so it's Miracle is going to be a little hit and miss randomness, but it's still good. Gets around hexproof, shroud, indestructible, etc.
Did you get a Vivien Reid in your pre-release play? He doesn't really synergize with Arahbo, Roar of the World.1) His CMC5 is quite high for a planeswalker 2) It's not a creature heavy/win-con based deck, so he's not going to consistently draw a card for his +1, unless you put some Scry mechanics in the deck (please don't) 3) Unless you need more destroy Artifact/Enchantment/Flying in your pod, CMC5 is way to much for that. 4) even if you destroy for CMC5, then +1 (no draw), then Destroy again, it's so much CMC and so many turns, too kludgy. 5) Not being a creature win-con heavy deck, the ultimate doesn't direclty represent a win-con for you, it's good, but not a win-con level ultimate. I would make better arguments for CMC6 Ajani Unyielding or CMC4 Elspeth, Knight-Errant or CMC4 Ajani, Adversary of Tyrants.
Some others have argued to me that Felidar Cub is a good tempo guy, who "locks down" opponents from casting powerful enchantments until they can deal with him, in that analysis he is good because he's preventing casts. I tried him, I haven't seen enough, I prefer guys like Leonin Relic-Warder that offer solutions without having to die, but thought I would mention him anyway.
Revoke Existence is not bad, with it was Instant speed. I'm not sure you want to be the one controlling Artifact/Enchantment. CMC2 for Exile and Modularity is good though, can't argue to take it out, just not sure what Artifact/Enchantment you're worried about that will change/disrupt your plans?
The deck looks pretty solid, I'd be surprised if you weren't Turn 3/4 Infect killing with a Lost Leonin + Eminence + Ajani, Caller of the Pride/Berserk/Silverblade Paladin/etc. at least once in a while?? or pulling a Triumph of the Hordes and Trample/Infect killing.
Always tutor Lost Leonin if they don't have an immediate response he is a win-con with Eminence. I've killed with him without doublestrike quite often, just having 2 connected hits. Cast a blocker, I'll gladly Swords to Plowshares + Eminence hit you a couple turns.
How has the deck been going, you must be having some success? Arahbo, Roar of the World is a Tier 4 commander, and with an Under $200 deck, I'm sure your not competing consistenly vs. Tier 1 commanders like Kess, Dissident Mage or Zur the Enchanter or anything, but on occasion (because of the early creature tutor for Lost Leonin and the concentration of Double-strike enables, you MUST be contacting.)
I just did some very quick (5 games) testing, Turn 7 was the worst for lethal damage, Turn 4 the best. It's not bad for a under $200 commander. Takes time to learn how to play it, tutor. Like Congregation at Dawn is Lost Leonin/Silverblade Paladin so you can infect + eminence + doublestrike in 2 turns (as an example).
Just some of my opinions anyway! Very nice build, +1. Cheers.
1 week ago
Homelessguy TY for liking my layout. Took me awhile to dream up this design.
Archangel and Feeder is a pretty awesome combo. Lemme get my hands on a Spike Feeder and see how it fares in the deck.
Load more