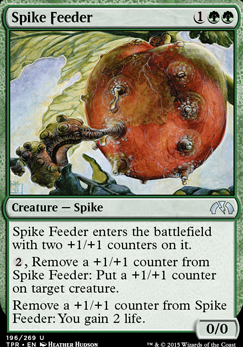 Legality
| | |
| --- | --- |
| Format | Legality |
| Vintage | Legal |
| Duel Commander | Legal |
| Commander / EDH | Legal |
| Legacy | Legal |
| Modern | Legal |
| Tiny Leaders | Legal |
Spike Feeder
Creature — Spike
Spike Feeder enters the battlefield with two +1/+1 counters on it.
, Remove a +1/+1 counter from Spike Feeder: Put a +1/+1 counter on target creature.
Remove a +1/+1 counter from Spike Feeder: You gain 2 life.
Spike Feeder Discussion
15 hours ago
So I have an Ezuri, Claw of Progress build, myself. You should check it out! I'm gonna give you some ideas, as I may have a few more experience counters than you xD
The suggestions I make are from my list, but I won't mention any cards outside of your budget. Let's get started!
This is alphabetical, not in order of relevance:
This is kinda alphabetical... but not really. _()_/
Whew! Well I gave you a lot to think about, there. feel free to ask questions about anything I've suggested; I'd be happy to give you examples from games I've played, etc. Good luck, and happy deck-teching!
1 week ago
I'd like to add the Spike Feeder + Archangel of Thune combo to my Atraxa deck... My deck:
---

Commander / EDH* BreadManDan
SCORE: 2 | 3 COMMENTS | 412 VIEWS | IN 1 FOLDER
---
Look for advice on what cards to perhaps remove to make way for this?? Any other suggestions, advice, criticism always appreciated.
3 weeks ago
Hey! I saw you were new to magic. You posted the deck in the modern format which it technically is, but people there tend to only care about cards for their reputation rather than how you want to play them. I really like the deck. I have a life gain deck of my own. Godly Spike That deck isn't budget but you can get some ideas there. Some cards I'd recommend would be Spike Feeder if you put sunbond on your spike feeder you gain infinite life and have an infinte creature!!! Also if you have that on the field your ajani's pridemate becomes a 2 mana infinite creature which is INSANE value. Ajani's Mantra is the enchantment version of your Nyx-fleece ram. Of course if you add spike feeder you'll have to run green which is not bad, because you can then run elvish mystic which can allow your deck to get a Turn 3 kill! All of this turns your creatures into Serra avatars by themselves and they are cheaper so you can cut them. Overall this would boost your power level and make your deck kill super fast. Modern is a tough format, but you will be king of the kitchen table for sure. If you can check out my deck and give me some tips I'd appreciate it also. One last thing if you can afford $20, Archangel of Thune makes all of your creatures infinite and gives you infinite life and all you have to do is play spike feeder when angel is on the field it's an instant win! Good luck I really enjoy the direction the deck is going!!!
3 weeks ago
I see! I didn't notice the last ability on Spike Feeder, and that's a pretty big facet of the deck. I still think some creature protection would behoove you, though. Perhaps Sheltering Word?
Load more