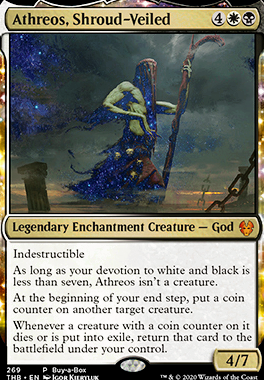 Athreos, Shroud-Veiled
Legendary Enchantment Creature — God
Indestructible
As long as your devotion to white and black is less than seven, Athreos isn't a creature.
At the beginning of your end step, put a coin counter on another target creature.
Whenever a creature with a coin counter on it is put into the graveyard from the battlefield or is put into exile, return that card to the battlefield under your control.
Latest Decks as Commander
Athreos, Shroud-Veiled Discussion