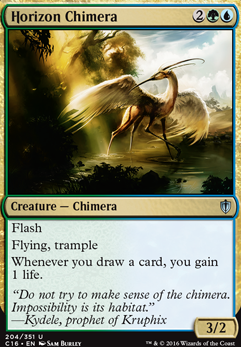 Legality
| | |
| --- | --- |
| Format | Legality |
| Noble | Legal |
| Hero | Legal |
| 1v1 Commander | Legal |
| Vintage | Legal |
| Modern | Legal |
| Casual | Legal |
| MTGO | Legal |
| Vanguard | Legal |
| Legacy | Legal |
| Archenemy | Legal |
| Planechase | Legal |
| Duel Commander | Legal |
| Unformat | Legal |
| Pauper | Legal |
| Commander / EDH | Legal |
Horizon Chimera
Creature — Chimera
Flash
Flying, trample
Whenever you draw a card, you gain 1 life.
Horizon Chimera Discussion
2 weeks ago
Burgeoning
(See exploration below; it might be worth running both)
Exploration
(to ramp up to Damia and then let her refill your hand letting you play tons of lands all the time)
Exsanguinate
(This provides a wincon or a source of lifegain in a pinch... but I'm not sure you need lifegain that badly, and no good deck will let you kill them with a massive exsanguinate... so if you don't need it for lifegain, you just don't need it).
Courser of Kruphix
(same lifegain boat... requires testing to see if he might be needed, although at that point it would be worth looking into boarding
Horizon Chimera
back in, or maybe running a
Wurmcoil Engine
).
Fierce Empath
allows for a lot of stability with fetching, which is where I am trying to cut off some of the lower curve of your creature base when you have more powerful options available at higher costs, and can spend the first turns of the game trying to keep opponents off of pulling too far ahead of any one other player. Early turns can also be spend casting any of your many tutors to set yourself up.
Similarly I am trying to develop the deck with a lot of cards which have high power and also provide a high level of consistency by tutoring in one way or another, examples being
Increasing Ambition
,
Protean Hulk
,
Mystical Teachings
(which can fetch
Torrential Gearhulk
,
Venser, Shaper Savant
,
Snapcaster Mage
, and
Teferi, Mage of Zalfir
).
So these suggestions are supposed to bring about consistency in the deck and therefore achieve power by method of consistency. It makes the deck very slow and you'll have to get really good at shuffling and making snap decisions for finding cards from teh deck when you tutor, but from my experience playing control sharuum, consistency is king for control decks, and having just a few high power creatures should be enough to win you games.
4 months ago
Thanks a lot for all the suggestions and support everyone!
seshiro_of_the_orochi your suggestions look really cool, but I'm afraid the tutors just don't fill my hand enough. This deck is capable of emptying the hand in just a few turns and what it really needs is cards to fill it back up. While Commune with the Gods and Time of Need help to find the right card, I think Blue Sun's Zenith and Pull from Tomorrow help more by filling up the hand for Kefnet the Mindful. Also Horizon Chimera is a cool card, but I don't think it does enough mainboard to warrant a spot. That being said, I think a spot or two could be freed up in the sideboard against match-ups when I need the life.
HarrisonHarry, if this deck was standard Metallic Mimic might find a spot in here, but unfortunately I just don't think it helps enough in this build because it does absolutely nothing for the Theros/Nyx gods and their devotion.
tumorman73, Overgrowth is definitely an option I have been considering. While it does work exceptionally well with arbor elves and kiora's follower, I think it's a little bit slow in this deck. Nevertheless, I will keep it in the maybeboard in case I feel I need more ramp later on.
Thanks a lot Bengernaut, and everyone else who has commented and left a +1, I really appreciate the support!
4 months ago
I do hope The Professor's prediction comes true, I never was playing magic at the time of Dominara even though I do know a lot of the lore now.
I never got to play with slivers early on. I only discovered slivers about 3 years ago (Started magic at around Journey into Nyx and mainly played with a lot of theros stuff first) when I had a friend who happened to have some m14 slivers and I one day I traded for some such as a Galerider Sliver and 2 much older Russian Sidewinder Slivers who he originally got from someone else I think. I didn't even know at the time that there was more older ones but I found these interesting and wanted the ones he had.
Later on when where I lived actually got a game store that opened and had started to doing Fnms had I found out from two people the format of commander who both owned Sliver Overlord edh decks that there were more slivers. At this point I was practically already playing with a commander deck lol, as my casual magic deck was a deck featuring cards like Prophet of Kruphix, Heroes' Bane, Arcanis the Omnipotent, Horizon Chimera, and a bunch of other things. This became later my first commander deck with Vorel of the Hull Clade (Now it's an Atraxa, Praetors' Voice deck with Vorel still in it btw) and I started to also plan a Sliver Overlord deck.
One of the two I mentioned at my lgs even in time decided to sell his sliver overlord deck because he never got to play it enough, so I traded for some older slivers like Sinew Sliver, Brood Sliver, Fungus Sliver, and a couple others he had. He however wanted to keep Sliver Legion, Sliver Queen, Sliver Overlord and Sliver Hivelord.
I have my own Sliver Overlord, and Sliver Hivelord now but I still need to in time buy the others. Then I got to acquire some of the lands to finish my deck. I regret earlier trades that I have done however, use to have a Wooded Foothills, Windswept Heath,Flooded Strand, Polluted Delta, Steam Vents and Temple Garden but I traded them all away thinking I wouldn't need them, and I sure was very wrong. It was rather silly of me still being new to the game sort of then.
Like I even opened at one point a Windswept Heath expedition not knowing it's entire value but I sleeved it still because they looked nice. I later discovered and sold it for store credit at a store and bought a bunch of cards with it like Kozilek, Butcher of Truth, Omnath, Locus of Mana, Sheoldred, Whispering One, Jin-Gitaxias, Core Augur, I think you get the point. All these big splashy cards to go into my casual magic decks to use on my friends. Then I later when I started playing magic a bit more seriously it rather sucked to realize I had no use for them in standard or modern or wanted to use them for edh any longer. That store even had Sliver Legion and Sliver Queen but I didn't yet know about slivers :(
Going to now anyways buy them next once I first open a bunch of Amonkhet for standard stuff perhaps. Although it would be nice to see a reprint for the Sliver Legion. The next set after Amonkhet however though has turned out to be one called Ixalan I think it was spelled? This looks to be a mesoamerican inspired plane so there's no hope for slivers in September/January. More likely will get a few merfolk instead is my guess. However maybe the block after in the summer could be dominara? I would live to see slivers as first of all I would enjoy playing them in standard as I never got to do that earlier. Then anything for edh would be awesome. Currently have my Atraxa, Praetors' Voice, Sliver Overlord although the lands are fairly budget, and Athreos, God of Passage for my edh decks. I am trying to upgrade them all slowly over time as I'm as well upgrading my very costly modern infect deck (Need Noble Hierarch playset and 5 more green related fetchlands) and a little before that my b/g delirium deck for standard (rather absurd its more than my Atraxa deck in $ right now thanks to a playset of Grim Flayer, Liliana, the Last Hopes, Blooming Marsh, and what not making it like over $470 I believe, use to be a bit more value but it's falling). As you can see I'm trying to slowly upgrade rather a lot of things even though my standard I'm happy with for now, but I do hope to finish Slivers maybe by the fall is my guess?
Now if you thought you were ranting then that is nothing compared to all of this! This is much worse so I do apologize. (Longest TappedOut comment I have made I think in the little more than a year on here now lol).
4 months ago
I really like how awesome Zegana is in here. She basicallly helps to activate every single one of your gods. Nice fit!
There are many possible tutor and/or filters you could play in here:Commune with the Gods is cool considering you have 32 cards it can pick, so it will basically never not hit. Time of Need is pretty cool as well, giving you excess to all of your creatures except eight. If you consider splashing white, Thalia's Lancers can be very helpful.
If you ever feel like needing lifegain, Horizon Chimera could be pretty cool.
+1 from me for sure, and I added this to my tribal folder. Good job!
4 months ago
Here are some cards that I might immediately cut:
Academy Elite, Aeon Chronicler, Bloodbraid Elf, Bogardan Hellkite, Breaker of Armies, Dragon Mage, Flameblast Dragon, Hamletback Goliath, Hermit of the Natterknolls Flip, Horizon Chimera, Hypersonic Dragon, Inkwell Leviathan, Jin-Gitaxias, Core Augur, Keranos, God of Storms, Kruphix, God of Horizons, Lorescale Coatl, Magus of the Future, Melek, Izzet Paragon, Memnarch, Mindwrack Liege, Murkfiend Liege, Niv-Mizzet, the Firemind, Nylea, God of the Hunt, Psychosis Crawler, Purphoros, God of the Forge, Quicksilver Gargantuan, Rishkar, Peema Renegade, Scute Mob, Servant of the Conduit, Shipbreaker Kraken, Simic Sky Swallower, Somberwald Stag, Spellbreaker Behemoth, Spellheart Chimera, Surrak Dragonclaw, Talrand, Sky Summoner, Thassa, God of the Sea, Thromok the Insatiable, Tireless Tracker, Verdant Force, Vexing Shusher, Wall of Blossoms, Whisperwood Elemental, Wistful Selkie, Xenagos, God of Revels, Clan Defiance, Crater's Claws, Devastation Tide, Minds Aglow, Mizzix's Mastery, Reforge the Soul, Release the Gremlins, Seismic Stomp, Shamanic Revelation, Sylvan Scrying, Traverse the Ulvenwald, Unexpected Results, Urban Evolution, Volcanic Vision, Wheel of Fate, Arcane Denial, Clip Wings, Counterflux, Counterspell, Cyclonic Rift, Desertion, Disallow, Disdainful Stroke, Evacuation, Heroic Intervention, Insidious Will, Krosan Grip, Naturalize, Negate, Plasm Capture, Sulfurous Blast, Trap Essence, Turn Aside, Unsubstantiate, Visions of Beyond, Void Shatter, Voidslime, and TBH there are simply too many things to cut to list them all because my fingers are getting tired. I'd cut most of your planeswalkers, most of your non-ramp artifacts, and most of your enchantments.
My primary piece of advice here is that 1) You really should choose to prioritize abusing creatures OR spells, not both, because there are simply too few slots, and 2) you want your spells/creatures to do things in multiples. You don't need too much draw here because your mana is tied up doubling splashy spells, but you need a heck of a lot of mana ramp to keep up.
I don't mean to sound curt, sorry :( Hope this was at least a bit helpful! I agree with Lilbrudder that it's simply too many cards to reasonably cut down, and that you should take a little time and find a focus for the deck.
Load more