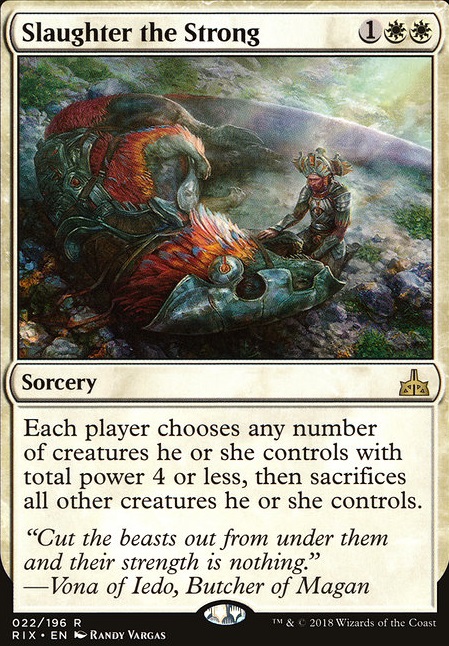 Slaughter the Strong
Sorcery
Each player chooses any number of creatures creatures with total power 4 or less, then sacrifices the rest.
Browse Alters
View at Gatherer
Trade
Legality
| | |
| --- | --- |
| Format | Legality |
| Tiny Leaders | Legal |
| 1v1 Commander | Legal |
| Magic Duels | Legal |
| Canadian Highlander | Legal |
| Vintage | Legal |
| Modern | Legal |
| 2019-10-04 | Legal |
| Block Constructed | Legal |
| Pioneer | Legal |
| Leviathan | Legal |
| Legacy | Legal |
| Frontier | Legal |
| Duel Commander | Legal |
| Oathbreaker | Legal |
| Unformat | Legal |
| Casual | Legal |
| Commander / EDH | Legal |
Slaughter the Strong occurrence in decks from the last year
Commander / EDH:
All decks: 0.02%
Slaughter the Strong Discussion
1 week ago
Chivalry is Dead!
"Don't ask my name, it's long since I forgot
if once I had a name, a home, a wife?
No words of fame or valor is my lot,
and yet my quest continues past this life."
2 weeks ago
I've encountered this problem when building with small tribes before, and that's the temptation to just fill the deck with Changelings. I've found it doesn't actually fell that tribal when you have one member standing next to two Changelings. I prefer to use cards like Kindred Summoning that put cards or tokens into play that amplify the presence of actual tribe members.
Since Scarecrows are all artifacts and you're going 5-color, you have more options than most to do that. Emry, Lurker of the Loch, Muzzio, Visionary Architect, Mystic Forge, and Saheeli's Directive can all be gas in this deck.
Scarecrows are also weak. You can take advantage of that with cards like Dusk / Dawn, Alesha, Who Smiles at Death, Mentor of the Meek, Reveillark, Slaughter the Strong, Grenzo, Dungeon Warden, and Elspeth, Sun's Champion to take advantage of that.
1 month ago
I think if you want to do a tribal deck, you can do that. I would pick though, between soldier/knight/warrior tribal because right now your payoffs are scattered about. Of the changelings, the two that I would keep in regardless of what you end up doing are Mirror Entity and Taurean Mauler. Mirror Entity itself is a wincon (get a big board, then make X huge). If you want to lean into Alesha's ability, I would target creatures to add in that have 2 or less power. So, if I were to break down that gameplan:
Creatures that you want to cheat into play with Alesha, that otherwise have high casting costs/attacking restrictions, or creatures that have strong ETB effects so you can repeatedly abuse them.
-Master of Cruelties, Ankle Shanker, Archetype of Finality etc.
-Duergar Hedge-Mage, Ponyback Brigade, Gonti, Lord of Luxury
Ways to get creatures into the graveyard (either from hand or from the battlefield) so you can repeatedly abuse Alesha triggers:
-Faithless Looting, Thrill of Possibility, Cathartic Reunion for draw effects (to get high CMC creatures into the graveyard)
-Viscera Seer, Ashnod's Altar, etc for sacrifice effects. (So you can have them ETB again with Alesha)
Some evasion effects for attacking and protecting Alesha
-Menace, Skulk, First Strike/Deathtouch, Lightning Greaves to protect Alesha
Some backup reanimator plans, in case Alesha gets hated out of the game and it's hard to cast her.
-Sun Titan, Living Death, etc.
Then I would generally focus on kinds of cards that you'll generally need, like Removal (for creatures/artifacts/enchantments, etc.), Card Draw, Ramp (in Mardu this is going to be a lot of artifact ramp), and Utility (stuff that doesn't quite fall into the other categories but is useful).
Also, I would look at non-symmetrical board wipes like Dusk, Citywide Bust, and Slaughter the Strong that typically will leave you in a more beneficial position relative to your opponents.
3 months ago
Hello, I looked over your removal list and I'd like to throw in some card suggestions.
Lightning Axe - Dismember but in red. Sometimes throwing away your least valuable card such as a land or mana rock is definitely worth it.
Wear / Tear - Any deck in these colors needs this.
Slaughter the Strong - Never under-estimate the power of a sac-wipe. It may spare your opponent's commander, but unlike Wrath of God it removes nasties like Avacyn, Angel of Hope , Void Winnower , Blightsteel Colossus as well as bypassing Gaddock Teeg .
Molten Vortex - Don't waste premium removal spells on hatebears. You can also remove nasty commanders and combo pieces like Gaddock Teeg , Edric, Spymaster of Trest , Kiki-Jiki, Mirror Breaker , Azami, Lady of Scrolls and Laboratory Maniac . The bonus is, its an activated ability so your opponent's counterspells can't bail them out either. Also helpful at delaying potential planeswalker ultimates as well.
Murderous Cut - A lot of blue decks will go out of their way to include Treasure Cruise , but they tend to forget this card exists. Unconditional spot removal at one mana is definitely worth a mention.
Assassin's Trophy - Path to Exile but in instant speed Vindicate form.
Snuff Out - Dismember 's older sister.
Darksteel Mutation - Place it on their commander. It's like Pacifism but with the added bonus of surviving board wipes. This means unless they have a sac outlet or enchantment hate you've practically exiled their commander from the game for 2 mana because it "removes" the commander without being able to send it to the command zone. Can also be placed on your own creature for an A+ chump blocker.
4 months ago
I would remove some of the creatures and up the land count to 36 or 37 since I don't think 29 lands is a very good idea.
Panharmonicon would be a good card to add since you will draw 2 with arcades when a defender enters.
High Alert and Assault Formation are good additions to make sure you can still attack even if arcades dies.
Sight of the Scalelords will give your walls a nice bonus to attack and vigilance and Brave the Sands will turn them into even better blockers.
Slaughter the Strong would be another good board wipe to add into the deck.
Angelic Chorus is another good addition so you can gain a nice amount of life whenever one of your walls enters.
4 months ago
@Cloud777 - Thanks for the suggestion, but I don't know what to replace it with.. The deck already has a lot of enchantments for my liking.. I'll see how I can fit it..
@masayoshishido - no problem.. I'm just trying to find a seller of Slaughter the Strong , I'm going to replace Fumigate .. I'm already considering on including Phyrexian Arena as a constant draw engine itself.. Tune in for new updates, it will definitely be included.. Greater Good on the other hand, won't be effective, since most creature i have, has less than 4 power, which will only make me draw 1.. I also had tried Momentous Fall before, but it's a bit clunky for my taste.. It relies on me having 4 mana untapped for a possibility of sacrificing a creature to draw card/s.. both Painful Truths and Sign in Blood are lesser versions of Harmonize and Read the Bones in my opinion, I may include one of them, but will depend on the cards that can be replaced.. But thanks overall for the upvote and suggestions!
Load more