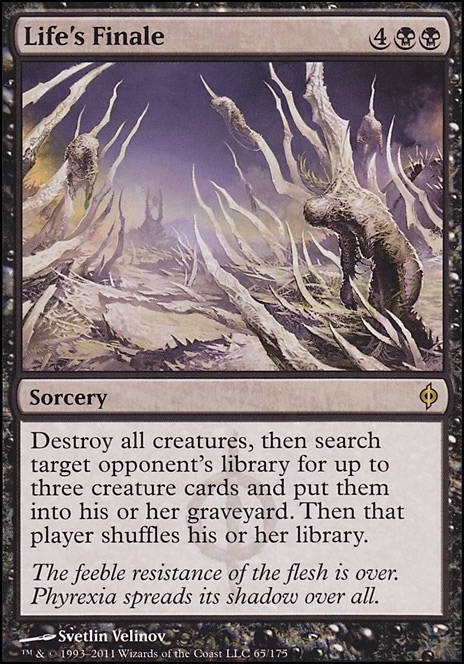 Legality
| | |
| --- | --- |
| Format | Legality |
| Vintage | Legal |
| Duel Commander | Legal |
| Commander / EDH | Legal |
| Legacy | Legal |
| Modern | Legal |
| Tiny Leaders | Legal |
Life's Finale
Sorcery
Destroy all creatures, then search target opponent's library for up to three creature cards and put them into his or her graveyard. Then that player shuffles his or her library.
Life's Finale Discussion
2 days ago
I assume you're trying to acquire an Extraplanar Lens. If not, you do already have to snow-covered swamps. Mana doubler's are fantastic in this deck. Because your commander's ability replenishes your opponents' graveyards, you'll almost always be able to benefit from being able to activate his ability multiple times per turn. I may also suggest Caged Sun or Magus of the Coffers. Gauntlet of Power may even deserve a place here. None of this is necessary, but for an ability like that, I'd go mana mana mana.
You need Life's Finale. Ordinarially it's a solid boardwipe with the added bonus of denying your opponent any 3 creatures from his deck. Here, it basically lets you tutor your opponent's best creatures to their graveyard, where they will eagerly await you.
One card I've always had an eye on for if I ever built this deck was Mindcrank. Any time anyone loses life, they mill. Shocklands, abilities, or getting hit from anywhere, and you have more reanimation targets to choose from. It would go well along side your Altar of the Brood
Mesmeric Orb fills graveyards like nothing else. The downside is it fills yours as well. Then again, who is playing recursion?
I'm personally a fan of Fated Return. It's expensive, but you generate good mana. It's instant speed, so it's a fantastic recovery from an opponent's boardwipe, or to get something out before your turn, so it can act immediately, and you can have your mana up to interact with it. But the best bonus is indestructible. Always a good keyword, and being able to apply it to whatever you want is nothing to scoff at. Again, 7cmc, but not bad for a reanimator deck.
Rise of the Dark Realms. This is a game-winning card in most decks. In a deck that fills its opponents graveyards like yours does, well, I'd just say I recommend it.
Beacon of Unrest. It's a better Rise from the Grave. Instead of making it a zombie, you get to pick a creature or an artifact, and then have a chance of drawing the card again for a second use.
Necromantic Selection. A board wipe and a reabimation spell, it singlehandedly leaves you with the strongest (creature-based) board state. All creatures go away, except for the strongest, which goes to you.
2 weeks ago
Mana fixing you could add: Burnished Hart, Gem of Becoming, Darksteel Ingot, Obelisk of Grixis, Talisman of Dominance, Talisman of Indulgence, Nightscape Familiar, Darksteel Ingot
Removal or sweepers you could consider: Life's Finale, Ixidron, Curse of the Swine, Crosis's Charm, Evacuation, Chaos Warp, Wrecking Ball, Nevinyrral's Disk; Big Game Hunter, Chain Reaction, Plague Wind, In Garruk's Wake
3 weeks ago
are all repeatable effects that kill when Horobi is on the board, and they're all lands.
These are all under $3 and can help with token struggles.
Scour from Existence hits enchantments.
1 month ago
Absolutely Pudding_Pop, generally people are always willing to put suggestions in or talk theory with you. I hope your friend enjoys the deck you've made for him it's a great start for someone. foxboy93 I agree with you about tymna. It's additional card draw with more players and I've seen it almost become a staple in Alesha decks since it and Ravos, Soultender came out but it doesn't help discard, it can't be used outside your turn, and it's also a creature you want to keep alive which I've always found to be sort of a disadvantage with this deck. As for magus and nevinyrral, honestly I agree. It's a nice bluff when I used to run magus but I just can't see myself nuking my artifacts and enchantments. If you run it, I think the magus works better since it's Alesha-recurrable, but personally I'd rather have more spot removal or a gimmicky board wipe like Life's Finale.
1 month ago
Okay so, correct me if I'm wrong, but it seems that the point of this deck is to use your opponent's best cards against them by first milling them then stealing them from the graveyard.
So in terms of cards that mill, I wouldn't actually use too many, because we want room for abusing those cards in the graveyard. I would say like 21ish? Here are the ones that you have that I think you should keep:
These along with Life's Finale, Jace, Memory Adept, Phenax, God of Deception, Undead Alchemist, Nemesis of Reason, Mirko Vosk, Mind Drinker, Trepanation Blade, Keening Stone, Sword of Body and Mind, Mind Grind, Mindcrank, Duskmantle Guildmage (these two are good because of the combo with Bloodchief Ascension, not on their own, obviously), Startled Awake Flip, and Talent of the Telepath puts you right on target of 21. It's a solid mill package, so I'd drop Dismal Failure, Psychic Strike, Ashiok, Nightmare Weaver, Liliana of the Veil (I know it seems great, but I really think that a deck like this needs more focus on the goal), and Necromaster Dragon.
Next, the abuse! This is one of the most untapped aspects of many mill decks, and it saddens me. What we need is an array of ways to get effects from opponents' graveyards, but the cards that we have unfortunately usually limit themselves to what card type they can get out of graveyards, such as artifacts, creatures, or instants/sorceries. According to EDHREC.com, the average deck runs 24 creatures, 12 artifacts, and 18 instants + sorceries. Based on those numbers, we should see at least 9 creature-stealing cards, at least 5 artifact stealing cards, and at least 7 instant/sorcery stealing cards, since we probably want 21 of these as well. For the artifact stealing cards, there are only two, and they are Geth, Lord of the Vault and Beacon of Unrest, so lets include 3 tutors to get these two cards as well. Those can be Demonic Tutor, Brainspoil, and Beseech the Queen. Next, the creature ones! I would say the best 9 are Reanimate, Animate Dead, Coffin Queen, Necromancy, Chainer, Dementia Master, Extract from Darkness, Ashen Powder, Sepulchral Primordial, and Nezumi Graverobber. Lastly, the instant/sorceries can be gotten via Memory Plunder, Spelltwine, Wrexial, the Risen Deep, Chancellor of the Spires, and Diluvian Primordial, so let's include Ethereal Usher and Netherborn Phalanx to be able to tutor for Memory Plunder if the commander isn't able to do what we need to do and Geth, Lord of the Vault otherwise. These tutors are really going to make sure you get what is best, as opposed to lots of cards like Jace's Mindseeker that get you a random card. What we want is assurance that the card we are getting is going to be impactful.
In short, for the aikido aspect, I suggest dropping Jace's Mindseeker, Phyrexian Metamorph, Puppeteer Clique, Gruesome Encore, Rise from the Grave, and Soul Ransom in order to add Beacon of Unrest, Demonic Tutor, Brainspoil, Beseech the Queen, Reanimate, Animate Dead, Necromancy, Nezumi Graverobber, Coffin Queen, Chainer, Dementia Master, Ashen Powder, Memory Plunder, Ethereal Usher, and Netherborn Phalanx.
That concludes the 43 cards I think you should absolutely run (21 mill, 21 reanimate, Bloodchief Ascension). That gives you 20 slots to put in whatever you would like after you put in the 37 manabase cards, but I think you will probably want about 7 ramp, 7 draw, and 7 spot removal (maybe fit a Laboratory Maniac as mentioned earlier), but I think you got those handled!
And yes, those two cards you mentioned aren't going to work, not necessarily because they're weak, but because they're too expensive when there are better options for cheaper.
Load more