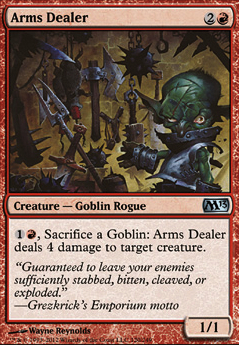 Arms Dealer
Creature — Goblin Rogue
(1)(Red), Sacrifice a Goblin: Arms Dealer deals 4 damage to target creature.
Arms Dealer Discussion
3 months ago
I'm going to add in the Goblin Grenade Its much faster of a deck than I thought and I typically don't even trigger Arms Dealer otherwise its a pretty solid deck. I need to take it to a modern night at my LGS.
4 months ago
Suggested Cuts:
5 Mountain

This is the type of card that should be in sideboards. You really never know if the deck you're playing against will have any artifacts. If they don't, then it's just too expensive for what you're trying to accomplish.

He's really expensive for the deck. Paying 3 and then 2 more will mean less of what you seem to want to do (slam down all of the goblins) and more of something that's not overly powerful.
Here out is just things I think are fine, but overall need to be left out to leave room for higher impact/cheaper cards.
1 Hobgoblin Dragoon--He doesn't really play nice with Chaosphere either.

Without a way to make him really, I don't think that paying 3 mana is worth it.
4 months ago
This looks really nice, I would just personally be wary of Goblin Pyromancer because even if he can blow out a game, his pop your board effect can go horribly wrong if something goes awry during combat. Also, the "target creature can't block" effects generally aren't too powerful in EDH simply due to the abundance of creatures in the format, but if it works in your playgroup, by all means keep them. Door of Destinies doesn't proc off of Krenko, so I took mine out of my deck due to the lack of synergy, but your version looks like it will make great use out of it anyways.
Magus of the Moon is Blood Moon on a stick, so if you want repetition of that effect, I would highly recommend that. Rings of Brighthearth are also really nice for Krenko/Arms Dealer/Skirk Fire Marshal/Goblin Lookout,etc.
+1 from me though and thanks for your help with my deck!
| | |
| --- | --- |
| Power / Toughness | 1/1 |
| Color(s) | Red |
| Cost | 2R |
| Converted cost | 3 |
Legality
| | |
| --- | --- |
| Format | Legality |
| Legacy | Legal |
| Vintage | Legal |
| Commander / EDH | Legal |
| Modern | Legal |
| Duel Commander | Legal |
Combos