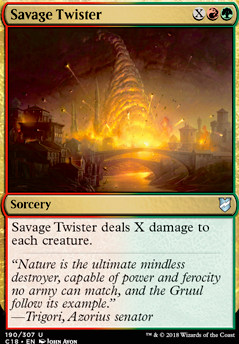 Savage Twister
Sorcery
Savage Twister deals X damage to each creature.
Browse Alters
View at Gatherer
Trade
Legality
| | |
| --- | --- |
| Format | Legality |
| Unformat | Legal |
| Casual | Legal |
| Vintage | Legal |
| Limited | Legal |
| Duel Commander | Legal |
| Modern | Legal |
| 1v1 Commander | Legal |
| Canadian Highlander | Legal |
| Leviathan | Legal |
| Pioneer | Legal |
| Block Constructed | Legal |
| 2019-10-04 | Legal |
| Oathbreaker | Legal |
| Legacy | Legal |
| Commander / EDH | Legal |
| Highlander | Legal |
| Tiny Leaders | Legal |
Latest Decks as Commander
Savage Twister Discussion
4 months ago
Brevet, Murder for Hire was built in order to run synergy between Mathas, Fiend Seeker

and the new Chevill, Bane of Monsters. There is also one other creature in MTG that uses bounty counters - Bounty Hunter.
Given the three of them, you have the ability to place counters during multiple points of your turn, with Bounty Hunter also allowing you to place counters during an opponent's turn - ideally during the last player's end step so you can untap and kill the creature off when it untaps.
I decided to go the route of seeking payment. Brevet is a 3/4 for 4 colors, mirroring Saskia the Unyielding. While she has two keyword abilities (Vigilance and haste), I felt Deathtouch was strong enough to stand on its own.
The reason the triggered ability is set to and not is because you need to understand and appreciate just how often creatures enter the battlefield. Being forced to retain 4 or 6 mana for 2 or 3 creatures is a huge drawback. Additionally, you have three turns to sit through before it comes back to you which means you are already on a very tight resource management watch. Given these, I felt was fair. More on this down below, but for now remember you are paying mana to put the counter on the creature. It still needs to die and your opponent can still deny you the reward. Those factors are what justifies it, in my mind, to be reduced to .
And yes, it has to die. Bounce, flicker, tuck, exile... they all leave you empty handed.
Now, let's get to the reward. You either get two treasure tokens or you get to draw one card when the creature with the bounty counter on it dies. Yes, this means he becomes self-sustaining: You pay and you get out of it. That's entirely the point, or you get card advantage.
So let's talk about how the opponent can opt to deny you that resource by paying 3 life. This mirrors Athreos, God of Passage as well as eluding toward Mogis, God of Slaughter. But why specifically is it set to 3?
Most players are perfectly okay paying 2 life over and over again. Look at fetch lands and shocks lands as evidence. What players are not often okay with is paying 3 life. By setting it at 3 life, you force your opponent to really think about and choose if they want to deny you your resource. If they do, it will cost them dearly.
Now, you will naturally want to ask why this is even a thing? Why are we allowing our opponent to deny us resources? After all, we have to jump through several hurdles just to get there! We need to:
Wait for a creature to enter the battlefield
Pay the
Wait for it to die
Possibly be denied, regardless
The reason we are allowing opponents to deny the resource is because by doing so, they help us win the game. That's why, hence the flavor text. Mana and card advantage is great and all, but the sooner they drop to 0 life the better. It's all about strategy. Ultimately, no decision on their part is good or easy. Everything sucks for them. You get upside no matter what. You get mana, you get a card or you get one step closer to winning the game.
This deck also has several ways it can be built:
Ramp + wraths: Pay tons of mana into everyone's boardstate and blow it up for massive advantage. Sort of a "Wraths Matter" deck: Damnation, Bontu's Last Reckoning, Savage Twister, Wrath of God, Kaya's Wrath, Blasphemous Act, etc.
Aristocrats for horrendous overlapping triggers
Human / Warrior tribal synergy is possible in these colors
Cruel Control: Make every permanent you play hurt them. We're talking Manabarbs, Smothering Tithe, Mogis, God of Slaughter, Mana Web, Vorinclex, Voice of Hunger, etc.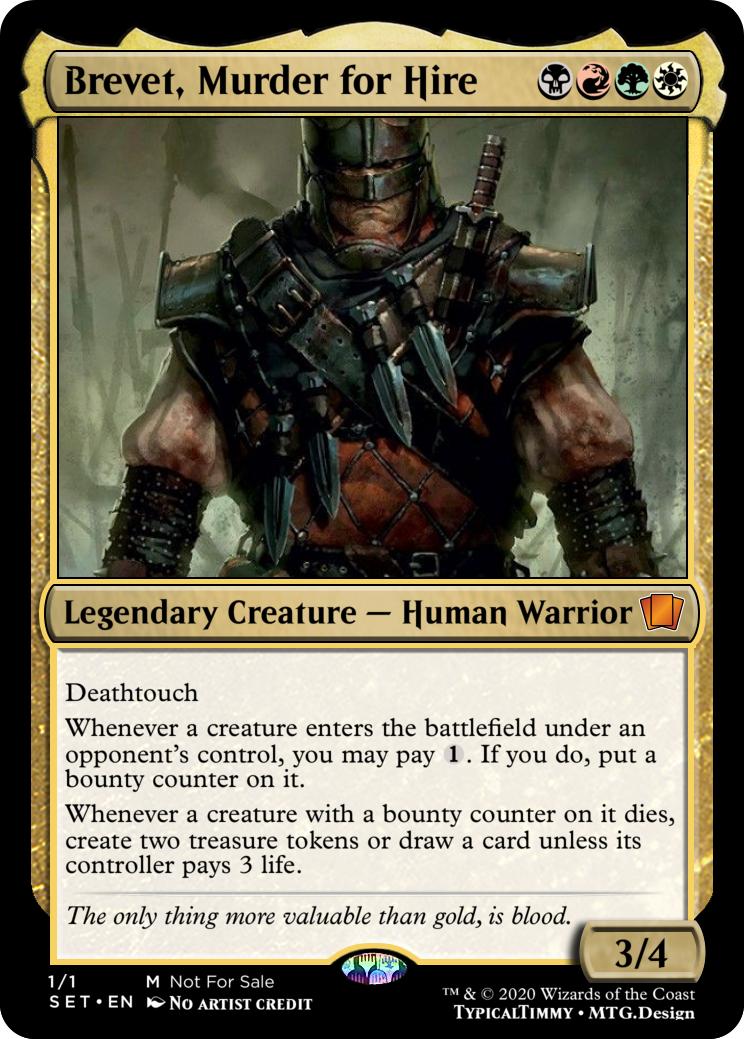 Overall, I am extremely pleased with and proud of this build. I'd definitely build this deck if I find a group that's okay with custom commanders. :)
7 months ago
You should def get rid of Crucible of the Spirit Dragon, it's real bad bro :(. Also Savage Twister is not bad but I feel like you could get more asymmetrical effects like Breath of Darigaaz, Mizzium Mortars, Bonfire of the Damned.
I feel like you might enjoy some ETB damage enchantments like Impact Tremors, Pandemonium, etc, or some red wheel effects, to make sure you draw enough. In general though, I've learned a lot from your synergy and your card choices seem very apt for a budget deck. Your mana seems pretty balanced too. Nice deck!
1 year ago
Stomping Ground , Beast Whisperer , Essence Warden , Marwyn, the Nurturer , Mina and Denn, Wildborn , Banefire , Finale of Devastation , Rolling Thunder , Animist's Awakening , Savage Twister ?, Volcanic Geyser , Crater's Claws , Molten Disaster , Blaze , Burn from Within , Collective Voyage , Devil's Play , Zhur-Taa Druid , Fire-Lit Thicket , Ring of Three Wishes , Diviner's Wand , Planar Portal , Freyalise, Llanowar's Fury , Garruk, Caller of Beasts , Insurrection
1 year ago
Hey, nice version of Atla.
Mirror Entity is busted with Atla; it's a Dino and an Egg. Regal Behemoth is a very good Dino/mana doubler. It's Lizard creature type was errata to Dinosaur. In multiplayer Commander Runic Armasaur can be a repeatable source of draw.
Cards to consider cutting:
Are you using Heartstone in a combo that I don't see? I ask because it only works with two creatures (Atla and Zacama) in the entire deck. You have many repeatable sources to trigger enrage that these one time effect spells are not needed.
Upgrades within the budget to consider:
Good luck with your deck.
1 year ago
I think these could be some good cuts
Wakening Sun's Avatar because it's crazy expensive and I think you would do better with a damage board wipe. Plus it won't trigger if you cast it with your general. Arcbond , Hour of Devastation , and Savage Twister were some that I found that could fit well in this deck.
Raging Regisaur because it looked pretty weak compared to some of your other dinos. I feel like if I was playing this deck and I drew this or had the option to cast it from the deck it would be lackluster, might even prefer to draw a land.
Dinosaur Stampede because you've already got scary Dino's and it looks like you could really use more land.
And I would also pull Ashnod's Altar and Goblin Bombardment because I wouldn't really want to sacrifice any dino's. I would take both out and add in land, or maybe some other artifact ramp, idk what though.
That would put your land count at 37 which is a waaaay better draw rate for lands. All that being said this deck looks cool as shit. I like the cards you have in here for untapping your general to reuse his ability +1.
1 year ago
Hi, I hope that at least some of what i'm going to put here will be useful, and even if you don't use any of my advice then maybe you will be able to see where I am coming from and use the logic to find your own improvements :)
Ramp
As the previous commenter has suggested the amount of ramp spells that put lands in to play in your deck is a bit to low for a ramp deck especially one that has subthemes of landfall. Typical commander deck building suggestions say that you should have 10 pieces of ramp to tide you into the midgame. This goes for any deck, not just ramp decks. In ramp decks you will want more. At my count you have 12 ramp cards that are reusable (ie, aren't the one shot sacrifice elemntals) this will want to be more really, with a focus on them being ones that put lands in to play. Another of note, is that cards like Zendikar Resurgent don't really count as a ramp slot, as by the time we can cast it, we have a lot of mana already. 'Ramp' cards are ones that you want to see in your opening hand to get you into your game plan faster.
For this reason I would look into replacing some of the creature based ramp and some other low impact cards with this ramp that will get us executing our main game plan faster and better.
These can all be easily replaced with land based ramp spells as they don't get you any further ahead on mana than 1 land, or are one shot abilities when we want to be dropping big things multiple times over multiple turns.
Smokebraider Is unique because it produces 2 mana for only 2 investment, but only if we focus in on elemtals so can be left on a short list to be evaluated. We'll list other potential cuts later when looking at more over all deck evaluation.
The previous commentor has provided a list which at first glance seems to be comprehensive enough to provide some ideas for what to add.
Removal
More conventional commander wisdom suggests that you have at least 5 ways to directly interact with your opponents game plan. I personally nearly always play more than this, but you should have at least 5. This direct interaction is preferred to be the targetted simgle response cards that can remove threats in any shape or form. Of note, this removal count is seperate from the count of mass removal. At my count you have Song of the Dryads , the down tick of Domri, Anarch of Bolas and Ingot Chewer as easily accessable removal. Things like the trigger from your commander or things like Magmatic Force are more incedental as you can't rely on them doing what you want when you need it.
Cards that could be added in this slot are many. But it is a good idea to have as many as you can being generic answers to anything, but also you need to make sure that they are ones you can realistically weave into your game plan instead of leaving up those answers at all times. This is mostly a balncing act that is where fine tuning comes in from playing the deck. But potential recommendations for all purpose would be Beast Within and Chaos Warp . After that they become more specific but can be cheaper in mana,
Wrath
This may seem counterintuitive, seen as you are planning on being the big creature deck that wants the board presence. But sometimes the opponents boards just need answering (Not to mention that you might end up getting a lot of elemental death triggers from Omnath). As such having 2 or 3 creature wraths might be worth trying. And having 2 or 3 artifact and enchantment wraths will be good to have access to aswell. Something you already have so I assume you already know.
Creature wraths to consider in green red include
You already have the cards for mass removing artifacts and enchantments so I won't bother listing any more.
Card Draw
One of the most common recommendations I have to make to people about their deck is to up the amount of card draw or selection in their decks. There is no point in having sweet cards and synergies in here if we never get to see them! Normally I recommend having 10 ways of drawing cards in your deck, with some of them being repeating and some being one shot. At my count you currently have 7 (Or 8 if you count Praetor's Counsel which can do effectively a similar job), so you are nearly there but I would recommend adding a couple mr just to smooth out the deck running.
These overview sections are recommendations for generic cards that could go in. From here on, we will be looking at more specific card options, and possible cuts from the existing deck
Deck Applications
Now, again as the previous commentor mentioned, there are multiple ways you can take an Omnath deck. My take on them being
RG Big thing Ramp. No specific synergies in mind except for incidental ones like, I need land to cast my big spells, and this card cards about land. Not a bad deck by any means, just less commander or theme focused.
Elemental Tribal Ramp. This seems to be closer to what you are currently going for. Similar to the RG ramp deck, just with tribal synergies from elementals
Landfall / Lands Matter. Here we are focusing on many landfall triggers, and keep cycling our lands round and round to get them. This deck will likke having access to things like Crucible of Worlds and many effects like Exploration
Here, i will suggest some cards for each of them and maybe later on if you want we could look more into one or a mix of these strategies.
Ruric Thar, the Unbowed This card is very very powerful. Expecially as the decks around you get more and more powerful and wanting to do more combo and storm bsaed strategies.
Gruul Ragebeast A good way of keeping the board under control when you play your 'large and incharge' creatures
Vorinclex, Voice of Hunger We have mana, they don't. Enough said really. Just beware that with this creature, sometines the adage If you can't remove the problem, remove the player can be applied to just killing you.
Other than ones recommended here, perhaps a good idea would be to use Gatherer or mtg.wtf to find elementals in your colour. Or cards which reference elementals in your colours, the example in wtf would be this
This deck idea might have elements that are closer to a combo deck than the others, but will still mostly be a midrange deck.
Possible Cuts
Cutting Criteria
I won't re-list the cuts recommeneded in the ramp section. I will be evaluating cuts in the assumption that the deck is wanting to be a combination of an elementals ramp deck and a lands value deck. A lot of these recomendations for cuts will have very similar reasonings, which I will elaborate on first to be able to be brief later on. These recommendations will possibly sound rather brutal, however I find that it makes it a lot easier to have too many cards that are on the cutting block rather than not enough.
Too Slow. If the card takes too many turns to start pulling its weight then it could be replaced with something that does what we need sooner. This is common in cards which have 'at the beginning of your upkeep' effects as they will normally have to wait an entire turn cycle to start doing something. Enters the battlefield triggers or similar things that have an effect the turn you play them are often preferred.
Too expensive. This should be self explanatory. If the card costs too much mana, especially if the same effect can be achieved for less mana then it should be exmined.
Doesn't do enough. While the effect might be interesting and maybe something we actually want in the deck, The card just doesn't pull its weight in whatever role it is supposed to be doing
Doesn't contribute to our game plan This might be a good card, maybe even a great card in other decks. But perhaps the effect just isn't one we need in this deck
Cards
Creatures
Enchantments
Retreat to Kazandu Doesn't do enough. THe landfall idea is good, but putting 1 counter an a guy once or so a turn isn't worth the slot really
Artifact
Sword of the Animist Too Slow. We want this effect, but we aren't attacking multiple times in one turn so there are better effects to get lands from our deck. We don't neccessarily even have than many small creatures to equip this too to get it active early enough for the ramp to be that useful as ramp
Sorcery
Animist's Awakening As much as i want this spell to ever be good. It's just not really at all.
Journey of Discovery Too slow. For this to be actual search out ramp you need to entwine it which is then 6 mana. Any of the 4 mana double basics would be better here. Or just Explore type effects that cantrip too.
Planeswalker
Turns out there is only slightly too much Nissa. (And not enough Chandra ;) ) All of the Nissas' contribute to our gameplan well except for Nissa, Voice of Zendikar . The general rule of Planeswalkers in commander is to assume that you will only get two activations if you are lucky. So with this one you will at best buff your team a little. Consider Garruk Wildspeaker instead maybe?
Other random Card Recommendations
Closing
Well I hope some of this helped at least a little :)
SharpRaptor
1 year ago
ZendikariWol thank you for replying to me so I remembered this thread. And yes the date went well :) Sorry for the delay in responding; I've been bogged down in work, dating, and taking care of my disabled mother.
Anywho! On to the story!
SETUP: I was playing Lord Windgrace . I was playing against Aristocrats via Edgar Markov , a stompy deck and something else. I'm not really sure on the specifics; This was now nearly two months ago. Markov was the clear oppressor on the field; What the player would do is cast cheap Vampires to get the free tokens, then sacrifice the non-token Vampires for benefits and use recursion to bring them back into his hand to cast again for more tokens. Boons / Anthems made his ever-growing boardstate very difficult to manage. Felt more like Archenemy, really.
This was a very long game. We got to around T9 and I decided to reset the game by casting Deathbringer Regent , but Markov quickly rebuilt easily.
Several turns later I was able to have out three creatures; Deathbringer Regent , Omnath, Locus of Rage and a single token by playing a land.
On my next turn, I decided I had enough of this and went for the kill.
I played Lord Windgrace , ticked him up and discarded a land to draw two cards. Perfect. I played a Terramorphic Expanse and ended my turn with a second Elemental token on the field thanks to Omnath.
I assumed between the three Elementals and my Regent, nobody would really pick a fight with me. The Markov player did attempt to attack Windgrace directly with a single Vampire Nighthawk who had been buffed a little, so I traded with Regent because I wanted Windgrace to survive. I cracked off Terramorphic Expanse on his end step, got a basic and a third Elemental.
Back to me. I have Omnath, Locus of Rage + 3x tokens and Lord Windgrace .
(This was 17 mana on I believe T12, maybe T13 thanks to some extremely efficient land drop spells. I don't actually run stones in the deck - I have more lands or land tutors slotted in their spots because I focus around the Landfall mechanic.)
I had just enough mana left over to cast a Savage Twister with X=5. Wiped 98% of the board, but more importantly I killed all 10 of my Elementals (9x tokens + Omnath, Locus of Rage ) for a staggering 30 damage, killing Markov's player and winning the game.
TL;DR - Won via boardwiping myself
Load more