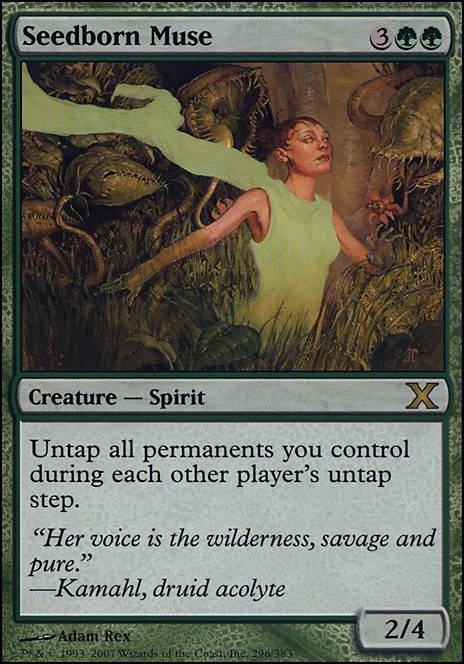 Legality
| | |
| --- | --- |
| Format | Legality |
| Pre-release | Legal |
| Noble | Legal |
| Leviathan | Legal |
| Magic Duels | Legal |
| Vintage | Legal |
| Modern | Legal |
| Vanguard | Legal |
| Legacy | Legal |
| Archenemy | Legal |
| Planechase | Legal |
| 1v1 Commander | Legal |
| Duel Commander | Legal |
| Unformat | Legal |
| Commander / EDH | Legal |
Seedborn Muse
Creature — Spirit
Untap all permanents you control during each other player's untap step.
Have (8)
EdenGardenz , NOGzFTW , westdoorblowsnow ,

R

o

a

d

h

o

g

, asceveris , dplerner , kpral , gildan_bladeborn
Want (7)
bradyofportdetroit , Turtlelover73 , Zomgasa ,

M

i

n

d

A

b

l

a

z

e

, LuminAutopsy , theMarc , Ace_Kavu
Seedborn Muse Discussion
3 days ago
I used to have a Mayael deck, and I love the Wurm Tribal concept. I've got some suggestions for you, these will be just some of the stuff I'm thinking of, if you want more suggestions, just ask.
1 week ago
I do feel that Wizards getting more involved with directing where EDH is going has upsides and downsides. One of the things that makes Commander special is that it's a player made format with most of the creativity in it originating with players rather than Wizards pointing us where to go. In recent years they have obviously been riding the hype train that has created and obviously would love to take control of it.
I strongly agree with the ban of Prophet of Kruphix and feel that the people disagreeing above are using very weak arguments. The kind of deck that Prophet wants to be in is a combo/control shell that has no problem shrugging off and protecting against the kind of removal that most decks not running counterspells have as their tools. Especially once the turn has passed and they have all their resources back. The Seedborn Muse and Yeva, Nature's Herald is a terrible counter example as that pairing loses access to blue and a 2 card combo is far easier to disrupt meaning it's a completely different situation. And saying that only "casual and new" players are the only ones unable to deal with it is as insulting as it is wrong.
1 week ago
Mainly cause it was super easy to get rid of, whether through countering, permanent removal, etc. It isn't any worse than Seedborn Muse in a Yeva, Nature's Herald deck. And it is very easy to remove from play, even in casual circles.
2 weeks ago
1) Well, I would say djeru has some reasonable permanent value beyond his ETB effect (which rules), but I understand. In my deck 5cmc is underrepresented so he can fill a pretty vital slot if a game is looking like karametra will be a waste
2) & you are right that with your deck wild pair would get you less matchup value... in my setup that spell fetches MANY linchpin combos with creatures I cannot usually search at will with Sisay or fetches a high CMC creature when a lower CMC creature is played: I play Elesh Norn, Grand Cenobite = Blazing Archon | Elesh Norn, Grand Cenobite = Archetype of Endurance | Selvala, Explorer Returned = Seedborn Muse | Karametra, God of Harvests = Vorinclex, Voice of Hunger | Odric, Lunarch Marshal = Champion of Rhonas
So you can see how I get excited about that enchantment in terms of sheer value (& low budget to boot)... But yeah, looking at your deck I could see how it would hold quite a bit less synergy for you... One of the best fetches you would have would be Omnath, Locus of Mana = Elvish Piper
2 weeks ago
With the advent of Turdley McLOCUSTGOD I may consider Thalia, Heretic Cathar more strongly, he may move TOO QUICK for me to wait for more costly counter strategies - Yes, Elesh does shut him up nicely, but at a 7cmc
The humble budget-friendly Wild Pair is pretty nutty in my Sisay deck... One particularly crippling combo was: Wild pair --> Selvala, Explorer Returned (also budget-friendly) --> Wild pair kicks in --> selvala has the same TOTAL power+toughness as....drumroll.... Seedborn Muse NOW if your opponents have no IMMEDIATE answer, on their first upkeep, you search Yeva, Nature's Herald + Wild pair kicks again + whatever 4/4 you want to play - Then the horror show truly begins... then they start having to think about whether they need to wipe your creatures or deal with wild pair.
Djeru, With Eyes Open will be conducive to your "fun" stipulation I think, A 4/3 beater w/ vigilance, who will ALSO allow you to toolbox some of your walkers, sounds fun to me
3 weeks ago
Hi True_Neutral,
Wildfire Eternal seems too unpredictable to me. I often play against decks that have life-gaining as one of the central themes. These opponents will rather block Wildfire, than letting me cast spells that allow me to steal their stuff. Then there's the fact that this deck doesn't contain that many expensive spells, and of the spells that ARE expensive, some have variable mana costs (which doesn't work well at all with Wildfire's free-casting mechanic). I'd be more tempted to add him to a Jeleva, Nephalia's Scourge EDH deck.
Bloodwater Entity is a slightly worse version of Archaeomancer, in the sense that the spell returns to the top of my library instead of to my hand. Sure, it also has flying and prowess, but those aren't really a selling point for me.
Kefnet's Last Word, ... no. Too unpredictable to be of true value. Sure, if I have Windfall in my hands or this were a deck containing Seedborn Muse, this would be a fine card. But under every other condition, I'd rather have Control Magic.
Load more