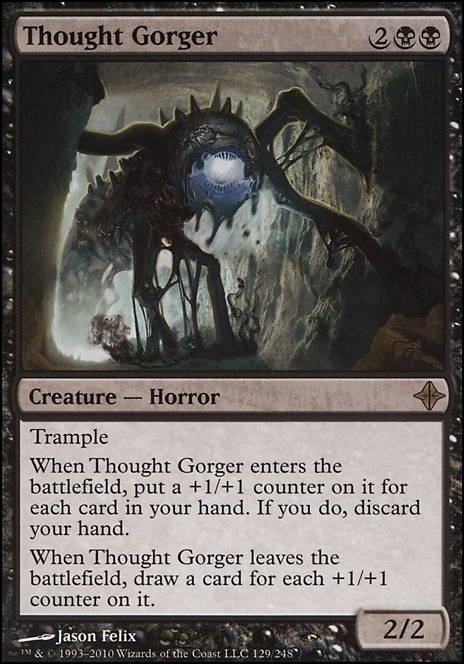 Thought Gorger
Creature — Horror
Trample
When Thought Gorger enters the battlefield, put a +1/+1 counter on it for each card in your hand. If you do, discard your hand.
When Thought Gorger leaves the battlefield, draw a card for each +1/+1 counter on it.
Latest Decks as Commander
Thought Gorger Discussion
5 months ago
Hey Walrighti, +1!
Congrats on your first deck! You have a lot of fun cards in here and it looks great! I imagine you want to tune and make it even more efficient so here are some ideas...
Add 3 categories: #Combo, #Lifegain, and #Evasion; and then sort your maybeboard the same way you've done your mainboard to easily rank your choices within a category (By "combo" I mean all your "if-then" cards like Trudge Garden that are slower and don't work by themselves). Remove #Creatures (most of them are #Combo).
Avoid most cards above 4 cmc... Willowdusk is fast and fragile, so play into that... Also, prioritize cards that can do 2 or more things or that give value on ETB... If you have pet cards that don't really fit and that hurt to cut, put them in a "I'll build that theme later" list.
...Always play at least 10 ramp spells under 3 cmc.
...Playtest and make sure Willowbark consistently makes a fatty (with evasion) before turn 6-7.
Here's another Willowdusk thread.
Happy building :)
1 year ago
A good trick for getting more punch out of Gyrus is to run guys who have more power than their printed stats might indicate. For instance, Arcbound Overseer has 0 power when he's in the graveyard, but as soon as you return him, he's attacking for 6! Other examples include Clockwork Dragon, Drakestown Forgotten, Nighthowler, Sewer Nemesis, Thought Gorger, Ignition Team, Crovax the Cursed, Spike Hatcher, Naya Soulbeast and Workhorse. Your opponents will be surprised how often "2 or less" won't feel like it!
Other cards that fit your general strategy include Grenzo, Dungeon Warden and Unearth, which can return a lot of the same cards as Gyrus. You might also want more removal, such as Bone Shredder, Ravenous Baboons and Garza's Assassin. Good luck!
1 year ago
Yo v1ns4n1ty!
Yeah this deck definitely has got some punch. I considered taking the Phyrexian Altar out for a couple of games, because things were getting a little out of hand with my playgroup. I figured I'd try just going for the Pitiless Plunderer and the Ashnod's Altar instead, but then the whole pandemic thing started, so....
The discard outlets are definitely underrated for Hogaak, so I'm glad you found that part useful!
Interesting. Thought Gorger is another one of those cards I've never seen before. It can be risky if you often find yourself having something you really want to keep in your hand, but I suppose that there will be situations when it'll be powerful. The idea is interesting, but it really needs a sacrifice outlet to work. And if I already have the Greater Good out, then I'll be already winning by drawing a lot of cards.
It might be an interesting piece of tech in my Marchesa, the Black Rose deck, which has a lot of sac-outlets. I can imagine just cycling away a whole bunch of hands each turn cycle....
Thanks for stopping by, and giving me some ideas! I really do appreciate.
1 year ago
Hi, I just came your across your list and love it! I have a hogaak deck and I love it to death but I'm hoping to give it a bit more of a punch and this list helps a lot! I also love the discard subtheme to it and is something I will implement in my deck.
Regarding the discard subtheme, have you actually though about using Thought Gorger? I think this card has a lot of potential with Bone Miser and after that with a sac outlet that lets you draw. You draw double the cards if you sac him to Greater Good, so he acts like a mini Hogaak. He net you even more cards than hogaak in certain circumstances.
2 years ago
Hi l0ry,
Varolz is probably my favorite deck that I've built so far, but the ideal route is to go with a elf ball shell. Play all the dorks you can find because 1) they are very early mana ramp, 2) you can sac them to protect your commander, and 3) you can scavenge them when you're done with them (nice thing is the elves usually pay for themselves, float mana, sac and use it to scavenge). Don't forget Birds of Paradise
That is step # 1 for consistency mana to do crazy stuff. Step 2 is either consistent mill, or consistent tutor, or both. For the mill plan, best card to use is Mesmeric Orb . Get that turn 1 with soul ring, and you're going places. There are a lot of budget options to mill. On the other hand, with the tutors you'll be more consistent and basically turn into an one-turn-kill with either Phyrexian Dreadnought or Death's Shadow on your commander or something that has infect.
Cards to think about, as they have work wonders for me
3 years ago
I've reached an impasse and need your suggestions. Any you make will be valuable.
I've been...hoarding cards lately, ordering playset after play set of things to build with, and now that most of them are here I don't know what exactly to do with them. I'm really in need of suggestions because I can't make a decision. Below is a list of cards that I have desire to make into something(s?);
Psychic Corrosion and,
Obviously I have more cards than this to supplement whatever the plan ends up being and I don't expect to fit them all together, but if you have any suggestions then shoot. I'd greatly appreciate any ideas. Apparently I'm a netherbeast who has developed the retardations and can't build a sixty card deck anymore...
Load more