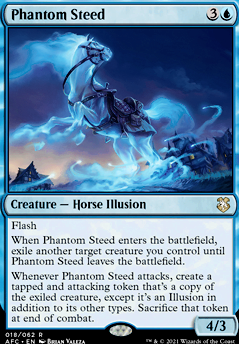 Tokens
Legality
Rules Q&A
Phantom Steed
Creature — Illusion Horse
Flash
When this enters the battlefield, exile another target creature you control until this leaves the battlefield.
Whenever this attacks, create a tapped and attacking token that's a copy of the exiled creature, except it's an Illusion in addition to its other types. Sacrifice that token at end of combat.
1 month ago
Played a game at an LGS on Sunday. First time playing the deck. Only 4 players there and one had to leave early. Can't say the game was high quality. Faced a Yurlok and a Niv Mizzet. Niv player was new to EDH and pretty much net-decked and and then had a lot of difficulty tracking his triggers with Veyran, Voice of Duality and Harmonic Prodigy on the field. The deck had insane ways to control the board if I wanted to, but didn't want to ruin his experience as he's new. Still, was able to make some observations.
I knew the land count was low so I bumped that up to a more reasonable 36. Will have to observe how well that works since we have such high average CMC. Spawnbroker was a a dud. I have low power creatures in this list and couldn't swap for anything useful. Moderation seemed decent, but once you're over that hurdle of the first few turns, you really start to feel sluggish with its limitations. Planar Guide costs too much and is telegraphed. Ebony Owl Netsuke was cute against the Niv player and knocked him out, but was pretty lackluster. Iron Maiden fills this slot nicely.
Perplexing Chimera was game-warping. This card singlehandedly caused mayhem until people coordinated to get rid of it. Great card.
Additions: A land Djinn of Infinite Deceits Juxtapose Phantom Steed Order of Succession
Cuts: - Archaeomancer - Ebony Owl Netsuke - Paradoxical Outcome - Planar Guide - Spawnbroker
2 months ago
2022 Deck Overhaul
The budget version was pretty fun and goofy to play but I started looking for more consistent ways to get through dungeons and win.
Out
In
11 months ago
How does the new card Phantom Steed work with Yarok, the Desecrated ? Specifically about getting the ETB triggers twice. You'd be exiling two creatures thanks to Yarok giving you an extra ETB trigger, but what happens when you then attack with Phantom Steed. Would you get only one copy token, or two? And if it's only one, which of the two exiled creatures would you get? The wording doesn't make it very clear to me.