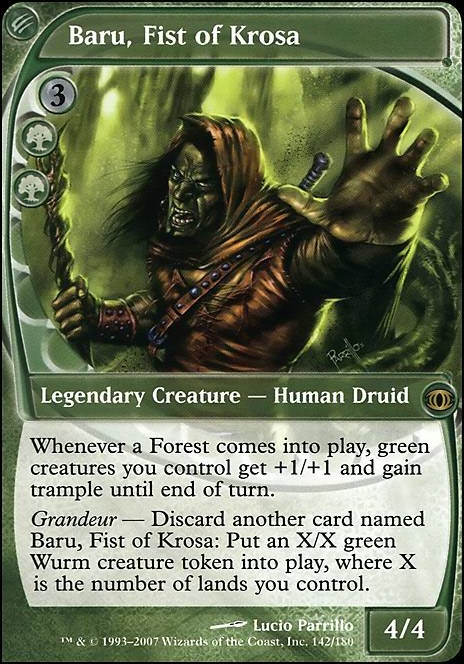 Baru, Fist of Krosa
Legendary Creature — Human Druid
Whenever a Forest enters the battlefield, green creatures you control get +1/+1 and gain trample until end of turn.
Grandeur - Discard another card named Baru, Fist of Krosa: Put an X/X green Wurm creature token into play, where X is the number of lands you control.
Latest Decks as Commander
Baru, Fist of Krosa Discussion
1 month ago
I think I would more or less do the same with the commanders you have laid out so I don't have much to offer there. Instead here are some deck ideas I have planned/currently working on:
Adamaro, First to Desire: Mono-Red group hug
Barrin, Master Wizard: Modular-control deck (Arcbound Ravager)
Firesong and Sunspeaker: Angel Spellslinging
Daughter of Autumn: Damage Redirection Deck (Pariah/Vigor)
General Jarkeld: Block everything! (Hundred-Handed One)
Kentaro, the Smiling Cat: No plains in the deck, maybe cat tribal
Baru, Fist of Krosa | Korlash, Heir to Blackblade: Utilize grandeur
Korvold, Fae-Cursed King: Food token and Stuffy Doll with Gyome, Master Chef and Asmoranomardicadaistinaculdacar as the secret commanders.
Kogla, the Titan Ape: King Kong theme (2005 Peter Jackson)
Yidaro, Wandering Monster: Battle Cruiser (Unpredictable Cyclone/Sneak Attack)
Any tribal deck because tribal is my favorite
8 months ago
Your list looks great. Personally I would make the following swaps:


10 months ago
king-saproling: Thank you for all the recommendations; especially the cuts! It is much easier when people recommend cuts along with additions, instead of just spouting a bunch of possible other cards.
Chromatic Orrery: I try to avoid extremely large mana rocks, it is a huge tempo loss when they are removed as they often are.

Hope of Ghirapur: I may add it one day if my playgroups power level rises or more combos are being used. But it is unnecessary currently.

Throne of the God-Pharaoh: it mainly acts as a cantrip. I don't have enough sideways creatures to make a huge life total difference.

I have been meaning to add Ashaya, Soul of the Wild.

Gilanra, Caller of Wirewood, Marwyn, the Nurturer, Sanctum of Fruitful Harvest, Seton, Krosan Protector: I like the concept but I don't think I have the synergies to make them worth it, or in the case of Gilanra, like you said I have enough card draw. A 3 cmc mana dork isn't a great rate.

However, I really like the synergy of Rishkar, Peema Renegade, Sachi, Daughter of Seshiro, Sakiko, Mother of Summer.

I removed Baru, Fist of Krosa and added Kamahl, Heart of Krosa. I might think about reversing it though since Baru synergizes well with Burgeoning and other green players.

I will think about mana dorks. I do find that lands are safer in the long term though.

I might keep a Gaea's Blessing in my collection to add when facing mill decks.
10 months ago
Cool deck! You might like these: Chromatic Orrery, Hope of Ghirapur, Throne of the God-Pharaoh, Ashaya, Soul of the Wild, Gilanra, Caller of Wirewood, Marwyn, the Nurturer, Sanctum of Fruitful Harvest, Seton, Krosan Protector, Rishkar, Peema Renegade, Sachi, Daughter of Seshiro, Sakiko, Mother of Summer, Baru, Fist of Krosa, Llanowar Elves, Fyndhorn Elves, Elvish Mystic, Bonders' Enclave
You might consider cutting these: Three Visits (doesn't get Reki out faster, whereas Llanowar Elves does. It is cool that the land comes in untapped and is nice with things like Nissa and Vernal Bloom though. I suppose it depends on whether you prefer speed or late-game resilience), Nature's Lore, Skyshroud Claim, Guardian Project (since 40% of your deck is legendary, Reki alone may be enough draw power), Abundance, Vivien's Arkbow, Elemental Bond, Dosan the Falling Leaf (nonbos with Yeva and could mess you up if you need to cast Heroic Intervention in response to a board wipe)
1 year ago
I would consider Baru, Fist of Krosa, he's great in a deck with a ton of forests and green creatures. The grandeur text doesn't work but he makes ramp spells into overruns, which is pretty good. I built a deck with him as the commander once it was cool.
My deck:
---

1v1 Commander Rzepkanut
SCORE: 2 | 266 VIEWS | IN 1 FOLDER
---
1 year ago
FRICK THOUGHT OF MORE:
Magus of the Candelabra (easy combo, all you need is any effect that taps for like a few more mana), Illusionist's Bracers with Arbor Elf or a bunch of other untappers. Nissa, Vital Force and Nissa, Vastwood Seer  Flip are value from top to bottom.
Vorinclex, Voice of Hunger doubles your creature mana too now, and was pretty decent before at least ;)
Multani, Yavimaya's Avatar, Ulvenwald Hydra, Oran-Rief Hydra, Molimo, Maro-Sorcerer, Baru, Fist of Krosa, Sylvan Advocate, etc. all let you convert Ashaya's text into damage, and lots of it.
Deserted Temple is sorta an untapper now xD, and Hunting Wilds and Rude Awakening got a lot more powerful.
Vesuva and Thespian's Stage are now mono-green Clones
1 year ago
Krenko, Mobcaller
Legendary Creature - Goblin
Haste
Tribunal - whenever any player attacks, if red sources you control have dealt more damage than sources that player controls, create X 1/1 red goblin creature tokens equal to the difference.
2/3
---
create a card with grandeur, there have only been 5 cards printed with this ability that I could find. they are Baru, Fist of Krosa, Korlash, Heir to Blackblade, Linessa, Zephyr Mage, Oriss, Samite Guardian and Tarox Bladewing.
Load more