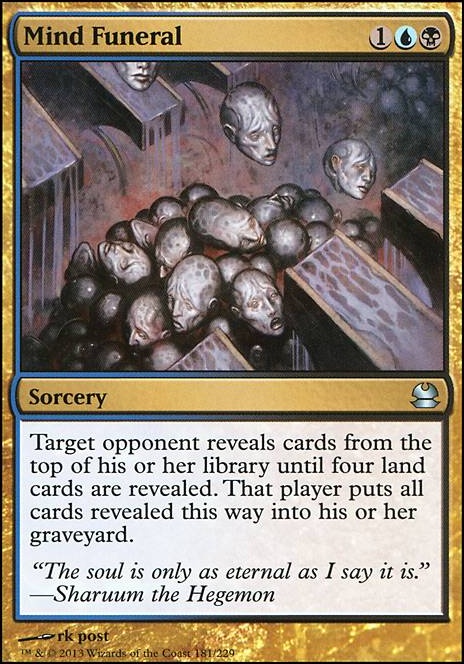 Legality
| | |
| --- | --- |
| Format | Legality |
| Tiny Leaders | Legal |
| Noble | Legal |
| Leviathan | Legal |
| Magic Duels | Legal |
| Canadian Highlander | Legal |
| Vintage | Legal |
| Modern | Legal |
| Custom | Legal |
| Vanguard | Legal |
| Legacy | Legal |
| Archenemy | Legal |
| Planechase | Legal |
| 1v1 Commander | Legal |
| Duel Commander | Legal |
| Oathbreaker | Legal |
| Unformat | Legal |
| Casual | Legal |
| Commander / EDH | Legal |
Related Questions
Mind Funeral
Sorcery
Target opponent reveals cards from the top of his or her library until four land cards are revealed. That player puts all cards revealed this way into his or her graveyard.
Mind Funeral Discussion
2 weeks ago
Yo! Ik zet mijn suggesties hier neer, kan ik makkelijker de kaarten linken enzo
-2x
Cackling Counterpart
deze kan je niet op turn 3 spelen op 1 van je creatures, wat volgens mij de grootste kracht is van deze kaart. plus je creatures zijn niet heel kopieerbaar - enige op wie je het écht wil casten (denk ik) is thief of sanity.
-4x Psychic Spiral erg duur, en er is geen manier om je eigen graveyard te vullen, waardoor het effect grotendeels wegvalt. Goedkopere mill lijkt me daarom beter. werkt ook niet samen met Cast Through Time
-4x Beguiler of Wills dit is geen creature-spam deck, waardoor ie een hoop kracht verliest. Is ook 5 mana, wat best veel is. Je kan haar er 1x instoppen omdat het een erg leuke kaart is. Maar ik denk dat je hier heel vaak van teleurgesteld raakt, omdat jeniet de beste creature van de tegenstander mee kan overnemen. Je hebt waarschijnlijk gemiddeld 2-4 creatures op het veld, en de 5+ power creatures zijn dan buiten bereik
-2x Dark Petition beetje overkill, vind Mastermind's Acquisition leuker. deze is ook 5 mana, en je hebt erg veel 5 mana kaarten al.
-2x Cast Through Time Je hoeft er geen 4 te hebben in principe. Je hebt genoeg manieren om je library door te zoeken voor deze kaart. Daarom zou ik zeggen dat je deze maximaal 1 of 2 keer er in stopt. 7 mana is erg veel, en het effect stacked niet.
-4x Swamp - dan heb je 24 landjes
goedkopere mill dan psychic spiral:
Thought Scour
instant speed, 1 mana, vervangt zichzelf door een kaart te drawn. En millt de opponent een beetje!
Mind Sculpt
,
Glimpse the Unthinkable
(wel dure kaart),
Mind Funeral
kaarten uit graveyard roven: Rise of the Dark Realms , Beacon of Unrest , Mnemonic Betrayal
kaarten uit enemy's hand roven: Silent-Blade Oni
kaarten uit deck roven: Bribery wel een ernstig dure kaart, Talent of the Telepath werkt ook als mill kaart, naast het stelen van instants/sorceries
kaarten exilen en vanuit exile spelen: Praetor's Grasp , Nightveil Specter , Exotic Orchard helpt bij het casten van kaarten van de tegenstander, omdat je automatisch hun mana kan pakken, Gonti, Lord of Luxury , Psychic Intrusion
goedkopere manier om creatures in de graveyard te krijgen: Doom Blade en andere goedkope destroy kaarten
gewoon overnemen van andermans creatures: Control Magic , Soul Ransom , Evil Twin
2 weeks ago
Hey, nice to hear somebody likes mill in EDH! Not to blatantly advertise my deck, but it's one of my four decks which I constantly update every time a new set comes out and whatever, so take a look at it if you want for some advice: "Library.exe has stopped working".
Start from this viewpoint: in EDH, to win, you'd have to mill from 100 (if you are 1 vs 1) to 300 (4 player match) cards to win. It's a huge lot, so your milling has to be reusable, versatile and impacting.
From my experience, since you don't run graveyard recursion for instants/sorceries and you don't run a spellslinger deck anyways, I'd suggest to cut cards like Archive Trap , Mind Funeral , Shared Trauma : these are one use, so either they're super good (take out an opponent kind of good) or they're inefficient.
Hedron Crab is useless in EDH, for real, don't spend that money, it's not worth it (even though it is in modern). Same goes for Jace's Phantasm / Lord of the Void / Oona, Queen of the Fae , which for different reasons don't provide enough for their mana investment. Yeah, 1 mana 5/5 flyer, and now? Mill 5?
Not to mention, you will never ever successfully cast Enter the Infinite : if you really just want to combo out, even a Diabolic Tutor would be a better choice. 12 mana is hardly achievable without mana ramp.
I've noticed a general lack of card draw and this is really dangerous. Consider tweaking this.
From what it seems, I'd say you trusted edhrec.com too much, and again I'd invite you to take a look at my deck above. I play in 4 players multiplayer matches and trust me, there are many other useful cards you didn't consider and many others which are not worth including. Take your time, and once you're ready, tell me and I'll come back to check your changes!
1 month ago
MelinsMagic very interesting take on mill - i like! Feels like (because your deck is very trap focussed) that in some matchups you're in trouble if you don't pull the Field of Ruin . How've you found the games so far? My current mill-build only really runs Damnation as control, so it'd be intersting to hear how the more controlly version, whether you have issues with people out-racing you etc.??
FullmetalWes Mind Funeral is great but Mind Grind is terrible because it's just too mana intensive. Your "combo" is also too unwieldy for modern, as mill can't justifying running more than 1 Fraying Sanity (drawing a second is often a game-loss), and Traumatize is just too slow.
1 month ago
If you can't afford surgical, Ravenous Trap does a good impression.
There is also an alternative for budget mill- dont' play like a burn deck, play like midrange/control.
Mind Grind , Mind Funeral and Grindclock s are enough to win a game on their own, if they are paired with a decent control package.
Cards like Languish , Mana Leak , Dimir Charm , Memory Plunder etc then try to buy yourself as much time as possible. You will want to plan out your sideboard carefully- 'side 15' works wonders with this, swapping low impact cards for marginally more useful (languish for negates for example) does a lot. If you are also digging for the combo kill, some Despise or Duress should carry the rest through. There are also marginal 'pillow fort' options that are low price because they have to compete with Ensnaring Bridge - Storage Matrix in particular can work well. Haunting Echoes is an interesting option for mill, often killing combo-reliant decks dead.
If that isn't your jam Shriekhorn will help speed things up.
2 months ago
If you're going away from creatures then the best budget-ish mill cards are: Fraying Sanity , Breaking , and Mind Funeral . I'd try to build those playsets.
Note: Hedron Crab and Manic Scribe do die to removal, but their mill is awesome and would push toward more mill wins!!!
2 months ago
Always love a good U/B mill. If you want another win con, Duskmantle Guildmage + Mindcrank is a fun one. Check out adding Visions of Beyond if you find that you need more card draw. For your mill spells, definitely look into upgrading to Glimpse the Unthinkable , Archive Trap , Breaking , or Mind Funeral .
I agree with wallisface as well. It seems like you're trying to fit both the creature mill and the spell mill into the same deck. In my experience I haven't really found a U/B list that can do both. This is a great start though!
Happy Brewing!
2 months ago
God, I love mill.
Few competitive thoughts: Ghost Quarter is a MAY search, Field of Ruin is not a choice, it will work better with Archive trap.
Jace's Phantasm feels like a trap, if you're alive long enough to win with it's damage, you should have plenty of time to successfully mill. These slots can be split between interaction and protection.
You need more cards that keep you alive, you can start switching out your little mill (Like Thought Scour and eventually Tome Scour ) and your slow mill ( Fraying Sanity ) for interaction (especially after you fill out your Archive Trap set.
Filling out the Mind Funeral set is an option I would also look at the under the radar Breaking
You need more cards to keep you alive:
Extirpate (much cheaper Surgical Extraction effect, to deal with whole playsets of creatures before they ever hit the field)
Load more
Mind Funeral occurrence in decks from the last year
Commander / EDH:
All decks: 0.01%