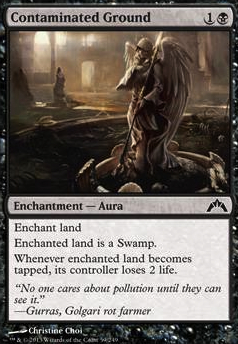 Contaminated Ground
Enchantment — Aura
Enchant land
Enchanted land is a Swamp.
Whenever enchanted land becomes tapped, its controller loses 2 life.
Contaminated Ground Discussion
2 weeks ago
The idea of Spreading Seas is to also work with mind bend. It turns the non-basic land into an island, allowing it to then be mind bended. I do see how this may be annoying against a deck that isn't running any islands, but it gives you an early game solution.
If you are facing a deck that runs swamps, then use Contaminated Ground.
1 month ago
Hi, I have 1 question:
What card would you include in this deck, instead of Contaminated Ground if you were playing against a mono black opponent?
Thank you, Nice deck.
1 month ago
dilonovich, I picked up the High Priest of Penance the other day because I found a playset in a junk rare box at my local place. Though it is pretty useful, I think that I might be switching him out as you mentioned; good removal but just not enough panache. Thrull Parasite used to be in this deck and I actually like him a lot! I was thinking though, perhaps I'll just take out high priest, and then add in more Contaminated Ground and Blind Obedience?
| | |
| --- | --- |
| Color(s) | Black |
| Cost | 1B |
| Converted cost | 2 |
| Avg. draft pick | 6.11 |
| Avg. cube pick | 8.05 |
Legality
| | |
| --- | --- |
| Format | Legality |
| Heirloom | Legal |
| Legacy | Legal |
| Vintage | Legal |
| Commander / EDH | Legal |
| Modern | Legal |
| Duel Commander | Legal |
| Pauper | Legal |