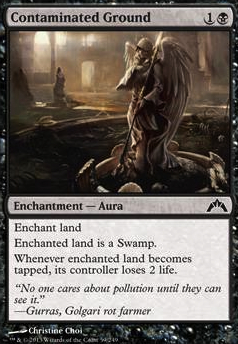 Contaminated Ground
Enchantment — Aura
Enchant land
Enchanted land is a Swamp.
Whenever enchanted land becomes tapped, its controller loses 2 life.
Contaminated Ground Discussion
3 weeks ago
Have you tried Contaminated Ground? It wrecks burn of any kind, it can slow down your opponents a lot in the early game if they don't use black, if they do then they take 2 damage for using it everytime
1 month ago
The problem with Sun Droplet is that RDW packs plenty of artifact hate in the sideboard. Enchantments are always safer (not so much now that Boros burn became a thing, but still), but there aren't any in Sultai colors that I know of.
I agree with GlistenerAgent, cheap counterspells are the best you can do against burn. Spell Pierce, Spell Snare and Countersquall in case an Eidolon sneaks past you.
That, or you could just attack their lands. Contaminated Ground, Sea's Claim, Evil Presence, Spreading Seas... I feel like a jerk for even suggesting that, but land hate DOES kick any burn deck straight in the nuts.
2 months ago
The idea of Spreading Seas is to also work with mind bend. It turns the non-basic land into an island, allowing it to then be mind bended. I do see how this may be annoying against a deck that isn't running any islands, but it gives you an early game solution.
If you are facing a deck that runs swamps, then use Contaminated Ground.
| | |
| --- | --- |
| Color(s) | Black |
| Cost | 1B |
| Converted cost | 2 |
| Avg. draft pick | 6.19 |
| Avg. cube pick | 8.05 |
Legality
| | |
| --- | --- |
| Format | Legality |
| Heirloom | Legal |
| Legacy | Legal |
| Vintage | Legal |
| Commander / EDH | Legal |
| Modern | Legal |
| Duel Commander | Legal |
| Pauper | Legal |