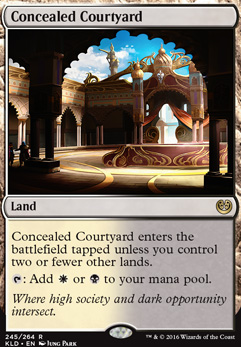 Concealed Courtyard
Land
Concealed Courtyard enters the battlefield tapped unless you control two or fewer other lands.
: Add or to your mana pool.
Latest Decks as Commander
Concealed Courtyard Discussion
3 days ago
Wabbajacke a typical Lanturn control list would look something like this:
So, if you're wanting to keep to just blue and black, and include Circu, Dimir Lobotomist, then I would suggest a list that looks something like this (you'll note the deck can be a lot more tool-boxy than the above because Whir of Invention lets us search for whatever we want, so for example we only need 2 bridges):
4 months ago
Are you sure you want this to be a modern deck? It could currently either be a modern or a pioneer deck, and you should probably choose one and stick with it.
If you choose modern, Doomed Traveler fits the theme of the deck pretty well. Teysa, Orzhov Scion is a powerhouse that gives all your creatures afterlife, doubles as removal, and is another instant-speed sac outlet. Honestly, she's the only reason I would consider playing an afterlife deck in modern. Xathrid Necromancer is another option that generates tons of tokens off of most of your creatures, and it works really well with Hero of Precinct One .
For lands, there's Marsh Flats , Concealed Courtyard , and Isolated Chapel . Vault of the Archangel is very strong in any token deck.
This deck definitely needs a playset of Fatal Push for removal which works in either format, plus maybe some Path to Exile or Vindicate if you choose to stick with modern. Mortify is bad in both formats so I'd cut it. 4x Kaya's Wrath is definitely overkill and might not be the best choice, since even though your board would have a bunch of spirits it would still wipe a lot of your creatures.
Giant Killer is just bad outside of standard. Athreos and Ethereal Absolution are also too slow, and I don't think Sorin adds enough to the gameplan to justify including him. Teysa Karlov obviously synergizes a lot but I'd take her out since she doesn't have any immediate board impact (while the other Teysa can have its abilities activated at instant speed to do a bunch of stuff in response). Not sure if Corpse Knight is worth it either. The other Athreos, Athreos, God of Passage , might be worth trying as a 1-of.
8 months ago
Hey, good start on a budget.
Cards to consider cutting to make 100 cards:
Beacon of Immortality
Kazarov, Sengir Pureblood
Vein Drinker
Defiant Bloodlord
Mirari
Grisly Spectacle
Archetype of Finality
Arvad the Cursed
Teysa Karlov
Captivating Crew
Bishop of Binding
Regal Bloodlord
Tempt with Immortality
Solar Blaze
Commander's Insignia
Congregate
---
The cuts to consider above will reduce the mana curve a lot, but consider reducing it even more by adding more low CMC Vamps: one drops and two drops? With Edgar you want an established battlefield of Vamps to attack before you cast him. Lower CMC Vamps gives you more Vamps on the battlefield because each one also creates a Vamp token. Edgar is the high CMC Vamp you want to cast more the than the others therefore you don't really need lots of other high CMC Vamps or even high CMC nonVamp cards.
Vamps to consider adding that are $1-$2 each, most are less than $1:
If your budget allows more then these tribal Vamps are powerful upgrades:
---
Some budget land upgrades for the manabase:
If interested I offer more advice. Good luck with your deck.
1 year ago
Hey there! You mention the mana base needing some help in your description, and if you're still looking to work on that, maybe consider some of the following cards! Many may be out of budget, and you could possibly have been aware of them all already, and if that is the case I hope this can be of use to you as a reference!
Since you have the two temples, you may want to include the last one, Temple of Malice. Even though you don't run too many / cards, you still need that colored mana to cast Licia, and so you want a relatively even mana base. Same goes for the last pain land, I'd recommend including Sulfurous Springs since you have the other two. Since you're also gaining a lot of life, and because they are great in general, you may want to take a look at Blood Crypt, Godless Shrine, and Sacred Foundry, (the shock lands) which function very well, especially with the following cards: the fetch lands. Bloodstained Mire, Arid Mesa, and Marsh Flats are some of the best lands in the game! These can search for the shock lands, not just basic lands, allowing you to get any colors you need from just one of them! While that whole set is pretty expensive, it may be something to think about for the future. Now on the cheaper side, there are the wonderful fast lands, Blackcleave Cliffs, Concealed Courtyard, and Inspiring Vantage, which can help you support your early fundamental turns quite well! If you wish to include a lot of basics/shock lands, you may want to think about having the check lands, Dragonskull Summit, Isolated Chapel, and Clifftop Retreat, which tend to be great and also lay on the cheaper side. Last but not least, there are the filter lands, Graven Cairns, Fetid Heath, and Rugged Prairie! Now that said, here are some non-dual lands that could really help fix the mana base quite a lot that I would recommend: City of Brass, Mana Confluence, Ancient Tomb, Prismatic Vista, Fabled Passage, Reflecting Pool, Exotic Orchard, Strip Mine, Wasteland, etc.
Now enough about lands! Here are some ramp spells you might like. Land Tax, Arcane Signet, Commander's Sphere, Talisman of Conviction, Talisman of Hierarchy, Talisman of Indulgence, Jet Medallion, Pearl Medallion, Ruby Medallion, Sol Ring, Gift of Estates, Weathered Wayfarer, Chromatic Lantern, etc!
I also have a mardu deck, (A Deal With the Devil EDH ⫸PRIMER⫷), so if you want to check out most of the cards I mentioned on a list, feel free to pop in there! Anyways though, I hope this helps, good luck on your deck, and have a wonderful day! Happy tapping!
1 year ago
I built a displacer deck around Skyclave Apparition, so you may want to try it instead of your Brain Maggot because when Skyclave Apparition dies, your opponent only gets an X/X token does not get their card back, whereas when Brain Maggot dies, your opponent does get their card back.
I would also suggest adding 2 more Concealed Courtyard and 4 Brightclimb Pathway  Flip and removing 3 plains and 3 swamps because starting the game with the right type mana will allow you to play the right card at the rigtht time, which will help you win the game.
Also Blight Herder is a really cool processor card that i didn't know existed, so I may have to play test it to see it's value in my processor deck.
My deck for reference: https://tappedout.net/mtg-decks/eldrazi-displacing-everything/?cb=1603597022
Load more