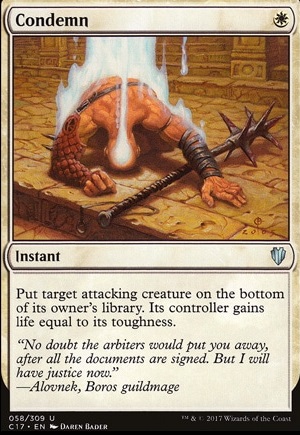 Condemn
Instant
Put target attacking creature on the bottom of its owner's library. Its controller gains life equal to its toughness.
Browse Alters
View at Gatherer
Trade
Legality
| | |
| --- | --- |
| Format | Legality |
| Block Constructed | Legal |
| Highlander | Legal |
| Leviathan | Legal |
| 1v1 Commander | Legal |
| Canadian Highlander | Legal |
| Legacy | Legal |
| Modern | Legal |
| Oathbreaker | Legal |
| Unformat | Legal |
| Noble | Legal |
| Magic Duels | Legal |
| Commander / EDH | Legal |
| Duel Commander | Legal |
| Penny Dreadful | Legal |
| Vintage | Legal |
| Casual | Legal |
| Tiny Leaders | Legal |
| 2019-10-04 | Legal |
Condemn occurrence in decks from the last year
Commander / EDH:
All decks: 0.02%
White: 0.39%
Condemn Discussion
3 weeks ago
Help me out here - why run Survivors' Encampment in a mono-white deck? You have no use for nonwhite mana and no card that cares about deserts. Wouldn't it be better to replace them with basic Plains? This also doesn't really feel like a sensible home for Reliquary Tower, since you have exactly one way to draw more than one card per turn. White isn't known for getting a huge hand size.
If you want to run a cool nonbasic land, Emeria, The Sky Ruin is a good fit for slow decks with big creatures like this. You'd probably want to drop the Seraph Sanctuaries for Plains if you ran it, but being able to bring an angel back every turn is huge!
Speaking of being slow and big... I think you might have too many expensive cards and not enough to do early in a game. Big powerful angels are great, but... they won't help you if your opponent can beat you down before you have enough mana to cast one, you know? I'd consider cutting out some of the weaker "big" cards - such as Angel of Renewal, Angel of the God-Pharaoh, Seraph of the Suns and Voice of the Provinces - for cheaper cards that can help you survive long enough to play your big cards. Good options I'd consider include Wall of Omens, Condemn and Wing Shards. Another option is getting to play your big cards faster with some acceleration like Marble Diamond, Worn Powerstone or Oketra's Monument.
Hope this advice helps your deck be all that it can be!
1 month ago
Seabody & alexjustdoit thanks for sharing your thoughts, much appreciate, I was not familiar with Condemn to be honest, in some ways that even seems better than swords.
I wasn't especially hot on Angelic Ascension but have seen some hype for it and was keen to get your inputs. Thank you again.
1 month ago
I think Angelic Ascension is a pass for me. I can just see someone getting spiteful with that 4/4 and us having to find a way to deal with it. I would run Swords or Path over this. If you're looking for another of this type of effect Condemn isn't too bad. In a different vein I like Generous Gift - you still give them a creature but it has no evasion which makes it much easier to manage and Gift hits anything. With out deathtouchers they are more like't ti send the elephant elsewhere which is good news of us.
2 months ago
Budget lists have a tool more optimised lists do not- your opponent will not know your decklist. Lean into this by starting with a sideboard planned, or multiple sideboards planned for different metas.
So lets start with what 'monks' does great at- seeker and SGM give lifelink, Swiftspear is the premier aggro card, and yun shu gives one-shot potential with a big prowessy-double striker when you have the mana. Burn spells and mantis rider are there to help finish the game.
There are a few ways to twist this to surprise your opponents- the 'go off all in one turn' by banking mana with things like Pentad Prism while setting up with cards like opt, before playing like a Kiln Fiend combo deck with a 10/10 double striker (or just a 6/6 with 8 points of burn). In this build protective spells will be essential, while minimising Yun Shu forecast (or playing it as a deadly threat one week, while using him as a removal magnet for a different combo the next)
There is the 'surprise, I'm now value/grind' Soulfire Grand Master/Lightning Helix control list, where you sit with a Negate until the end of their turn then bolt them, while in most configurations you are just trying to hit them with prowess and negate their spells.
There is the 'classic burn' run the damage numbers and just trade your attackers with their blockers before hitting face with bolts.
There is the U/R tempo Remand archetype, where you try to delay your opponent while efficient creatures eat their face. Mission Briefing isn't Snapcaster Mage for this style, but can still work.
There is the 'true' midrange tax list where you play narset & tferi in place of some of the remand elements in the above list. Narset makes a good source of card advantage without breaking the bank.
Finally there is the 'unfair combo' that does things like like cast Reforge the Soul or Knowledge Pool to lock your opponent out of the game in concert with a plainswalker, or jank out a win with Mystic Sanctuary/Time Warp/ soulfire grandmaster.
You probably have space in your seventy-five for three of these, but the less focussed any 60 cards is on one plan, the worse it will perform. Fortunately there is a lot of overlap between lists- any aggressive list will like bolt and swiftspear, any more interactive list opt, etc.
By carefully picking your cards your opponent will have no idea which plan you are on maindeck, and no idea if the sideboard will transform you into another archetype. With a few swapped cards, the next FNM is completely different. This is the advantage of rogue decks- your opponent should not know the correct line of play.
In specifics; Deflecting palm is fantastic, but most of the time I want it in the sideboard to fight other aggressive decks. Pariah while cool rarely performs well outside combo lists, and even there is competing with more powerful options. Pacifism is usually outperformed by true removal- a few of the variants have deck-specific purposes, but unless you desperately want creatures on the field for Stuffy Doll/Blasphemous Act, its worth cutting for Roast/Negate/Mana Leak/Remand/Path to Exile/Condemn etc. Play to your gameplan.
Load more