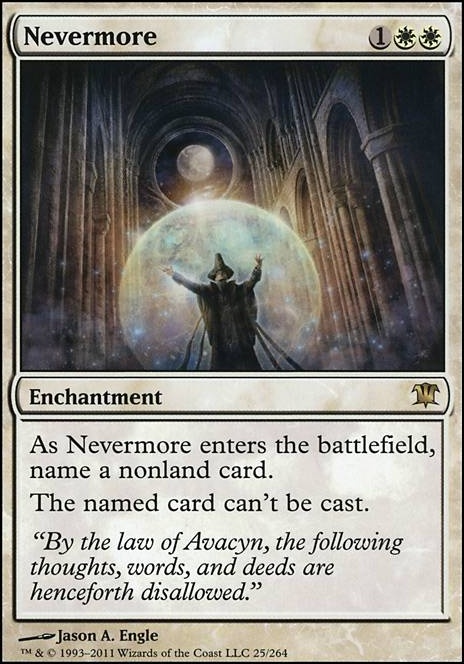 Nevermore
Enchantment
As Nevermore enters the battlefield, name a nonland card.
The named card can't be cast.
Browse Alters
View at Gatherer
Trade
Legality
| | |
| --- | --- |
| Format | Legality |
| Tiny Leaders | Legal |
| Noble | Legal |
| Leviathan | Legal |
| Magic Duels | Legal |
| Canadian Highlander | Legal |
| Vintage | Legal |
| Modern | Legal |
| 2019-10-04 | Legal |
| Block Constructed | Legal |
| Vanguard | Legal |
| Legacy | Legal |
| Archenemy | Legal |
| Planechase | Legal |
| 1v1 Commander | Legal |
| Duel Commander | Legal |
| Oathbreaker | Legal |
| Unformat | Legal |
| Casual | Legal |
| Commander / EDH | Legal |
Nevermore occurrence in decks from the last year
Commander / EDH:
All decks: 0.01%
Nevermore Discussion
1 week ago
Chivalry is Dead!
"Don't ask my name, it's long since I forgot
if once I had a name, a home, a wife?
No words of fame or valor is my lot,
and yet my quest continues past this life."
4 weeks ago
Without Possibility Storm the deck does okay, although not great and it's obviously better with it. The nice thing is Possibility Storm helps protect itself against things like enchantment removal, since they have to hit it from their library to actually cast it. If they are able to destroy or counter Possibility Storm, the deck has Crystal Chimes and Trading Post to get it back although that certainly is not ideal.
As for cards like Nevermore and Meddling Mage, I actually have never come up against them. Meddling Mage could be dealt with using one of the wraths or removal spells, but the only answer for something like Nevermore is pretty much Spine of Ish Sah. I have considered adding Unstable Obelisk for another, similar option, but both are pretty expensive which can be frustrating.
Something like Curator's Ward might be worthwhile. Like I said, I mostly rely on Possibility Storm's natural ability to dodge removal but I have not played against a deck with lots of dedicated enchantment removal that I can think of. Keeping Possibility Storm alive is definitely something the deck wants to do.
As for Mirage Mirror, I remember looking it over when it was first spoiled but I haven't thought about it in the deck too much. It definitely could fit as a utility artifact, though, and I'm sure it could combo with something in the deck.
1 month ago
Seems pretty narrow. I mean, what if someone blows out your Possibility Storm or ends up casting Nevermore, Meddling Mage or something else that locks you out of Possibility Storm?
You could throw in something like Curator's Ward to protect your Possibility Storm or even an artifact or legendary since you can draw cards off enchantee's LTB.
Have you considered Mirage Mirror?
1 month ago
I'll cede the Nevermore point to you, the commander does indeed slip through it and yes I also know the card isn't played. The larger overall point though is that at any table you only have control over 100 of the 400 cards that see play and being vulnerable to a single card that shuts down your entire strategy is a liability. Especially when you play paper, people don't have 100% powered lists and often substitute hoser or situational cards. Regardless, the deck is still 100% dependent on the commander sticking on the table, and its practically your only source of card advantage. Any deck that handles the commander easily is going to shit all over your pile of 99. Replace Nevermore with Lignify or Kenrith's Transformation or Darksteel Mutation or Song of the Dryads or Imprisoned in the Moon and you have the exact same problem, your deck is shut off when your commander is handled. Rather than engage the actual logic of what I'm saying, you and your buddies are getting caught up on specific cards instead of overall types of interaction.
This deck crumples if it can't get commander triggers. That is the point I've been making. Stop misconstruing it.
You'll notice how when I talked about alternate costs, I even said you don't cast it for the regular CMC normally. I did say that in some situations, especially in grindier games, you may find yourself in a position where you end up casting the actual CMC of cards like Force of Negation as you don't wish to -1 card advantage your hand and you're packing the mana. Once again, why do you ask me if I'm reading your primer when you aren't reading my replies?
Yeah its neat that misdirection handles spells, I never said it didn't. I said it doesn't handle the 3 most important spells resolving in the format right now. I am well aware how it interacts with uncounterable cards. Once again, are you reading what I'm writing? Losing a permanent to Abrupt Decay sucks but losing the game to Tainted Pact is 100% worse. This is extremely easy comparative logic for anyone who is trying to win games.
I never spoke badly about Dark Ritual except to note its a consumable piece of mana, and doesn't help you in creating turn loops. I have no problem with its inclusion.
You must be seriously new if you don't understand that when I say Pyroclasm and variants, I'm talking about cards besides simply Pyroclasm. Every time I've mentioned it I've talked about pyroclasm effects, I'm talking about Anger of the Gods Earthquake Toxic Deluge Rolling Earthquake Fiery Confluence Sweltering Suns Fire Covenant Sudden Demise and Subterranean Tremors. There are also all kinds of "Destroy all creatures" effects that I didn't list. Yes, I am highly aware that 2 damage from pyroclasm doesn't kill Yuriko, but it sets back your board state, and all the other pyroclasm VARIANTS do kill Yuriko. This strategy is also seen in decks like Ruric Thar or Keranos. Its more usually seen in tier 2 decks that are able to engage the meta due to how creature heavy the current meta is. Being proud for playing cedh but only playing against 6 different decks doesn't really give you a huge representation of the viable decks in the format. It means you're still new. Yes its good to be aware of the tier 1 decks and the commonly played decks, but if you're running into more fringe decks that are able to leverage these kinds of cards against you, your deck is going to lose in more places than it should. Especially since many tier 1 partner decks are able to utilize these creature blow out cards with things specifically like Sudden Demise.
This leads into Xantcha being a competitive deck. It is 100% a competitive deck, there are decks besides Flash Hulk you need to be aware of. Especially in the current creature heavy meta, continuously blowing out the board turns your Pyroclasm effects into 3-for-1 or 4-for-1 trades to keep ahead of Blue and Green decks. It isn't a tier 1 deck, but if you play cedh you'll run into this deck or another deck that trades specifically on big creature hate. http://tappedout.net/mtg-decks/xantcha-combo-control/
Similarly, you'll run into a planeswalker commander like Animatou that is able to run big creature hate effects like Humility that once again, completely blow this deck apart.
I am not friends with SolelySelesnya and I don't know him personally or online. I just find these lists haven't explored new territory with Yuriko.
You guys can spend all day saying I'm rude until you're blue in the face, but I made a simple comment on both lists asking why they didn't run a specific card. Rather than respond, or tag me, or answer me, they deleted the comment and wrote a note about it that I received no notification for, and had to dig to find. Me posting on their lists is not passive aggressive, not being able to even respond to a comment and deleting it is passive aggressive. Also why complain about my tone when you use the same post to engage in the exact behavior you're so mad about? If you had just taken 3 minutes to respond giving your very basic reasoning for card justification instead of deleting comments, we could have had this conversation without you getting upset.
Now to respond to Rad Dummy specifically
If you don't think pyroclasm is cedh playable you need to reevaluate. Look at the proliferation of green due to the 7 mana different turn 1 mana dorks available to the color. Players keep 2 land hands because it includes a Llanowar Elves. Look at the amount of hatebear strategies that are significantly chipped away at from Pyroclasm and variants. Look at value enablers like Edric, Spymaster of Trest or even just Dark Confidant that are blown out by Pyroclasm. For real, the card definitely sees play. Board wipes ARE relevant for Yuriko because without a creature on the board you must cast then pass, not getting the immediate card advantage trigger. You also lose further card advantage from not being able to land other ninjas on players too for additional triggers. Your inability to see this makes me think little of your critical faculties.
Diving Top is indeed a grindier card, but you're missing the point I've been making the entire time. Your ONLY pile cracker outside of your commander is Brainstorm or Thought Scour. When your commander isn't available, your DD is a dead card in hand. Rather than respond to this point, you keep sidetracking about how its too much mana investment or only good for grindier games. Not every game is going to curve perfectly into a turn 4 or 5 win. Running DD and only running a pilecracker via your commander is short sighted. Rather than respond to that point, you keep sidetracking. Have you considered that maybe Doomsday isn't the exact same strategy as the rest of the Yuriko deck? Maybe by choosing to slot DD, you have to include build around cards to help find it and resolve it smoothly?
Its neat that you're getting real upset and want to patronize me about math. I only talked explicitly about mana costs, and didn't misspeak. The ability to start the time warp with 5 mana and take the extra turn into the land drop for the 6 mana for the loop is neat and should be included in the primer for the combo, but the combo has far bigger problems. You also never responded to my point about assuredly getting to 6 mana reliably with 29 lands and 4 pieces of ramp, only 3 of which can execute the loop. You're assuming a lot of Yuriko triggers that are not guaranteed. Once again, the back up combo still relies heavily on getting Yuriko triggers. It isn't helping you in match ups where Yuriko struggles.
Breezecaller is a creature and can be removed by LITERALLY any color at any point to disrupt the combo
Mystic requires 3 other islands in play, meaning you absolutely 100% cannot start the combo before turn 4 at the earliest
Mystic requiring 3 other islands means you are vulnerable to Strip Mine or Wasteland or MLD while setting up
Mystic returning from GY means literally any piece of targeted grave hate stops this combo. Any deck can run Tormod's Crypt, while many opt for more efficient pieces of GY removal or GY hate
Time Warp requires a cast every time and can be disrupted. It can also be Misdirection'd lol
Extra turn hate is present in some decks especially in the form of Stranglehold.
The combo is basically hoping everyone is tapped out or has 0 instants in their hands. While it may be slot efficient with other things that you wish to run, it is by no means efficient or fast overall.
I know you're trying to carve out a name for yourself, but you are clearly inexperienced. Playing against 6 decks that are copies of Shaper lists doesn't encompass the entirety of the competitive scene. Both this deck and your own list are extremely vulnerable to a handful of cards and a couple overarching strategies. Rather than engage critically and employ your big boy thinking pants, you would rather split hairs over "Xantcha could NEVER be competitive viable" or "Go watch casual YT video". My point stands. Rather than engage with honest critique, your ego is much too fragile to imagine that maybe the list you made has problems and isn't perfect. @ me if you wish to continue further discussing these points, otherwise lets save both of us any future headaches and leave this be.
1 month ago
dingusdingo Your comments on my deck as well as MadCat's were rude and disrespectful. That is why I blocked you and deleted your comment. You really need to learn how to approach people online or in-person with humility and respect. Something strange happens and you get it in return, it's a novel idea. Unfortunately that ship has sailed.
I agree with metalemmanuel regarding Nevermore. I play a lot of cEDH, primarily vs. Thrasios paired with Vial, Tymna, or Kraum, Najeela, Kenrith, Gitrog, etc. These are the top-tier decks of cEDH and I have never once seen someone play Nevermore. As the above comment points out, Yuriko is unaffected by this casual card.
As for Pyroclasm, again, a casual card, not even remotely cEDH viable. Maybe you were thinking of another card that is used frequently in cEDH like Fire Covenant? And again, board wipes are largely irrelevant when it comes to Yuriko. She is very easy to recast and you never have to pay commander tax.
Divining Top is great in grindy decks that that play the long game. My deck does not, it's just something to dump mana into and is largely irrelevant after the first spin. Abjure is a great counter and even better in most Yuriko builds. My current build is not one of them, it's full of artifact creatures and it's a tempo-loss that I don't want to incur.
As for MadCat's turns combo, math is hard so I'll help you out. It only takes 5 mana. Have 3 Islands in play and 2 other lands. Cast your turn spell, then play Mystic Sanctuary putting the turn spell back on top of your library, then move to your next turn, tap a land and Mystic adding 2 mana, bounce Mystic to your hand, and untap the other land using Oboro. It doesn't even need a Yuriko trigger, but if it's open that's 5 damage a turn. Rinse and repeat. It's a great combo that only requires 1 slot in Oboro Breezecaller.
Lastly, the real clown is someone who would play Nevermore, Pyroclasm, and mention Xantcha in the same breath as cEDH. Now go catch up on your Game Knights episodes and stick to the casual table.
1 month ago
dingusdingo First Nevermore is never ever played in cEDH and it doesnt even affect Yuriko since Yuriko isnt cast at all.
Sol Ring is just a preference. It can be good, can be bad depending of your starting hand. If you also have another mana rock and enabler it can be amazing. I do agree it is amazing in a turn build, but he doesnt like it.
Dark Ritual is still amazing ramp for and mana either way and it is super efficient at one black
Misdirection is strictly better against a lot of the Uncounterable spells present in cEDH and isnt even that bad in a counter wars. It is still free
Swan Song is a good counter I wont say the opposite , but in his meta it is likely worse. I wouldnt play Tale's End if it was me, but he has probably reasons for it.
Pyroclasm doesnt kill Yuriko First. He still has other counters to counter Pyroclasm.
Whiplash Trap Contagion arent amazing in creature-less meta, but in a meta with a lot of dorks i can understand his reasoning.
About the no Top List... Again Top is a preference. It is an amazing late game grinding tool when you have the mana for it and can help in a pure burn/turn list like Selesnya, but in a more controlly/tempo one, you need all the mana available.
You are just being a rude guy and there is no need to be super agressive and treating him of clown. Maybe you are defending your friend, but no need to be passive/aggressive. You did make your point but it was unecessary to be rude.
I played against one of them with my Kess List (not updated on tapped out, it is a fully fledged one) and I was surprised by their differents build.
The Yuriko discord is a lot bigger than him and the other guy I'm pretty sure, and your "friend" selesnya should maybe come to the discord to discuss his choice
1 month ago
MadCatMax I gave a very clear reasoning. You are able to hit your infinite turns combo much faster if you are able to pay the mana reliably.
Your combo costs
for the Oboro activation
Play a land and have at least 3 other islands in play
Cast Time Warp for
Total cost is
3 Islands + Mystic provides
There is still required every execution of your turns loop
You run 3 rock accelerators in a 99 card deck, and also Dark Ritual which is not effective for the loop
Even utilizing the untap effect from Oboro on one of your own lands, the earliest you can rip this combo is turn 6 without accelerators.
This is assuming you hit a land drop every turn for 6 turns. 29 lands, probably not.
You have colorless mana costs in Intuition Oboro Breezecaller Commandeer Force of Negation Misdirection Spellstutter Sprite Tale's End Gingerbrute Tetsuko Umezawa, Fugitive Fallen Shinobi Ingenious Infiltrator Mist-Syndicate Naga Mistblade Shinobi Sakashima's Student Skullsnatcher Universal Automaton Brazen Borrower Contagion Cyclonic Rift Snuff Out Submerge Whiplash Trap Back to Basics Chains of Mephistopheles Cursed Totem Grafdigger's Cage Scroll Rack Temporal Manipulation Temporal Mastery Temporal Trespass Time Warp Demonic Tutor Diabolic Intent Hope of Ghirapur and Snapcaster Mage. That's 35 cards, literally exactly half of your non-land cards. Of course you can argue that a handful of these have alternate costs that don't include colorless mana, such as the pitch-to-play and some of the ninjutsu, which removes 10 cards from the "uses colorless mana" list. Either way, a quarter of the actual cards you draw and a third of the non-land cards you draw use colorless mana, and the alternate cost cards you will undoubtedly sometimes pay full price for when games go long and resources are available. I didn't even count your two burn cards.
I know you're trying to be clever by cutting slots, and I know this deck doesn't have the explosive plays of hitting Sol ring into mana rocks. Don't try to reinvent the wheel and get clever by cutting mana positive rocks in a deck that uses mana.
My comment is more directed at your friend, who I wrote a very elaborate response to as for inclusions for Sensei's Top in his Doomsday list, and how being reliant on your commander and creatures entirely for card advantage as well as pile cracking is setting him up for failure. Rather than respond, he chose to delete and block me. These decks have a bigger overall problem of being decent competitive decks against most match ups, but absolutely entirely worthless against certain match ups that completely hose the strategy because of how reliant on the commander these decks are. Nevermore on your commander either causes you to scoop or pray for amazing top deck. Repeated Pyroclasm effects resolving cause scoops. Choosing to run Misdirection over Swan Song means if you're counting on Misdirection to stop Pyroclasm you're scooping, or if you're counting on it to stop Demonic Consultation or Flash or Tainted Pact you're scooping. Yes I know it makes a bird token for blocking, but slotting bad cards is your biggest problem.
No I'm not joining your discord. You two are clowns, enjoy brewing your mediocre deck on your own. I'll enjoy the free wins if I ever end up in a pod against someone playing one of these decks.
Load more