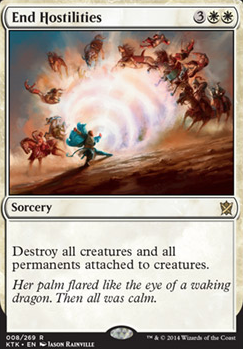 Legality
| | |
| --- | --- |
| Format | Legality |
| Tiny Leaders | Legal |
| 1v1 Commander | Legal |
| Magic Duels | Legal |
| Canadian Highlander | Legal |
| Vintage | Legal |
| Modern | Legal |
| Penny Dreadful | Legal |
| Custom | Legal |
| Leviathan | Legal |
| Legacy | Legal |
| Frontier | Legal |
| Duel Commander | Legal |
| Oathbreaker | Legal |
| Unformat | Legal |
| Casual | Legal |
| Commander / EDH | Legal |
End Hostilities
Sorcery
Destroy all creatures and all permanents attached to those creatures.
End Hostilities Discussion
1 month ago
Any GW/x deck should be sufficient. Perhaps a Trostani Discordant token build to support Aura Shards and Nullmage Shepherd?
-
There's only so many artifact removal options you can put in a deck. The above and what you already mentioned should be more than plenty for whatever you decide to put together.
4 months ago
some inexpensive board wipes include Fated Retribution , Akroma's Vengeance , End Hostilities , Hallowed Burial , Phyrexian Rebirth , Rout , and Solar Tide .
Kamahl, Fist of Krosa is another way to turn opponent's lands into creatures. as is Quirion Druid and Verdant Touch
As for enabling your frostwaker there is Fyndhorn Brownie , Magewright's Stone , Niblis of the Breath , Puppeteer , and Puppet Strings . some of those are bound to be inexpensive, and adding in a handful of boardwipes and enablers for that strategy would lend itself to doing that strategy more often.
4 months ago
Removed:
Added:
6 months ago
Heya Fans, and welcome back to our show. After some practice with our potential new hires we come to our first look at what fresh acts we can bring to the audiences.
After much hiring and firing, then rehiring again, and many hours of choreography, I am happy to report we have had decent results. And that I'm convinced there could be physical changes made. If you disagree or think of something better, please share your thoughts in the comments.
These changes aren't so deck altering as some of the others I am still considering, but I'm still not 100% on them. Need some outside input.
Wandering Eye or Fog Bank - Ingenious Thief : Eye gives away our own information, Fog does nothing against trample. Thief however can be blinked and doesn't pose a large threat stats wise.
Hanna, Ship's Navigator - ???: Closest things I could find that flies is Razor Hippogriff , Sanctum Gargoyle , and Griffin Dreamfinder but that only covers half. Or is this ability really necessary, can we work around our toys being removed and use this spot to fit something new?.
Azorius Keyrune & Ojutai Monument : for lack of a better word they seem 'cute' now. They seemed useful at first because they turned into flying creatures that shared the benefit other flyers do. Better rocks? Keep? Replacements could include Fellwar Stone , Basalt Monolith could be blinked with Brago... unsure what else is good and not overly expensive.
Favorable Winds : Is it really necessary, amid the other +'s it seems the least shiny, even though it's foiled.
Stay tuned for more to come! We're always trying to keep fresh acts, and as accidents happen replacement performers will hopefully be swift coming. Don't forget the suggestion and vote box on your way out. See you next time at The Circus!
8 months ago
Hey there!
Nice brew, neat idea to counter those clunky and annoying Vannifars!
As smne who played Mono-W Stax for a while, with the amazing Hokori, Dust Drinker at the helm, I'll share with you what thoughts inspire me your sweet Linvala decklist.
(Even if it has already been pointed out before, I wanna say that I also love the Urborg combo. It's unexpectable and freakin' gud!)
Let's start by the beginning: mana fixation. Extraplanar Lens is insane in every monocolored archetype, so it's a quite logic inclusion you made here. Nonetheless, I suggest you to go for Snow-covered lands to synergize better with it - that way you won't give a lift to your opponents playing white.
Pearl Medallion and Sol Ring are basics, nothing really worth to say about it. Thran Dynamo and Worn Powerstone are more debatable. I don't know what is your budget issue, but if you want a competitve list, Mana Crypt , Mana Vault , Grim Monolith , Mind Stone , Everflowing Chalice etc. are all better options. Dynamo and Powerstone aren't bad cards, but they just come after those ones if you really do need a solid ''ramp'' package.
Opal Palace feels badly slow and ineffective in a monocolored stax deck. You won't win the game by taking up the board with your creatures armed of a little +1/+1 counter.
You have notable exclusions in your lands for a mono-white. Eiganjo Castle is the first card that comes through mind. Buried Ruin also is a recursive tool you should consider, even over Inventors' Fair . If you manage to find one, Ancient Tomb has its place there replacing Temple of the False God .
At its final shape, my Hokori decklist was running a powerful Crucible of Worlds package including Wasteland , Strip Mine , Dust Bowl , Flagstones of Trokair , Lotus Vale and City of Traitors . I was up to 39 lands, not counting Maze of Ith .
Now let's jump straight into your gameplan!
So... you're planning to focus your eyes on ruining Vannifar's day. To help with this strategy of being the nasty ''combo killer'' guy, I think you should put in some additional pieces of disruption.
That said, I don't know which Vannifar's version(s) your playgroup perform with. If it's a Thornbite Staff / Intruder Alarm one, things would be easier to calm down and you won't need such a heavy stax package - you'll need more single-target/multi-target removals though. And if it's the other one, certainly the most popular now (and also the most powerful/absurd), based on many shenanigans around the creatures Vannifar brings to the table, you'll need more stax support.
One of the very best cards you could add to stop all those creature-centered combos is Humility . This card is broken, this card is stupid. It even disables etb abilities. The only way your opponent has to go through is to destroy it with a creatureless source / or with a ''casting'' effect (like Ulamog has).
Single-handly, Humility tears apart most of the competitive Vannifar lists. However, based on the fact that it is still fragile to enchantments/permanents removals, you'll have to build a defensive shield for your stuff. Vannifar lists often keep a strong package of cheap permanents' removals in their pocket (like Beast Within for example), so you'll need to play carefully.
There's a lot of different ways you can head in order to reinforce your permanents' presence on the battlefield. A pretty simple and most of the time effective, despite of its ccm, you already included is Avacyn, Angel of Hope . I think you still lack a way to cheat her casting cost out to make her a stable and destructive power house.
Stax ''enchantment'' strategy is imo one of the most viable and solid strategy. With Academy Rector (amazing alongside your High Market ), you'll be able to search the exact piece you need to lock the game in your favor.
Notable stax exclusions :
Other cards to consider :
A bunch of meta depending stax tools :
Cards I'd cut from your list :
Finally, as you want to challenge Vannifar, which is a blue deck, you'll need something to deal with the classical Cyclonic Rift . Teferi's Protection is a good solution (and it could also protects you form a lot of various situations / removals / etc.), but I'm sure you can find a lot of other response.
I hope you'll find useful ideas in this comment. Thanks a lot for sharing this, it reminds me good times. Keep up the good work, keep up brewing!
8 months ago
Hey, I'm an experienced Tiana pilot and would love to help! ( my deck link here ).
The first thing I would change is Wrath of God and Blasphemous Act because creature-only board wipes destroy the creatures, then the auras, so Tiana won't trigger for any of your auras. But board wipes like Hour of Revelation , Day of Reckoning, End Hostilities , Nevinyrral's Disk , Cataclysmic Gearhulk , Tragic Arrogance etc would make Tiana trigger on your auras. You could put in Auratog or Faith Healer so you respond to creature-only board wipes, or put in indestructible stuff like Hammer of Nazahn , Shielded by Faith , Kytheon, Hero of Akros

Flip etc.
Bludgeon Brawl has cool synergy with Tiana, because if Vandalblast , Scrap Mastery , Hour of Revelation etc are cast, then Tiana will trigger on your artifacts too. And if you include this, consider adding artifacts that sacrifice themselves like Unstable Obelisk , Commander's Sphere , Boros Locket , Boros Cluestone , Orazca Relic .
Along with self-sacrificing artifacts, I loved the idea of self-sacrificing auras and recycling them over and over with Tiana, especially with Sigil of the Empty Throne or Ajani's Chosen on the battlefield. Auras like Capashen Standard , Mortal Obstinacy , Flamespeaker's Will , Brand of Ill Omen , Sun Clasp , Weight of Conscience , Bound by Moonsilver , Lunarch Mantle , Uncontrolled Infestation , Inferno Fist , Guilty Conscience etc.
Other than the aforementioned cards, I'll also mention Mistmeadow Skulk which dodges board wipes, the new Swiftblade Vindicator and Smothering Tithe , Fabled Hero and other heroic cards that benefit from the aura recycling, Forgeborn Oreads and Scroll of the Masters and Mesa Enchantress for the aura recycling, Ethereal Armor , Helm of the Gods , Heavenly Blademaster , Laccolith Rig is stupid but fun, Heirloom Blade because RW sucks at draw (except this deck if you add auras that draw).
If I wanted to cut some cards from your deck, I would start with Order since it's 4 mana for a really narrow removal spell, and 3 mana to do something that odric or angelic skirmisher do (which is creatures so can be brought back into the game easier). Kwende, Pride of Femeref is essentially a 4/4 for 4 mana and is only useful for Tiana. Kitsune Mystic isn't needed with all the sacrificing and such. Authority of the Consuls and Godsend and Basilisk Collar isn't that impactful for an aggro strategy. Whispersilk Cloak gives shroud which isn't the best for a deck all about auras and equipment. Chariot of Victory isn't that good and doesn't add any power. And I would take out as many tapped lands as you don't mind, they slow down decks way too much, add Battlefield Forge .
Hope this helps makes your deck stronger!
Load more
End Hostilities occurrence in decks from the last year
Commander / EDH:
All decks: 0.01%