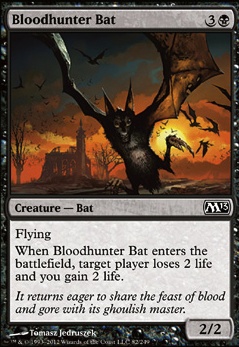 Legality
| | |
| --- | --- |
| Format | Legality |
| Modern | Legal |
| Legacy | Legal |
| Vintage | Legal |
| Commander / EDH | Legal |
| Duel Commander | Legal |
| Pauper | Legal |
Bloodhunter Bat
Creature — Bat
Flying
When Bloodhunter Bat enters the battlefield, target player loses 2 life and you gain 2 life.
Bloodhunter Bat Discussion
1 week ago
First suggestion is to cut all the cards that are creatures that are not zombies or zombie related. If you have a theme you are going for, usually better not to bog it down with cards that don't help the deck idea.
Creature cards to to consider or put more copies in:
Lord of the Accursed: you should try to get 4 copies in the deck if possible. It makes a zombie theme deck much stronger just because you get the +1/+1 for all your other zombies in play.
Wayward Servant: again 4 copies because of how you should have all your cards being zombie related means this will sap your opponent and give some extra so you can afford to take hits.
Cryptbreaker: a good one drop that can turn cards in hand into tokens. Also useful because you can use it to draw.
Diregraf Colossus: is a creature that is useful cast earl since he makes it so you can get a token army going. also useful if drawn late because it becomes bigger for each zombie creature in your grave.
Dread Wanderer (site link not working, you can view it here): is useful if you can get them because they have the ability to come back from the grave and are a decent body for a 1 drop.
Support cards:
Graf Harvest: gives all your zombies menace as a 1 drop enchantment seems really useful and also allows you to exile creatures in your grave to create tokens. Suggest no more then 2 copies in the deck as drawing extra copies becomes useless.
Dark Salvation: a decent control spell that becomes much more useful since you are a zombie deck.
Liliana's Mastery: is another useful card that gives all your zombies +1/+1, but also generates you three 2/2 tokens.
Cards that must come out:
Useless: Faith of the Devoted: you only have one card with cycling in the deck for this to work with. Not worth running for that.
Not in standard format: Bloodhunter Bat, Standing Troops, Stormfront Pegasus, Victory's Herald
These are some quick card suggestions. If you need help finding more zombie related cards, I suggest searching other decks people have posted here or use the website http://gatherer.wizards.com. My list of suggestions do not contain all the cards you might really want, but should help get you going in the right direction. Best of luck with making the deck work. if you have any questions feel free to ask and I will try to help as well as I can.
4 weeks ago
Why are you thinking about removing the Hellkite? Is it the high CMC?
Other lower CMC options that do similar things include the following: Gibbering Fiend, Keldon Marauders, Impact Tremors, Forgeborn Oreads, Keldon Champion, Foundry Champion, Blind Hunter, Bloodhunter Bat, Dakmor Ghoul, Grim Guardian, Pierce Strider, Purphoros, God of the Forge, and Outpost Siege. Personally, I think Gibbering Fiend and Keldon Marauders are the best. They're super low CMC, so you can play them much earlier in the game and start pinging the opponent for more damage sooner.
Invader Parasite is another option, if you don't mind not having any friends. Just make sure you don't accidentally exile all of your own lands, too.