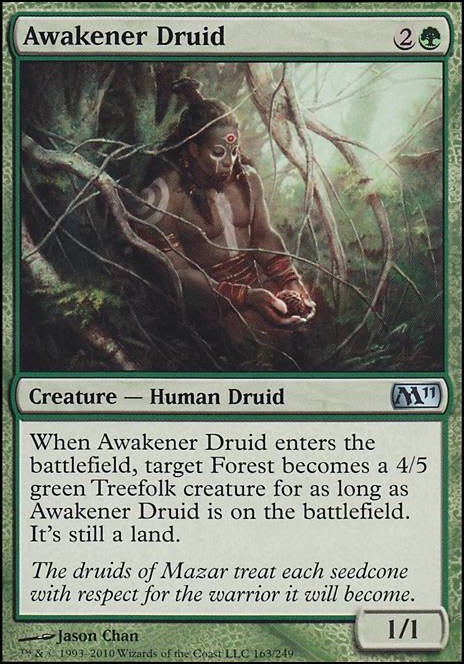 Legality
| | |
| --- | --- |
| Format | Legality |
| Modern | Legal |
| Legacy | Legal |
| Vintage | Legal |
| Commander / EDH | Legal |
| Duel Commander | Legal |
| Tiny Leaders | Legal |
Awakener Druid
Creature — Human Druid
When Awakener Druid enters the battlefield, target Forest becomes a 4/5 green Treefolk creature for as long as Awakener Druid is on the battlefield. It's still a land.
Awakener Druid Discussion
1 year ago
I originally had Vines of Vastwood on my mainboard. I removed it in favor of more 1 mana Instants. I keep toying with the idea of putting it back, but I have plenty of power boosters and I like Spider Umbra because it protects from more than just targeted spells. Not sure yet on those.
I love the idea of Khalni Hydra with this deck! Unfortunately though I don't have any, and the addition of even one would almost double the cost of this deck. Maybe I will make a non-budget version of this deck and throw it in there.
I added Champion of Lambholt to the maybe-board. I may replace Awakener Druid.
Also added Slaughterhorn to maybe-board. I love the versatility of the card, but not sure I want to give up the flexibility of when and how to use Giant Growth.
Thanks!