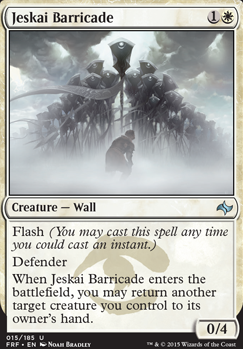 Legality
| | |
| --- | --- |
| Format | Legality |
| Tiny Leaders | Legal |
| 1v1 Commander | Legal |
| Frontier | Legal |
| Vintage | Legal |
| Modern | Legal |
| Casual | Legal |
| Legacy | Legal |
| Duel Commander | Legal |
| Unformat | Legal |
| Pauper | Legal |
| Commander / EDH | Legal |
Related Questions
Jeskai Barricade
Creature — Wall
Flash (You may cast this spell any time you could cast an instant.)
Defender
When Jeskai Barricade enters the battlefield, you may return another target creature you control to its owner's hand.
Jeskai Barricade Discussion
5 months ago
I really like Meekstone. Recently got my masterpiece and I haven't had time to play it enough. Also it's not affecting Elesh Norn because she have Vigilance. Oathsworn Giant and Brave the Sands also get my creatures Vigilance. Never really have devotion for Heliod, God of the Sun :(

I agree with you on the card draw. But not Rishkar's Expertise, because I have all low power creatures. And I have many removals... I probably need to cut some. But they are all good. Probably Vindicate because it's Sorcery but I would like to add Maelstrom Pulse... Didn't tried Jeskai Barricade but I've played with Village Bell-Ringer and Affa Guard Hound. Flash creatures were nice but one-time use only and they were not helpful when I don't have anything in play.

Thanks again for the correction. Wow. Totally missed that one. I'm french and I'm not used to write in english that much.
5 months ago
I would recommend cutting Meekstone, Siege Rhino, and Unexpectedly Absent. Meekstone is great for slowing aggressors, but i feel that it may hurt you when combined with Elesh Norn, Grand Cenobite and Creakwood Liege, not to mention the creatures you're running with power greater than 2. Although Siege Rhino has excellent card value, there is probably a more fitting card you can run in the deck. Unexpectedly absent is cool, but there are better cards for removal you can run in it's place. I like your deck, the theme is clear and there is ample synergy, but you may want to consider a bit less removal and maybe some more draw power and ramp. Rishkar's Expertise, Lifecrafter's Bestiary, and Abzan Beastmaster can help with Draw. Burgeoning can help with ramp. I'd recommend a Jeskai Barricade to save a creature (and/or kill one via combat). Defense of the Heart Is a crazy tutor, I highly recommend.
6 months ago
Glad I could help, interested to see where the deck will go once you start playing around with it.
That being said, you're kinda running low on lands, if you want to drop a 5 drop on t5 consistently. I think you could be greedy and get away with playing 23 total, but even then you're still off the "correct" number of 25 (with the average cmc of 2.75, explained here). Should you ajust the manabase, think we could get away with a few more non-basics, if you're interested. Rogue's Passage can help get the big flyer through to seal the win, Ghost Quarter or the slightly worse Tectonic Edge can help shut down enemy lands or take decks off of colours completely, Moorland Haunt lets you recycle the dead walls into a potent, ghost-based airforce. Minamo, School at Water's Edge while worth a large sum of money, is a potent combination with Ojutai, should you choose to run a few more, the similarly pricey Celestial Colonnade can also help wreck face late in the game, but neither of the two are necessary by any means.
Wall of Omens really shines in this regard, the more cards you see in a game, the more likely you are to win. I think the overall quality of Wall/Defender creatures you are looking to play is bit low. Cathedral Membrane is one mana(dont be afraid to spend life, life is a resource to be used) and usually EXPLODES the creature unfortunate enough to be blocked by it. Dragon's Eye Sentry is pretty damn good for just 1 mana, and really highlights how bad cards like Nearheath Pilgrim (2/1s always die in combat, 2 mana is far too expensive for a card that trades with most 1/1s) are. If it's a card you love, keep it, but you could be playing MUCH better cards. Jeskai Barricade can swoop in and save one of the beaters if they should lose hexproof, let you perfectly block a massive creature(without trample) by bouncing the creature blocking it before damage or just bounce Wall of Omens for that tasty, tasty value.
If you were to run a few more Ojutai, Orator of Ojutai is a better Wall of Omens, but 4 dragons probably isnt enough, might want to research that. Stalwart Shield-Bearers makes all the walls defenders bigger, Wall of Essence has reverse lifelink, while Vertigo Spawn and its big brother Wall of Frost pin down any creature foolish enough to attack into them. And as big and seemingly unkillable as Wall of Frost is, no wall stands close to the mighty, infuriating Wall of Denial.
Here's a list of all the UW walls available in modern.
Also, I'm a little confused by the Authority of the Consuls and the Swiftfoot Boots. Authority gaining you life is neat, but your deck lays down tricky/large walls, you don't need an enchantment to slow the opponent down. What creature are the boots for, exactly? Overseer and Ojutai have hexproof, as does Shieldmate(most likely). These guys dont need haste because they come in protected and swing in later. So all we're really protecting is our disposable walls/defenders, Elspeth tokens and Nearheath Pilgrim, who isn't an incredible magic card. Boots also costing 2 mana kinda gums up the works; you want to be doing something every turn, ideally. Spending two mana on a card that needs a addition one mana to actually do anything on any turn between 2-5 doesnt seem like an awesome time.
Speaking of Elspeth, Elspeth, Sun's Champion sees great as an option if you find yourself facing a lot of big creatres; she can get rid of them while leaving your defenders in pristine condition to... defend.
Witchbane Orb feels like a sideboard card for when you're really getting beaten down by burn or Thoughtseize-style effects, and even then, those types of cards are usually cheap, so waiting til turn 4 to:
A. defend yourself from 1-2 mana spells and B. Do nothing on turn 4
doesnt seem like the greatest plan, IMO. Keep it in the Sideboard if its a card you like, by all means.
That's enough wall talk for now, 3am, must sleep.
7 months ago
Ok, this looks intesting. Drana's Emissary costs a little much, and needs to stay on the battlefield to have an effect, not great for winning or stalling.
You basically have two options with B/W allies at the moment- the traditional Hada Freeblade/Kazandu Blademaster/Champion of the Parish beatdown. Its pretty straightforwards, and has gained some traction running Collected Company, you'll find examples on this site listed under modern allies.
What it isn't, is budget.
I'd reccomend an etb/flicker deck, as the cards are cheaper, as the diverse common-rarity options keep the price low.
Expedition Envoy/Ondu Cleric/Jeskai Barricade/Lantern Scout/Cliffside Lookout/Cliffhaven Vampire/Kabira Evangel/Ondu War Cleric/Serene Steward/Bloodbond Vampire/Kalastria Healer/Zulaport Cutthroat as core creatures aiming to stall the game, then close out with flicker effects for a lot of etb/ltb effects.
March from the Tomb/Eerie Interlude/Rally the Anscestors/Ghostway/Momentary Blink/No Rest for the Wicked/Proclamation of Rebirth/Faith's Reward/Whip of Erebos/Flickerform/Graceful Reprieve/Return to the Ranks/Makeshift Mannequin/Marshal's Anthem/Stonecloaker to puch out in turns 5-7 with etb triggers.
Some dredge like Stinkweed Imp/Dakmor Salvage/Nightmare Void, Darkblast or Golgari Thug could help provide card advantage throught the 'yard, but would leave you grave-hate vulnerable. The main battle is going to be surviving through and battling against combo, which will always be a weak matchup- but a good sideboard could hate it out with 15 dedicated cards, or focus on other matchups and accept combo as lost.
If you're tempted to take it non-budget Fatal Push is versatile in a lot of other decklists and powerful here. For budget though, Bone Splinters will enable graveyard shenanigans.
All told, nice start and good luck tinkering. Hope this big list isn't too intimidating, almost all the effects are similar for your purpsose- just pick and choose the cheaper ones and test the proportions to make sure your hands look nice and have fun testing!
8 months ago
So cards that i think are a little underpowered are: Aegis Angel, Jeskai Barricade, Astral Cornucopia, Jace Beleren, Vapor Snag all feel underwhelming to me. Also i think 8 boardwipes are a lot, 6 is probably as many as you would want.
A cool combo in these colors is also Silence+Elite Arcanist. Just stop everyone from casting spells.
Some cards that might be good to add in are: White Sun's Zenith, Spirit Bonds, Springjack Pasture, Scourglass, Mirror Mockery, Martial Coup, Moonsilver Spear, Invocation of Saint Traft or the actual Geist of Saint Traft works well too. Cyclonic Rift can end games on its own. Some good draw cards are Treasure Cruise, Well of Ideas, Concentrate, Stroke of Genius and Rush of Knowledge and Bident of Thassa. Here is also a good list of draw spells https://www.reddit.com/r/magicTCG/comments/2u5o6m/best_reusable_blue_card_draw_edh/. I would also probably replace one elspeth with Ajani, Caller of the Pride
9 months ago
Sideboard suggestion Jeskai Barricade
Cheap card
Cheap cast + flash
Underrated bounce effect that can save valuable creatures and bonus creating a defender
Bouncing a creature render it ( illegal target ) and protect you from side effects that targets you or opponent
most counters affect spell instant and not creatures
adds more control and def
Load more