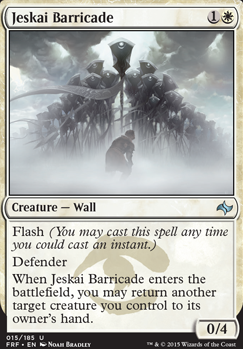 Legality
| | |
| --- | --- |
| Format | Legality |
| Tiny Leaders | Legal |
| 1v1 Commander | Legal |
| Magic Duels | Legal |
| Canadian Highlander | Legal |
| Vintage | Legal |
| Modern | Legal |
| Leviathan | Legal |
| Legacy | Legal |
| Frontier | Legal |
| Duel Commander | Legal |
| Unformat | Legal |
| Casual | Legal |
| Commander / EDH | Legal |
Related Questions
Jeskai Barricade
Creature — Wall
Flash (You may cast this spell any time you could cast an instant.)
Defender
When Jeskai Barricade enters the battlefield, you may return another target creature you control to its owner's hand.
Have (2)
ironax , mandoso
Want (10)
JGMFC ,

G

a

m

e

r

7

1

2

9

, Facecheck , mrnking57 , mhmaurer , zephyrmoth , WhiteLance , CosmicFungus , raseminari , btmalon
Jeskai Barricade Discussion
5 days ago
SteelZephyr, may I ask what Masterpieces you got?
I don't have the ability to turn this into a card because it'd be way too insane, but I've got a story for you.
I was once in a 3v3 Modern matchup. I was using Selesnay Aggro Tokens, my opponent was using Midrange Dragons, and my other opponent was using White Weenies.
It was a long game. We all kept stalling because we were afraid to attack one another. The Dragon player was not hitting his cards in the correct order, so he wasn't getting anything out. As for me and my other opponent, we kept amassing tokens about the same rate.
Well, I had out cards such as Suture Priest, and plentiful amounts of draw. I also ran cards such as Jeskai Barricade and Avenger of Zendikar. What this meant was, I could blink Avenger because I could pay the cost of both Barricade and Avenger each turn. This gave me an ever-increasing population of tokens, which I would Second Harvest into just an insane amount of even more. Likewise, if Avenger was not on the field and I had the mana via Cryptolith Rite, I could literally just blink two Jeskai Barricade against each other. I also ran Oblivion Sower, which was really beginning to piss everyone off.
I was eventually at 180+ life. My opponent running Dragons was splashing other colors for sideboard trickery, and he hit my entire board with Sleep. Everything tapped out and he swung for a fair amount of damage. My other opponent then proceeded to beat me down as well. All told, I took 140+ damage before it got back to me.
So, I just started blinking my guys again using more tricks and playing a second copy of Avenger and ended up getting 100+ life right back.
I did eventually lose, not because I wasn't large enough to win - oh no I definitely was. I was just having so much darn fun that I wanted to see how long I could make the game last. Eventually I ran out of spells to keep me afloat.
But one of the spells that kept me going was a playset of Dawnglow Infusion, which REALLY fueled their rage toward me.
So there, that's my story :3 Idk how to make that into a card...
OR DO I!?
Savior of Zendikar
Legendary Creature - Plant Angel
Flying, Hexproof
When Savior of Zendikar enters the battlefield, you may put a land you control onto the battlefield.
Whenever another creature enters the battlefield under your control, you gain life equal to it's toughness.
, : Return Savior of Zendikar to your hand.
4/5
---
Same challenge
3 weeks ago
Cyclonic Rift, Animate Wall, Aurafication, Basilica Guards, Carven Caryatid, Dragon's Eye Sentry, Guard Duty, Sun Titan, Guardian Zendikon, Jeskai Barricade, Jungle Barrier, Junktroller, Living Wall, Ludevic's Test Subject Flip, Necropolis, Orator of Ojutai, Pride Guardian, Primal Clay, Primal Plasma, Shield Sphere, Sunscape Familiar, Testament of Faith, Thing in the Ice Flip, Vine Trellis, Zephyr Net
1 month ago
Love your inclusions of Bar the Door and Always Watching!
Thoughts on Sidar Kondo of Jamuraa for some psuedo unblockable. Dawn for a one sided sweeper and recursion. Maybe Austere Command for utility sweeping.
Also this may be way out there but I like Jeskai Barricade for some shenanigans with the Tree of Redemption and Tree of Perdition.
Either way, awesome build +1!
2 months ago
Possible cards to add: Island, Wall of Mist, Orator of Ojutai, Nivix Barrier, Monastery Flock, Jeskai Barricade, Geist of the Archives, Dragon's Eye Sentry, Doorkeeper, Sylvan Caryatid, Profaner of the Dead, Triton Tactics, Abzan Beastmaster, Bastion Protector, Lightning Greaves, Kindred Boon, Kindred Summons, Valorous Stance, Dive Down, Mizzium Skin, Sight of the Scalelords, Guard Gomazoa, Gomazoa, Hover Barrier, Spectra Ward, Whispersilk Cloak, and Oblation.
Cards to pull: Primeval Bounty, Darksteel Ingot, Aura Mutation, Blue Sun's Zenith, Devouring Light, Essence Scatter, Glint Chart a Course, and Wall of Forgotten Pharaohs.
That's about all I got for now. Basically, more creatures, keep Arcades safe, better cards. There are more cards that are pullable too but the ones above really should go at the very least for more creatures. Pass the message along.
2 months ago
Looked through all defenders in your colors. Here are some you dont have rn:
Carven Caryatid, Sylvan Caryatid, Ulvenwald Captive Flip, Perimeter Captain, Stalwart Shield-Bearers, Soulsworn Jury, Drift of Phantasms, Geist of the Archives
Walls: Jeskai Barricade, Wall of Nets, Wall of Roots, Wall of Mulch (Must Include)
2 months ago
I feel ya--it can be easy to go off the rails with deck building. You've got some good stuff to work with here, though, so if you don't mind some less-than-expert ideas, I'll throw a bunch of ideas your way.
I like your big finishers: Phyrexian Processor, Desolation Twin, the wurms (including Sandwurm Convergence), Giant Adephage, Trostani's Summoner. You're packing pretty much all the Populate spells--that's good. Let's protect that stuff with Heroic Intervention, Eerie Interlude, Cloudshift and--if you can justify the price tag--Teferi's Protection.
Hoofprints of the Stag works a little differently from Angelic Accord, but the result is functionally the same. Spawning Grounds is similar to Sandwurm Convergence, but let's you create the token before the end step (but also any end step) which will trigger Accord. Land aura, though, so you have to weigh that. But multiples of your tokens is always better than one, so if doublers are not too hard on your budget, you can't go wrong with those, either.
Eerie Interlude and Cloudshift can also be token doublers by giving you multiple ETBs from each Armada Wurm-style creature. If you go this route, Flickerwisp, Whitemane Lion, Jeskai Barricade, Eldrazi Displacer, Dust Elemental, even Roaring Primadox or Invasive Species will all help you get multiple ETBs. Other creatures that will benefit from this strategy include Hornet Queen, Regal Caracal, and Avenger of Zendikar. I've even used Fiend Hunter to "hide away" one of these (Trostani's Summoner is best) as wrath protection.
Herald of the Host and Nacatl War-Pride are both excellent Populate targets. Timing is everything, so you have to have mana and your Populater ready before the original tokens disappear. Loads of fun when you Second Harvest a board full of NWP tokens. :D
A couple wraths are good to have despite being a creature strategy: Martial Coup has the benefit of wrathing or not and creating some soldiers, while Phyrexian Rebirth gives you a huge threat that's definitely worth populating.
Finally, Garruk's Packleader and Elemental Bond draw you cards for every 3+ power creature that ETBs for you. You can't go wrong with card draw. If you do nothing else, add card draw.
Best of luck!
3 months ago
Interesting build. I haven't considered Arcades as a combo enabler so this is pretty cool. However, I think that your deck is a bit unfocused. It looks like your are caught between beatdown and combo. I'd pick a focus and go hard into that.
Jeskai Barricade, Ghostway, Momentary Blink, Ghostly Flicker, and Champion's Helm are all great additional ways to protect things. Another pet card of mine that I am considering for my Arcades list for protection + value is Cloud Cover.
I am surprised to not see either Wall of Kelp or Deadeye Navigator in the list. The additional value either provide is ridiculous.
Mnemonic Wall seems like an auto include in this list.
Sun Titan is also great since most walls cost under 3 cmc and it hits over 30 of your permanents. The same could be said for Eternal Witness since you already have a blink theme.
Doorkeeper is cute but it will never generate enough value to mill someone out in a 4 player 100 card format by itself...
If you want other ideas you can check out my Arcades list here. It follows the beatdown track more, but it might provide you with some ideas.
Load more