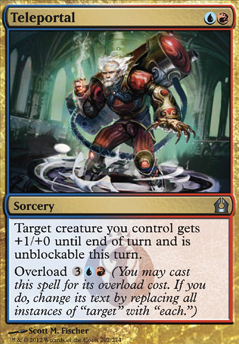 Teleportal
Sorcery
Target creature you control gets +1/+0 until end of turn and is unblockable this turn.
Overload 3UR (You may cast this spell for its overload cost. If you do, change its text by replacing all instances of "target" with "each.")
Teleportal Discussion
4 days ago
+1 for Ral Zarek.You might consider Teleportal; not really great here, but options are always nice
1 week ago
You need to take out 2 Teleportal they are uncommon therefor making them illegal in pauper
1 month ago
Teleportal would be KILLER in this deck!
1 month ago
Decree of the Mastermind should not give cypher to instants. there has yet to be a instant with cypher because it would be too overpowered most instants. you could wait until after blockers are declared then cast Lightning Bolt and deal 6 damage to the face for

.
@CrazyLittleGuy: not all overload spells targeted opponent's stuff. there was Dragonshift, Dynacharge, Mizzium Skin, Teleportal, and Weapon Surge.
1 month ago
Dynacharge, Titan's Strength, Distortion Strike, Teleportal
Literally any number of any of these cards in this deck would make it more competitive with the standard low-budget Izzet Aggro decks that have been floating around.
Free Kiln Fiend fodder which will help clear your way if Artful Dodge/Distortion Strike aren't drawn.
Alternatives to run alongside Kiln Fiend in case your draw is poor and you need to extend the game further; they make pretty decent blockers in the early game.
| | |
| --- | --- |
| Color(s) | Red Blue |
| Cost | UR |
| Converted cost | 2 |
| Avg. draft pick | 6.37 |
| Avg. cube pick | 11.74 |
Legality
| | |
| --- | --- |
| Format | Legality |
| Legacy | Legal |
| Vintage | Legal |
| Commander / EDH | Legal |
| Modern | Legal |
| Duel Commander | Legal |
Related Questions