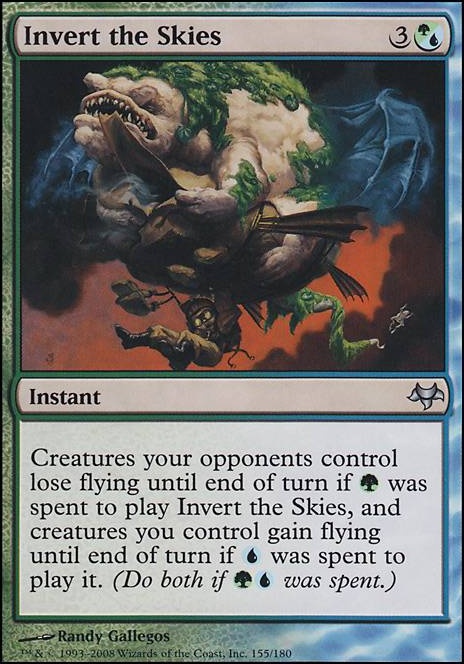 Legality
| | |
| --- | --- |
| Format | Legality |
| Tiny Leaders | Legal |
| Noble | Legal |
| Leviathan | Legal |
| Magic Duels | Legal |
| Canadian Highlander | Legal |
| Vintage | Legal |
| Modern | Legal |
| Penny Dreadful | Legal |
| Vanguard | Legal |
| Legacy | Legal |
| Archenemy | Legal |
| Planechase | Legal |
| 1v1 Commander | Legal |
| Duel Commander | Legal |
| Unformat | Legal |
| Casual | Legal |
| Commander / EDH | Legal |
Invert the Skies
Instant
Creatures your opponents control lose flying until end of turn if (Green) was spent to play Invert the Skies, and creatures you control gain flying until end of turn if (Blue) was spent to play it. (Do both if (Green)(Blue) was spent.)
Invert the Skies Discussion
10 months ago
Another pretty major tuning pass. The main thing I found after playing this deck a few times was that it wasn't interactive enough with other players. Especially those that had any Flying creatures (I had ZERO answers to flying, other than Constant Mists!). So, in the interest of upping this interaction, I have trimmed out a good amount of the "Awaken" theme to make room for better cards, and more removal, more answers.
These cuts aren't easy to decide on... I'd really love to find a way to fit in 4-6 more lands and really lean into the Landfall theme even harder, but I'm hesitant. I have really come to love the Rude Awakening+Teleportal(overloaded) combo!
11 months ago
So this is both a decent start and has a long way to go. While I don't have many specific card cuts to recommend to you, I can point you in a general direction for you to go, as well as a bunch of cards that might help you...
Hopefully some amount of this will help! You're allready at the deck being only $90 so you're pretty close! Good luck!
1 year ago
Can't edit Tappedout comments...
If you want different/ bigger/ more draw, perhaps consider Rishkar's Expertise, Life's Legacy, Momentous Fall, Soul's Majesty, Overbeing of Myth, and/ or Urban Evolution.
For some added protection, consider Asceticism, Archetype of Endurance, Heroic Intervention, Lightning Greaves, and/ or Whispersilk Cloak.
And for that final push to victory, consider Stonehoof Chieftain, Decimator of the Provinces, Pathbreaker Ibex, Craterhoof Behemoth, Archetype of Imagination, and/ or Invert the Skies.
You will get hit by boardwipes and removal, so to combat this, consider Wildest Dreams, Eternal Witness, Evolution Charm, Greenwarden of Murasa, and/ or Seasons Past.
1 year ago
Hey you should look at my Simic deck for inspiration. I use a different commander, but the ways you said you wanted your deck to be, described my deck pretty well. I have some higher impact ways to distribute counters and lots more ways to use them. Too many ideas to make specific card suggestions to try out. My deck list is sorted by custom categories for ease of reading.
As far as cuts a few of your cards seem low impact like Vigean Hydropon, Nulltread Gargantuan, Geist of the Archives, Invert the Skies, Lens of Clarity, and Skill Borrower. Also you could find more space for +1/+1 counter synergy cards if you cut some or all of the pump spells that only work until end of turn. Cheers.
---

Commander / EDH Rzepkanut
SCORE: 3 | 834 VIEWS | IN 1 FOLDER
---