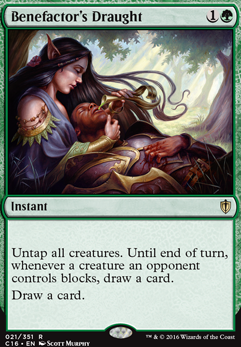 Benefactor's Draught
Instant
Untap all creatures. Until end of turn, whenever a creature an opponent controls blocks, draw a card.
Draw a card
Browse Alters
View at Gatherer
Trade
Legality
| | |
| --- | --- |
| Format | Legality |
| Tiny Leaders | Legal |
| 1v1 Commander | Legal |
| Magic Duels | Legal |
| Canadian Highlander | Legal |
| Vintage | Legal |
| Highlander | Legal |
| 2019-10-04 | Legal |
| Leviathan | Legal |
| Legacy | Legal |
| Duel Commander | Legal |
| Oathbreaker | Legal |
| Casual | Legal |
| Commander / EDH | Legal |
Benefactor's Draught occurrence in decks from the last year
Commander / EDH:
All decks: 0.01%
Green: 0.26%
Benefactor's Draught Discussion
1 month ago
Colossification may add a ton of Mana, but Selvala's hat trick - Drawing Cards off of big creatures hitting the battlefield - will definitely get hampered by it.
Why the confusion? It is easily the single best buff spell in the list: play it, tap Selvala, do things. When used in tandem with another buff spell is gets better. Test the Deck and play with it: it is an essential for the Deck.
There are better play lines to shoot for than a EWIT/Kogla or Temur/Untap Spell loop, but they still exist with Benefactor's Draught, which has proven more than enough for the Deck. Green values Creatures (by way of Tutors), play for them.

The Great Henge is excellent if you're on the back foot and need to recover or are in the middle of storming off and need the additional Draw. It is however what I would consider a flex spot, but I have been enjoying it so it stays (for now).

Tower Scout + Bounce Effect + Big Creature = Game Ending. I love Hyrax here, maybe the only viable Commander to run it in unless you need a cheap, Kiki-Combo Card. Tower Scout goes infinite > Scrib, Wirewood & Quirion. Kogla is flexible, but I like him in the Deck. We're running a pretty greed list, so his effects are a massive boon; but if you're still on Somberwald Stag, take that shit out and use Kogla.

Memory Jar is unreliable and we have all the Tutors we need to play with our Creatures and Draw spells to get there. I'd avoid Memory Jar. Use that EWIT on a Draw spell, cheaper/better.

I have never once regretted omitting Birds from this Deck and doubtful ever will. Playing Selvala on Turn 2, even if mulling to 5 Cards, has still produced wins. The percentile chance of getting there is high enough without Birds and the recently omitted Gemstone Caverns
Haha, agreed. Kogla is staying for now, but it is by no means an essential. However, I love the ape.
3 months ago
Ooh, I love the look of Benefactor's Draught! Fittingly enough, it synergizes very well with your very first suggestion, Taunting Elf. Guess maybe we've come full circle!
Always happy to hear from you and Toxicwolf! It's nice chatting with people and hearing your suggestions!
On another note, I've taken on a big mtg-related art project lately, and I'd love to share it with the two of you once I get it farther along! That's okay, yeah?
3 months ago
More than building it online, I was thinking of the playtesting or "goldfishing" online without a board to play against. It's a great way to see how synergies work, but it really shifts the dynamic of the deck, where decks really are alive in the setting of others. So it's great you'll be starting to playtest it right wawy. I totally use tapped out for most of my decks, especially to help organize the card and my thoughts around it, then get peoples input.
Whaaaat about.... Hangarback Walker. block with it then get a bunch of thopters to trigger Marisi? Scales with the time of the game? Maybe, maybe not.
Ha, nice on on Break Through The Line. I have some deck ideas where I'm trying to make card work in commander. One of my favourites that is almost there is Remembrance...Definitely going to be a combo deck.
On the extra colours tip, I have a handful of builds that I have 2-3 versions on tapped out featuring different colours or 5 colours. There's just too many good cards out there. Long term planning :).
My friend just showed me Benefactor's Draught. Really interesting. Fits the bill as card draw the messes with the board. I love the idea of finding cards that fill the staple functions (like card draw or ramp) that fit the tone and idea of the dect. This is a fun example of that.
He's using it in a forced-to-block Canadian highlander deck.
6 months ago
Thoughts on adding cards like Benefactor's Draught / Mobilize / Vitalize ? These cards act as rituals with your mana dorks, and with the lands you make into creatures.
Load more