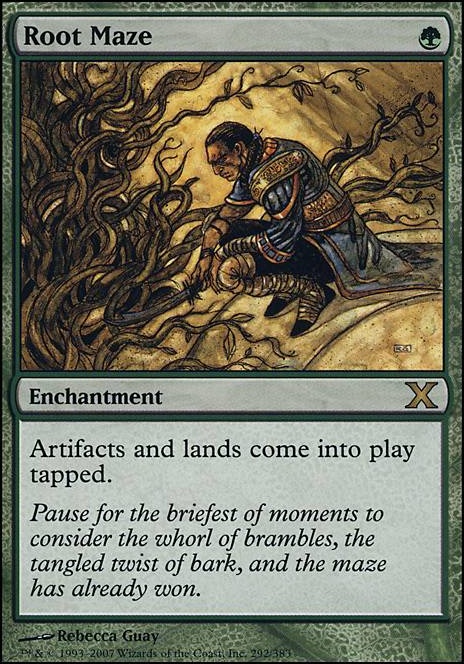 Root Maze
Enchantment
Artifacts and lands come into play tapped.
Browse Alters
View at Gatherer
Trade
Legality
| | |
| --- | --- |
| Format | Legality |
| Tiny Leaders | Legal |
| Noble | Legal |
| Leviathan | Legal |
| Magic Duels | Legal |
| Canadian Highlander | Legal |
| Vintage | Legal |
| Modern | Legal |
| Block Constructed | Legal |
| Vanguard | Legal |
| Legacy | Legal |
| Archenemy | Legal |
| Planechase | Legal |
| 1v1 Commander | Legal |
| Duel Commander | Legal |
| Oathbreaker | Legal |
| Unformat | Legal |
| Casual | Legal |
| Commander / EDH | Legal |
Root Maze occurrence in decks from the last year
Commander / EDH:
All decks: 0.01%
Root Maze Discussion
1 month ago
GrizzlyAtom: Just wanted to say that I absolutely loved the list! Safe to say you hit the nail on the head on almost all of your choices. However, I do highly recommend you make a couple of changes for the general consistency of the deck.
These won't be direct swaps to the cuts and more of a series of cards that you should highly consider as I don't want to cramp your style.
I hope this helps, I love the deck, will be keeping up with it. Final recommendation would be to use a similar categorization that I used in Yeva for your list as it helps you visualize your deck based off function and see where it is lacking.
1 month ago
We have got this guy at my locals who insists on only playing Tamanoa every...single...game (which is not even a legal Commander for fricks sake).
That in itself would not really be a problem but his deck is Stax on steroids - packed full of Winter Orb , Root Maze , Stranglehold , Blind Obedience etc... you get the idea.
His wincon is to lock down everyone then play damage dealing effects like Ankh of Mishra , Manabarbs , Citadel of Pain and a whole heap of others then gain tons of life.
If anyone attacks him he whines and says "Why do you keep targeting me?!?" I flat out said to him: "Dude, you are fking my sh*t up - that's why."
How can I tell him, in the nicest way possible, that his deck sucks ass and I refuse to play against it ever again?
2 months ago
This came to me after I made my comment, but I think Cloudstone Curio could be used as a strong draw engine in this deck. Given that you have Argothian Enchantress , Eidolon of Blossoms , Enchantress's Presence , Setessan Champion and Verduran Enchantress , you could continuously bounce two small enchantments with each other to get a ridiculous amount of card advantage. You could even efficiently draw lots of cards with just Cloudstone Curio , Abundant Growth and Utopia Sprawl // Wild Growth as you can move the mana-enchantment on to other untapped lands to keep producing extra mana. You could even use it to get around your own Root Maze on your turn and you can bounce your lands for extra mana as well if you start running short on lands in hand.
Another card to consider for control purposes would be Quicksilver Fountain as you can slowly turn all your opponent's lands into Island s. This strategy is pretty effective in green commander decks as you can use cards like Crop Rotation , Sylvan Scrying and Ancient Stirrings to fetch Unstable Frontier . The trick with Quicksilver Fountain and Unstable Frontier is that you can have the fountain target one of your lands to put the flood counter on it, and then in response to the ability on the stack you'd tap the frontier to turn that targeted land into an Island for the turn. Because the land is now an Island it becomes an illegal target for the Quicksilver Fountain 's ability countering it which means the land will not get the flood counter. With this your opponents lands will end up mana-screwed while you'd get to keep your lands in tact. The best part is even if your opponent's remove the Quicksilver Fountain it will not remove the flood counters meaning your opponent's lands will remain permanently stuck as Islands. This means you could create a serious dead lock with Choke or create a ludicrous amount of mana with Carpet of Flowers . As a bonus, instead of Unstable Frontier you can also use Cloudstone Curio to help remove flood counters by bouncing your lands with each other.
Of course these strategies would run at odds with cards like Titania's Song and Null Rod , but they're helpful to keep in mind and if your meta ever becomes less artifact dependent it might be best to switch them out for these cards along with Extraplanar Lens as these 3 mana artifacts aren't affected by Collector Ouphe or Damping Matrix .
2 months ago
Hey, thanks for the suggestion! I wasn't familiar with Raking Canopy before, I'll try to get my hands on one.
Couple of my friends run artifact decks, so Root Maze is great. It's a tech card, so switching it for something on my maybeboard is always a possibility.
4 months ago
Root Maze

has been added to the deck.
4 months ago
Choirboy2020 Root Maze and Ethersworn Canonist are not asymmetrical STAX effects so they stop us from comboing too. I hadn't given much thought to Fauna Shaman and Survival of the Fittest as I have not played many games where I wished I could fetch a non-legendary STAX piece.
I just switched to the STAX game plan so I am still tuning it and I appreciate any feedback you have.
Load more