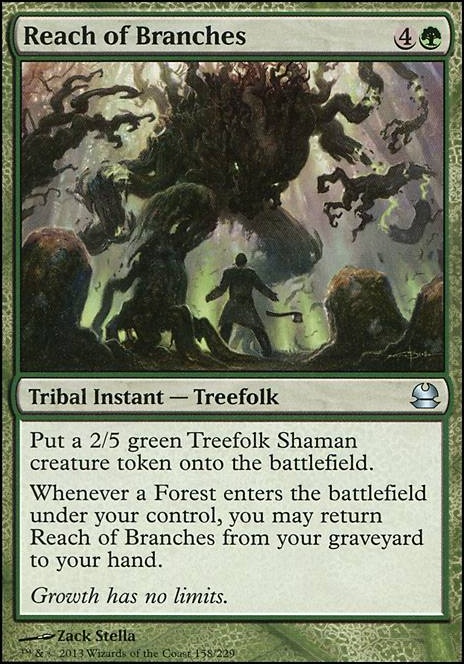 Legality
| | |
| --- | --- |
| Format | Legality |
| Noble | Legal |
| 1v1 Commander | Legal |
| Vintage | Legal |
| Modern | Legal |
| Casual | Legal |
| Vanguard | Legal |
| Legacy | Legal |
| Archenemy | Legal |
| Planechase | Legal |
| Duel Commander | Legal |
| Unformat | Legal |
| Pauper | Legal |
| Commander / EDH | Legal |
Tokens
Reach of Branches
Tribal Instant — Treefolk
Put a 2/5 green Treefolk Shaman creature token into play.
Whenever a Forest enters the battlefield under your control, you may return Reach of Branches from your graveyard to your hand.
Reach of Branches Discussion
4 weeks ago
Alright, understandable. The way I look at any deck is I give myself a set number of cards for each type or what each card offers. So since you want Treefolk/fatty bootied plants, I'd go with... 25 "theme" cards. 35 lands is my go to which would put you at 60 cards with the rest being support/fill. Of those remaining 40 I'd go, 5 wipes 5 spot removal, 10 draw, 10 ramp, and 10 general support. Of course you can tweak those numbers however, but it's good to have a basis. Once you start doing that you might realize you're going total overkill on one category and swapping cards around isn't as hard as it was (sometimes it is harder though lol).
All that said, a rough list I'd go with is something like this (again this is your deck and by all means take this with a grain of salt and/or ignore it if you see fit):
Regardless of what you do with any/all of that, good luck and hope you enjoy playing your deck!
3 months ago
Hey,
I am always willing to help new and established deckbuilders evolve and finetune their decks. I play a Doran too, which is still on private, cause my meta likes to see how I build it :p
I looked at your list and I came up with the following suggestions you might want to consider:
If you need more help on this deck or any other Commander project, then give me a headsup on my wall :) Just click my name and post something on there.
It is always great to recieve an upvote on my favourite deck, which you can see here. Just click the 'Upvote' button on the left if you like what you see.
Enjoy the game!
PJ
4 months ago
Hello again, colormage1!
Glad I could help. If Jaddi is what you're looking for, Grazing Gladehart might also be good. It's more squishy, but gains more life. Just more knobs to balance out the deck. If you want an endgame fancy version, Primeval Bounty is a six-mana lifegain machine that also adds value to every cast you make.
Another card that might be useful would be Reach of Branches, if you add more Forests. Unlike most of your other token generators, it'd also be useful from the graveyard if dredged away.
Retrace cards might be worth looking into, to help abuse Life from the Loam even more. Worm Harvest gives an instant army, Spitting Image is perfect for random trolling, and Syphon Life gives a little bit of inevitability.
Just shooting off possibilities. You could probably streamline this deck into a straight land-self-mill deck, but I don't know if that's what you want to do.
8 months ago
Okay The7thBobba, you asked for it lol! Here are some ideas for non-creatures spells. To start with, I'm going to run through the cards I think you'll feel fit the most for the theme (the most foresty ones).
Traverse the Ulvenwald, really solid draw for one mana, and some more delirium for the deck #ReconsiderIshkanah :D Here is a sideboard card (for your non-existent sideboard, so rubbish suggestion really...) Bower Passage, lets your walls command the field, make your opponents go through your forest, not over it! Another card for the sideboard, the control slayer, Eyes of the Wisent. Oh, by the way, you know how your forest is dark and cruel but protects those who are born and raised there, well, then show your love for that with Wrap in Vigor, I mean two mana, what a devastating response to a wrath or removal. Then we have Retreat to Kazandu, the fact that it does something every turn makes it feel like your forest is living and breathing, bring your forest to life.
Something that defines a forest of woods is the number of trees and the area etc, only a few trees is a garden, not a wood, so fix this issue! Here you go, Fungal Sprouting, not exactly trees, but with the help of the retreat, they will grow. Now a card I truly love (which came from a hatred of having to play against it as a control player), Asceticism, keeps those trees alive! Give yourself a little versatility, Primal Command does some of the things you need, some of the time, what more could you ask for. Back to talking about growing a forest, how about infinite trees! Reach of Branches, infinate, but one at a time. Then get those trees to work Rootgrapple, take this you stupid non-creature permanent! And how all my lands are alive Rude Awakening, nobody can keep up with this forest of pure destruction! A little mana greedy though... Okay, a break from the trees, lets get some elementals out there right, Zendikar's Roil, boom! And finally, Primeval Bounty, because sometimes you need everything!
Load more